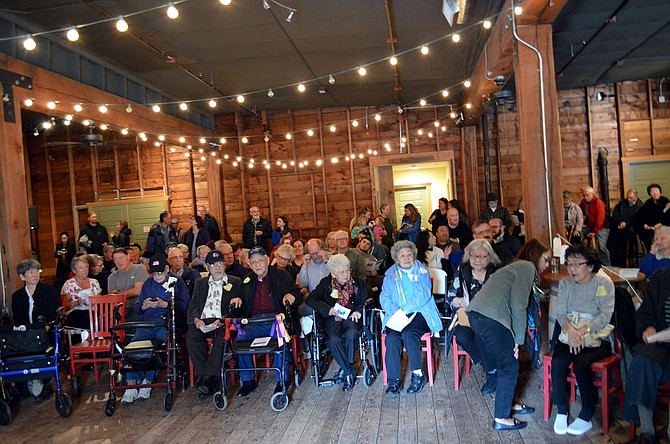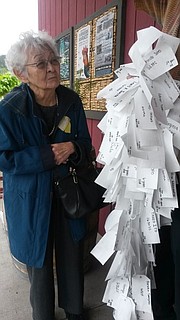 Past traumas and vows of "never again" intertwined at a Saturday event looking back on the internment of Japanese Americans from the Hood River Valley during World War II.
The "Train of Tears" ceremony at Springhouse Cellars drew greater resonance from its proximity to the Mount Hood Railroad tracks — formerly the Hood River train depot — where 75 years from that day hundreds of Mid-Columbia residents of Japanese heritage were forced on what were called "evacuation trains" and taken to internment camps throughout the West.
"You could take one suitcase, that's it."
— Homer Yasui
Dr. Linda Tamura led speeches, joined by relatives of internees and members of the public who read exerpts of letters from local Issei and Nisei, first and second generation Japanese Americans. Maija Yasui organized the event.
"Today we're remembering a time of fractured hopes and gnawing questions about a grim future," Tamura said. "Thanks to the determination and vision of local leaders and citizens, we also made the commitment about the lessons we must learn for our future."
In the front row of the audience sat local Nisei.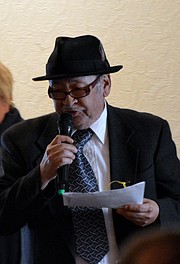 Under an executive order by President Franklin D. Roosevelt, people of Japanese ancestry were herded into West detention camps and incarcerated on suspicion that they were saboteurs or spies. Those evacuated included about 4,000 people from Oregon and almost 400 from Hood River County.
During an audio clip from Heard in the Gorge podcast, Homer Yasui recalled, "You could take one suitcase, that's it. I remember I had my baseball mitt and my baseball hat."
Yasui was 17 when he and his family boarded the train.
Rich McBride, a Hood River County commissioner, and Paul Blackburn, mayor, read resolutions commemorating the 1942 incident. The designation, the county's resolution states, serves to educate the public about the lessons learned about the incarceration "to insure that it never happens again."
Hood River Valley High School students Abby Walker and Elizabeth Bailey also spoke at the ceremony. Bailey announced the first recipient of a new annual award, the Yasui Legacy award, will be Ami Santillan.
Tom Sumoge, who was a sophomore in high school when he was evacuated to an internment camp, said of the Saturday event afterwards, "It was amazing."
Sumoge was born in the Hood River Valley and lives in Odell. He recalls packing a suitcase hurriedly before he and his relatives were "uproot(ed)" and evacuated by train.