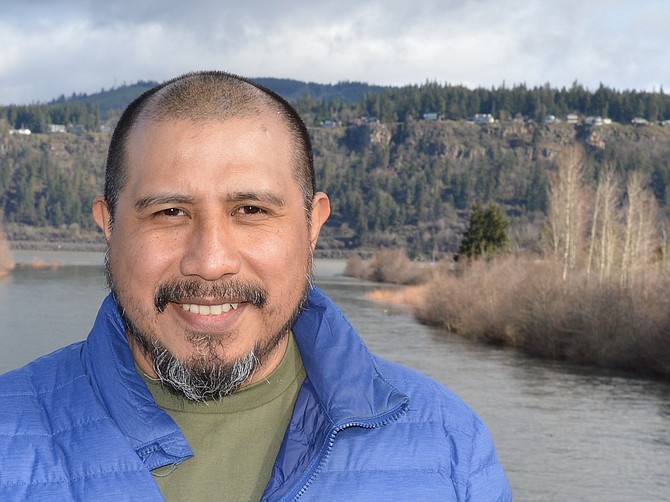 This story has been updated.
Local environmental group Columbia Riverkeeper has hired a community organizer who will partner with Latino civic organizations and spearhead efforts to restore the Nichols Natural Area.
Ubaldo Hernández has stepped into the role.
"I'm excited to work to protect clean water and thankful for the opportunity," Hernández said.
A grant provided by Katharine Diack Fund of The Oregon Community Foundation, and Janette G. Drew Fund of The Oregon Community Foundation helped support the job's creation.
Hernández will lead local efforts to transform an industrial brownfield into an ecologically valuable green space at Nichols Natural Area on the Hood River waterfront.
Hernández has a strong history of volunteering and community building in the Gorge, Riverkeeper staff said.
"After just a few weeks on the job, Ubaldo is getting rave reviews from our community," said Brett VandenHeuvel, Riverkeeper executive director. "He's a well-respected leader who is committed to making sure many voices are heard."

Hernández will work with school groups and civic organizations, and provide opportunities for people to get involved, including the restoration of the Nichols Natural Area. He is recruiting a leadership team to help design public access, community involvement, and ideally interpretative signs in Spanish and English about the community and the Columbia River. The leadership team will work with city officials, schools businesses, and non-profits to improve the waterfront.
"The Nichols Natural Area can be a wonderful student laboratory, and a place where kids can plant trees to proudly build a community greenspace," Hernández said. "We have a rare opportunity to restore a former industrial site and focus on equity and inclusion."
Paul Blackburn, Hood River mayor, said, "I applaud Columbia Riverkeeper for their ongoing stewardship of our beautiful river and for adding Ubaldo to their team. His strong networks in our community will be a great asset in this important work."
For more information about Riverkeeper's leadership team, or to get involved, contact Hernández at ubaldo@columbiariverkeeper.org or 541-490-7722.
Nichols Basin project
Efforts by local environmental stewards have continued at Nichols Basin, an abandoned industrial site at the heart of the waterfront. The goal: a natural area for wildlife and eventually the public to enjoy.
It was a former boat yard, Nichols Boat Works, which operated from 1939 to 1998.
The contaminated site was cleaned up and the property sat vacant for over a decade.
A settlement between Friends of the Hood River Waterfront and Naito Development (the Hampton Inn developers), gave Riverkeeper a conservation easement over the riparian area. The City of Hood River, acting through an urban renewal agency, acquired three acres of riparian area at Nichols in 2015. Riverkeeper has been working with community partners to restore the site.
Next steps for Riverkeeper include:
Recruiting the leadership team to help with the planning.
Organizing school trips for the fall to help restore Nichols.