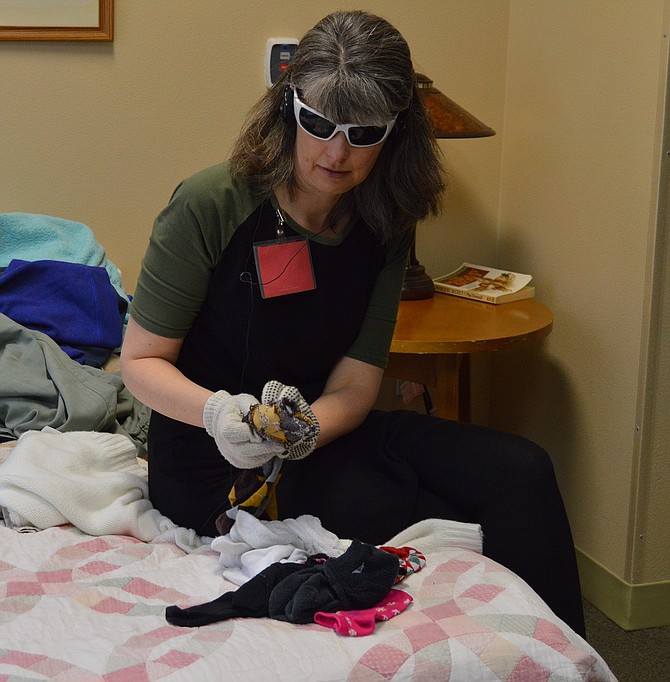 I couldn't get a good grip on the socks I was trying to fold.
And my feet hurt — really, truly hurt. The constant noise in my ears made it hard to think about the task at hand, let alone the other four I was supposed to perform. Not that it mattered, because I couldn't see what I was doing anyway. I wanted to turn on the lights, but I couldn't find any. I finally just sat down, not knowing what else to do. I was anxious, frustrated and feeling vaguely like I'd let everyone down.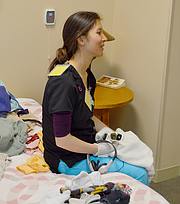 Such was my Virtual Dementia Tour experience at Providence Brookside Manor Monday afternoon. The whole simulation, created by Second Wind Dreams, was created to give participants hands-on experience with what it's like to live with dementia. My tour was led by Jamie Hanshaw, Brookside executive director, and Desirae Tarrance, administrative assistant; Coral Pritchard and Dawn Cordell, both residents' assistants, took the training along with me, as it's required of all Brookside employees.
We were given a box of items to simulate life with dementia: A pair of glasses that demonstrate macular degeneration, headphones connected to an iPod to mimic the brain's inability to sort through sounds, two layers of gloves — one set plastic, the other mittens, one of which is purposely inside out — to illustrate reduced coordination, and textured shoe inserts to make walking difficult.
Once we made it to the room where the simulation was set up — my feet aching the entire time — we stood side by side as Tarrance began talking to us in a soft voice. I didn't notice until she was halfway through that she was giving me a set of instructions to follow once inside the room. Five tasks that flew right out of my head the minute she started giving Pritchard and Cordell their own lists. I tried to repeat my given tasks to myself, but with the noise in my ears, it was hard to concentrate.
We were in the room for only nine minutes — although I'd guessed it had been closer to a half-hour — and that entire time felt chaotic. I wasn't sure what to do first, but when I found a sketch pad by the TV, I started drawing and labeling my family as instructed. It wasn't easy because I couldn't see, nor could I hold the pen very well, but I was satisfied at getting one task out of the way quickly, at least.
Next I tried to fold six pairs of matching socks from a pile of laundry tossed on the bed, a difficult task given that I couldn't see, my feet were killing me and I couldn't move my fingers very well. The only other task I could remember was finding a belt and threading it through the loops on a pair of pants. Did she mean my pants? That would be difficult, as I was wearing a dress. A pair of pants hanging in a closet gave me hope that maybe I was on the right track after all.
Any time any of us stopped moving, Tarrance or Hanshaw would quietly remind us that we had more tasks to do. They offered no further instructions — which they had warned us about before we began. With the noise in my headphones, my terrible eyesight and the fact that I could not get over how badly my feet were hurting, I finally sat down and basically quit.
Hey, at least I completed three tasks, right? Hanshaw explained later I'd only get credit for two, as the third wasn't on my list, but overheard from directions to the others.
TAKE THE TOUR
Providence
Brookside Manor,
10:30 a.m. to 5:30 p.m.
May 23 and 9:30 a.m. to
4 p.m. May 24
Call for an appointment:
541-387-6370
Providence Brookside Manor has already put about 250 community members through the virtual tour, and will offer another opportunity Tuesday and Wednesday, May 23-24 (see info box). Community members can call or email to make an appointment for the free program.
Training is important, said Hanshaw, because dementia doesn't just touch the person afflicted, but entire families. Going through the experience helps give "a window into their world" (the accurate tagline used by Second Wind Dreams) and promotes understanding — namely, how we can change our own behavior or environment instead of trying to change that of the person with dementia.
As for myself, what I took away from the experience is that dementia is hard both physically and mentally, and a touch of regret — that I didn't understand sooner, to better help my own grandmother, who suffered from memory loss.