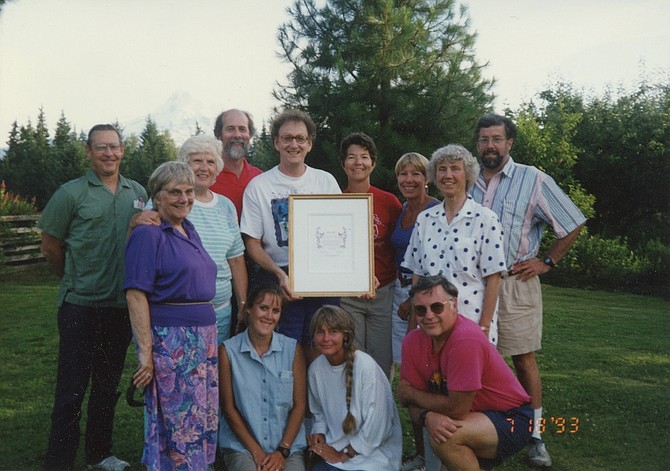 One of the longest-standing conservation groups in the Gorge, Hood River Valley Residents Committee, celebrates four decades of serving Hood River, on May 21, starting with a 3-4 p.m. social.
Titling the celebration, "40 Years and Going Strong," the committee will gather founders, long-time members and people new to the organization at Crag Rat Hut in Pine Grove, south of Hood River. The event is open to the public, but parking is limited on site, so car-pooling is encouraged; look for parking at Pine Grove School and a shuttle bus to the nearby Crag Rat site.
At 4 p.m., committee leaders will present "Walk Down Memory Lane" with highlights of the group's history, followed by a buffet dinner at 5 p.m. served by The Huck Tuck, and then cutting of a 40th birthday cake.
The Hood River Valley Residents Committee was founded in 1977 to support Oregon's recently passed Senate Bill 100 which led to Oregon's current land use system. Without the Residents Committee's work the Hood River Valley would be a very different place today, according to Executive Director Heather Staten.
"Our first action was a campaign to change the zoning in the upper valley which had been zoned in one acre lots," Staten said. "Then on to opposing several destination resorts near Parkdale which would have destroyed much farm and forest land and totally altered the rural character of the valley."
Early work of founders Kate Mills, Nancy Moller and Kate McCarthy focused on protecting farm and forest land and the natural areas around Mount Hood.
"From the beginning, we believed that wise land use means taking the long view, that we are planning for the future not just for today's needs," said the committee's current president, Parkdale orchardist Mike McCarthy, and Kate's son. "It means thinking about what we will be leaving for our grandchildren.
"We've been reflecting on what it takes to be a successful advocacy group," he said. "What's the secret recipe that makes the best groups relevant and effective over decades not just years? "Two things stand out for me: Courage and persistence," McCarthy said. "You've got to be brave enough to take a stand in defense of your principles and you've got to be prepared to stick it out. The theme of the program today is fighting the good fight for the long haul."
Group members point to decades of blocking large-scale urban destination resorts on the north side of Mount Hood, in 1982, 1995, and 2002, helping in passage of Measure 37 and 49 in 2007, and, more recently, participation in a lawsuit against U.S. Forest Service over the seven-year delay and obstruction in completing the Congressionally mandated land trade with Mt. Hood Meadows.
Hood River County and Clackamas joined HRVRC as co-plaintiffs and worked with Oregon's congressional delegation on" legislation to move the trade forward. As of February 2017 the Mt. Hood Land Exchange Clarification Act passed the House HR 699 and has been referred to Senate (S. 225) where it passed out of Committee.
"We have come to realize that the best way to protect farms, forests and wild places from sprawling development is with a wonderful livable city that really meets its residents' needs. It's smart growth that fosters a stronger community," Staten said. "Which means that kids can walk or bike safely to school and people who work here can afford to live here. The kind of land use that we advocate is the very best way to develop if you want to minimize green house gas emissions. We got more involved in city land use issues in recent years and we expect that trend to continue."
The Hood River Valley Residents Committee was founded in 1977 when a group of people mobilized in opposition to a county proposal to rezone much of the farmland of the upper valley into 1-acre residential lots. People joining together to fight a bad development is pretty common but normally these ad hoc groups disband when the issue is resolved; the Residents Committee is different, noted Staten.
"After that first victory, our founders had the foresight to know that Hood River needed a long-term watchdog organization to advocate for wise land use," she said.
"Our work seems ever more valid today as water shortages and development threaten farmland and as poor planning reduces livability in cities all over the U.S.," Staten said. "In the last several years our time spent on urban issues has increased because we realize that the best way to protect farms, forests and wild places from sprawling development is with a wonderful livable city that meets resident's needs.

Staten said that, looking ahead, the Residents Committee will continue to work proactively for smart growth which means a stronger community where kids can walk or bike safely to school or parks and where people who work here can afford to live."