I found Dan Peterson carbonating half-kegs at Pine Street Kitchen the other day, but the contents were not one of his beers. It was kombucha, the newest venture for the Hood River-based Ferment brewery.
Peterson's handmade approach to brewing, combined with his wild yeast acumen, make his kombucha something to anticipate. Right now, it is available only at Knot Springs spa in Portland, but should be on tap soon at Pine Street Kitchen.
His IPA is pouring at Camp 1905 and at 64 Oz taphouse, two bastions of local flavors, along with Pine Street Kitchen, where his Biere de Garde and Dry Stout are also available. Meanwhile, his latest ale, L'Or de Noir (Black Gold) can only found at Tusk, a Portland middle eastern restaurant. (Ferment currently brews at locations in Portland.) This beer, a French farmhouse ale, gets its name from aging in wine barrels on Pinot Noir lees from Hiyu winery near Hood River.
The relative scarcity of Ferment ales — all worth the search — should be alleviated somewhat by late 2017, when the brewery moves into its new quarters on the Hood River waterfront. It looks like Ferment's second-story tasting room will have a river view rivaled only by Thunder Island in Cascade Locks and Buoy in Astoria.
•
Cascade Locks Ale House, on WaNaPa, turns its taps over to 10 Barrel on May 27 from 6-9 p.m. Also enjoy the music of Whiskey Flatts and some door prizes.
•
Kriekfest, the summer's first big beer event in the Gorge, returns to Parkdale for its third annual celebration of cherry-based sour ales — local, regional, national and international — on June 24 starting at noon at Clear Creek Station. KriekFest is presented by Brian Yeager and Solera Brewery and is an all ages event; tasting is $25 souvenir goblet (kriekfest.com).
(I recently asked Yeager about the use of that lamentable beer term "suds" in one of his online articles. That slang for beer emanates from those bygone days when most frothy American beer resembled foamy dishwasher output, and tasted about the same. Yeager said he avoids using it, but that alternative comes in handy to break of the repetition in writing about beer. KriekFest will be a "suds-free" zone.)
•
The upcoming Cheers to Belgian Beers Festival in Portland will feature at least 70 Belgian-style beers brewed by Oregon craft brewers; six breweries from the Hood River area will be among them. The 11th annual event will take place June 2 and June 3 at The North Warehouse, 723 N. Tillamook St. Hours are 1-9 p.m. on Friday and noon to 8 p.m. on Saturday. The event is for ages 21 and over.
Area breweries taking part include: Thunder Island Brewing Co. (Cascade Locks): Gnome de Plum, Belgian Style Dark Strong Ale, 12.2 percent; Double Mountain Brewery: Sin Gnombre, Belgian Style Tripel, 8.6 percent; Logsdon Farmhouse Ales: Logsdon Belgian Strong Dark, 8 percent; pFriem Family Brewers: Abrikoos, Lambic Inspired Ale with Apricots, 5.4 percent; Solera Brewery (Parkdale): Soundgarden Gnome, Sour Hibiscus, 6.3 percent; Sedition Brewery (The Dalles): Gnome Mercy, Belgian Style Dubbel Red, 7 percent.
Soundgarden Gnome, a juicy and tropical sour hibiscus beer, is Solera brewer Jason Kahler's tribute to the late guitarist and songwriter Chris Cornell of the Seattle-based band Soundgarden.
•
Solera's newest beer on the menu is one of its rarely repeated beers, The French Tickler, a Grisette-style ale, light and refreshing with a very low alcohol and IBU content. Kahler said Grisette is "an obscure, almost extinct style that has gained a bit of popularity in the last few years.
"A farmhouse ale similar to the Saisons that were brewed for the farmhands, Grisettes were primarily brewed for the miners," he explained. "Often served by young women in grey uniforms (gris means gray in French) as they exited the mines."
•
Brew of the week: Joe Rogan, an amber-colored German-style rye wheat, is piquant and rounded, the subtle spiciness stopping it short of sweet. Who is Joe Rogan? The beer (6.0 AB, 29 IBUs) is named for the comedian and host of "Fear Factor," but despite brewer Neal Brent's tagline "Be Brave," there is nothing to be afraid of; indeed, it's an approachable, richly flavored beer.
•
Because there's no such thing as "beermelon," Full Sail Brewing Co. has invented the next best thing — new Session Watermelon Wheat Ale, brewed with watermelon for a crisp, refreshing beer that smells and tastes like a slice of summer. (Contributed by Sandra Evans, Full Sail marketing director.)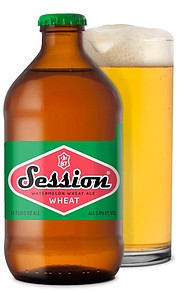 Watermelon Wheat (5.4 percent ABV, 23 IBU) offers a medium malt body with subtly sweet watermelon flavor and a crisp wheat finish. "Spring is here, with summer soon to follow," said Full Sail Brewmaster Jim Kelter. "Beer and watermelon, two quintessential summer pleasures, are paired here in Session Watermelon Wheat."
Brewed with two-row Northwest Pale, Malted Wheat, and Unmalted Wheat, Hallertauer and Crystal hops, and a hint of fresh watermelon flavor, Watermelon Wheat is a refreshing brew for the blue-sky days of spring and summer drinking. Watermelon Wheat is available May through August, in 12-packs and on draft.
My own take on the Watermelon Wheat is that Kelter and company have extracted the essence of watermelon almost to perfection. Other watermelon ales have come along and feel, well, watery. This beer is completely refreshing, with the base fruit giving hints in the aroma and flavor, and that is all you want or need.