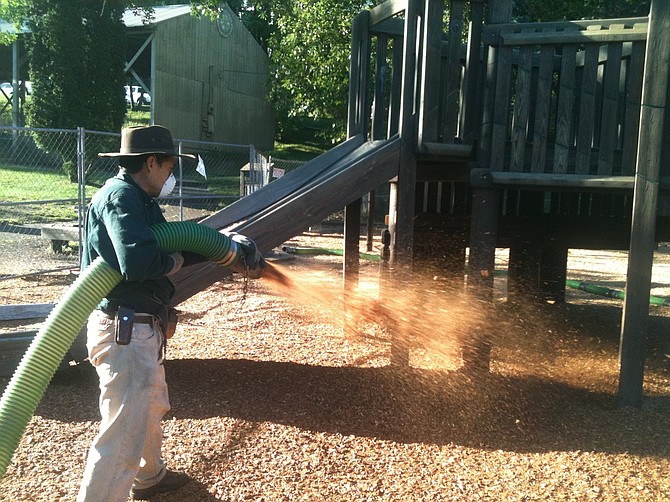 The long wait is over. Children's Park play structure will re-open Wednesday, May 24, about the time city staff said it would following its closure in early March.
Public Works Director Mark Lago said the last repair details are about to occur for families to use the park for the first time in two months.
A hired crew from contractor Rexus Environmental sprayed the last layer of "soft fall" organic material on the ground around the play structure on Tuesday morning. The chain-link fence will be removed Wednesday morning.
The park will be available for use at noon, Lago said.
The city closed the structure after receiving an engineering study that spelled out numerous safety issues. (The Children's Park lawn, restrooms, covered play structure and picnic area have remained open.)
Lago said last month that "we will see the structure through one more season." He has recommended its removal due to structural concerns — primarily extensive rot below ground to the untreated posts. He recently dug down a foot or more to inspect the posts. This will almost certainly be the final summer for the 24-year-old facility, and the city has set aside $300,000 for a new one, though City Manager Steve Wheeler said the city has not determined the actual replacement cost.