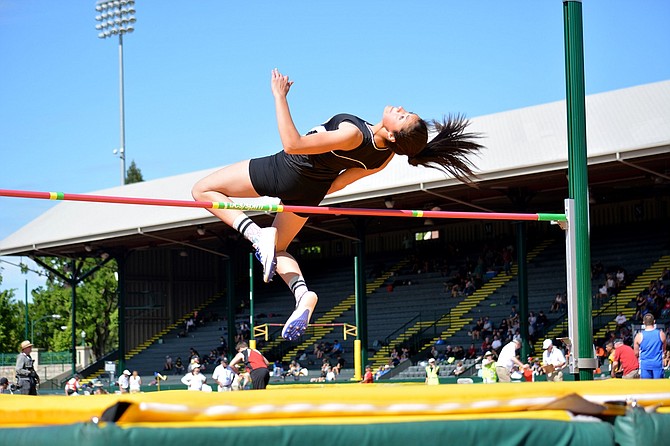 The Horizon track and field team finished off their season late last week at the 1A state championship meet at University of Oregon's Hayward Field in Eugene, coming away with new personal records and podium appearances to boot.
In a packed field of small schools, the girls scored 18.33 points, which put them 16th out of 39 teams. The boys scored nine points, which put them in a tie with Joseph to finish 20th out of 38 schools.
"I am happy with how they performed overall, but this state meet was bittersweet for me due to the fact that this senior class of athletes have accomplished quite a bit throughout their career, especially the boys, and they will be missed for their athletic abilities as wells as their leadership and personalities that they brought to the team," said Head Coach Emma Petshow.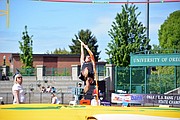 Nobody went home with a state title, but junior Paulina Finn came close, taking second place in high jump with a leap of 5-feet-2-inches — her best jump this season, and one that matched her personal record (PR). She was three inches below North Lake's Kendra Murphy. Finn's second-place finish was the highest of any Horizon athlete, and she followed that up with a third-place finish in triple jump, setting a new PR with an attempt of 33-10.75. Despite those high finishes, Petshow said Finn wanted more.
"On the ride back home, we were talking and she is hungry for some state titles next year, emphasis on the plural, so we are going to go back to the drawing board in the offseason and see what events she wants to focus in on and train for to give her the best schedule and opportunities — to be continued," she said.
Finn wasn't able to make it out of the prelims in the 400-meter dash and was a member of the 4x400 relay team, along with Haley Becnel, Savanna Hawk, and Kaitlin Wenz, that got disqualified, although Petshow noted that "It wasn't because of a lack of effort, as the girls ran a school record time."
Also scoring for the Hawks was Wenz, who in her first year in track and field, placed fifth in the 300 hurdles, and set a new PR with a time of 50.55 seconds. Hawk cleared 6-6 in pole vault, which was good for eighth.
Senior Amy Requa rounded out the field for the girls, taking 11th in the finals of the 3000, running a 13:19.56.
For the boys, the 4x100 relay finished the highest, grabbing fourth with a time of 45.75 — a great effort, as Petshow explained that the team of Bailey Holste, Luke Holste, Andrew Rinella, and Quinn Roetcisoender hadn't run together often this season, and came together after Andy Hung suffered a leg injury a few weeks ago, forcing a lineup change. Luke Holste also competed in the 300 and 110 hurdles, but was unable to make it out of a tough prelim round, though he won district titles in both the previous week.
"His willingness and ability to compete in almost any event in track and field will be missed by both the coaching staff as well as the team," Petshow noted.
Also scoring for Horizon were Roetcisoender, who took sixth in pole vault with an attempt of 11-6, and junior Connor Wells, who set a personal record by two seconds in the 800, finishing eighth with a time of 2:08.33.
Horizon's track and field team will look very different in 2018, as about half the team will be graduating, including state athletes Roetcisoender, Luke Holste, Rinella, Requa, Hawk, and Becnel.
"In regards to our returning athletes, we are down in numbers right now — although I say that every year and the team continues to grow — but not in talent, with strong returning athletes on both the boys' and girls' side," Petshow said.