Pi Chapter, Delta Kappa Gamma, has selected Bambi Foy to receive the 2017 Woman of Achievement Award. Foy's selection came as a result of her work as the raptor education coordinator at Columbia Gorge Discovery Center and Museum, a position she's held for nearly six years.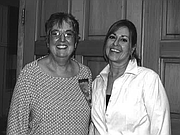 From an early age in Iowa and Nebraska, Foy became interested in farm animals and their care, said a press release. That led to experiences in her adult life with animal care in Colorado, Florida, Costa Rica, Washington, Kansas and Nebraska.
At the Discovery Center, she oversees the raptor program, which includes care, feeding, housing, training and displaying the museum's birds. Additionally, she recruits, trains and supervises volunteers and staff who assist with the program. She is also responsible for budgeting and marketing offsite via video conferencing, classroom visitations and festivals. Her communication skills display her vast knowledge and enthusiasm for her "feathery friends," said the press release.
Foy or one of her volunteers can be found presenting at the Discovery Center's daily raptor program at 11 a.m. and 2 p.m. during the summer months. She is a regular contributor to "Mews News" at the center, updating the center's membership on what is happening with the raptors, including the new exhibit being constructed on the grounds and appearances on Portland television programs.
•
Since 1929, Delta Kappa Gamma Society International has promoted professional and personal growth of women educators and excellence in education, representing over 100,000 key women educators in 16 countries.