William Decker, a senior at Horizon Christian School, has been appointed to the United States Air Force Academy. Decker joins a select group who have completed a rigorous application process including a letter of recommendation from U.S. Representative Greg Walden (R-Oregon).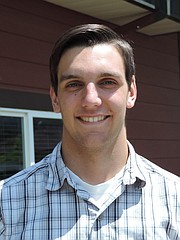 "It is an honor to be appointed to the United States Air Force Academy. I plan on making the most of this opportunity to receive the best education in the world," Decker said.
Decker's acceptance letter read, in part, "You have earned a rare opportunity to participate in one of this country's finest officer training programs. This appointment is awarded to only about 1,200 of our 9,700 applicants. Your previous accomplishments indicate you have the potential to meet the demands and challenges of the Academy and you should be extremely proud of your appointment as only the best of the best are so rewarded."
Decker received his private pilot license at age 17 and earned endorsements for both High Performance and Tailwheel. As a freshman, he organized a fundraiser for Mission Aviation Fellowship and raised $10,000. He is a member of the National Honor Society, has been president of the Student Leadership Team, participated in the Horizon Forensic team and took first place at the Tillamook Debate Tournament, and played on the basketball and soccer teams. He will be studying Aeronautical Engineering at the Academy and would like to participate on the glider team.