Morgan Totten and Samantha Thompson, both Hood River Valley High School seniors, have been selected as the May Students of the Month. Both were presented checks for $100 in recognition of their volunteer efforts in the community and their achievements at school during a recent lodge meeting.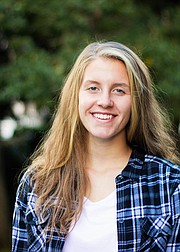 Totten has served the Hood River Valley High School student body and her community, consistently, over her lifetime. A member of the leadership class at HRV, and an elected member of the student government, she has helped organize the canned food drive and many school events. As a student ambassador, she works to make students and adults feel welcome at HRV. This is similar to her work in the Somos Uno group, where she fights discrimination and oppression of the minority population at HRV. She has participated in Bowl for Kids' Sake, and she is a First Lego League Robotics volunteer. She also volunteers for the local food bank, sorting and delivering food. She is a senior meals volunteer, and she prepares and serves food for seniors at the Mt. Hood Town Hall. She also volunteers as a member of HOSA, Health-Occupations Students of America. And, as a member of the Fight Club, the HRVHS Relay for Life team, Totten helps raise money to fight cancer. She volunteered with the Prom Dress Project, which provides affordable prom dress options for students in the county. This year, she helped to spearhead the "It's on Us," a movement to teach people about sexual assault. And she serves as a tutor for the AVID program at HRV, helping to enable disadvantaged students to achieve the dream of going to college.
That's not all. Totten has done sports while at HRV, including track, ballet, and girls' soccer. She works for pay as a babysitter and pet sitter. She's a regular honor roll member, is Red Cross certified, CPR certified, and First Aid certified. Totten says that her most meaningful community service was organizing the Prom Dress Project in 2016. Every dress was $10 and all proceeds went to the Helping Hands Against Violence Advocacy. This project meant a lot to her because she was helping girls in the community who couldn't afford dresses get them and then in turn, they subsequently helped people affected by abuse in our community.
Totten has one sister, Margaret, her twin and Student of the Month earlier this year. Her parents are Ann Zuehlke and Anthony Totten. She plans to attend the Portland State University Honors College, and she wants to major in public health. Totten knows what it means to put others before self.
•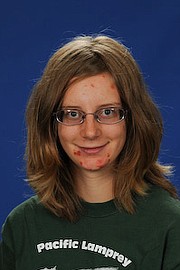 Thompson's list of high school activities and volunteer work in the community is impressive. She is an athlete; she is on the HRVHS Nordic ski team and the soccer team. She is a talented musician, plays the saxophone in the honor band and is a member of the high school pep and marching band. She plays the cello in a string ensemble and is a member of a marimba ensemble as well. She devotes hours each week to music practice both in and outside of school and has played at various school and community events and retirement homes.
Thompson has done a plethora of volunteer work. At Hood River Valley High School she is a peer tutor, has fundraised for the Inspiration Circle, and participated in Community Work Day. As a member of the National Honor Society she helped with the Christmas Basket Project. In the community, she has participated in Relay for Life, Operation Christmas Child — purchasing gifts for disadvantaged children in poor countries — the Heart of Hospice, visiting patients and singing for them, has served food at the senior center and volunteered as an archery instructor. She has dedicated many volunteer hours to Hood River Community Education programs working as a junior counselor at the Let's Get Out Community Education Camp and as a referee and assistant coach for Community Education youth indoor soccer and youth Eagle Soccer Camp. She says that volunteering for Heart of Hospice has been her most meaningful community service because she gets to combine her love for music and her joy for helping people. Even with her busy schedule, Thompson makes time to participate in the Min Yasui March in Portland and has worked as a USSF-FIFA competitive youth soccer referee in Hood River and Portland.
Thompson is the daughter of Rachel and David Thompson. She has one younger sister, Emma, who is 12. Samantha plans to attend Pacific University and major in Music Therapy. Thompson's talents are varied and impressive, as is her dedication to volunteerism. She will most certainly make her mark as she moves on from high school to the university level.