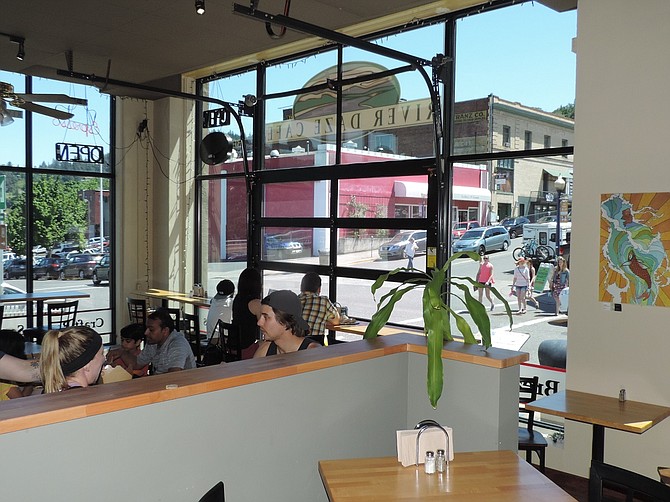 What every restaurant wants — plenty of customers — can create an unwanted reality: "the crunch of people."
That was Cary Bray's phrase for what he and his wife Miranda saw happening with customers after four years in business as the popular River Daze Café, in the multi-business 202 Mall on Cascade Avenue.
Cary and Miranda celebrate five years since opening River Daze (formerly Sage's) and 15 years of marriage this year.
"We love doing it and I think we're thankful for all the customers," Miranda said. "Feeding people is fun."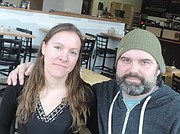 River Daze expanded and opened up, with freer access to either a quick cup of coffee, a beer, or a full meal. The old da Brewshop space was integrated into the café, allowing the Brays to expand the tap list of beer, cider, and kombucha from four to nine (and counting).
The move gave River Daze 25 percent more square footage, additional seating, an expanded and reorganized kitchen and counter area, and a more open feel.
Expansion this winter allowed the Brays to add a register, "so that on busy days, people just coming in for coffee drinks, we can expedite a more efficient flow, and it avoids the bottleneck at one register," Cary said.
"The goal was not primarily the extra space but better flow for customers, quicker service — getting food out at a faster rate," Cary said.
"We've been successful and we want to make it a better experience, a more friendly, open, inviting area," Miranda said.
RIVER DAZE
202 Cascade
Hours: Open Monday through Thursday, 7:30 a.m. to 5 p.m., Friday, 7:30 a.m. to 8 p.m., Saturday, 8 a.m. to 8 p.m., and Sunday, 8 a.m. to 5 p.m.
The restaurant needed "more space, less confinement," Cary said, and a bittersweet turn of events yielded an opportunity.
In early 2016, the former da Brewshop closed after 10 years adjoining River Daze. The Brays' friend Ed Wilder had founded and developed the taproom and home brew supply shop, but suffered a stroke in November 2015. Dana Price and friends strove to keep da Brewshop running, but it closed in September of 2016.
The Brays took on the space, incorporating a portion of Wilder's famously complex tap system into the pouring system today. (Wilder gets around town well these days on a motorized wheelchair, his apartment at Dethman Manor giving him a central Hood River location to visit all the places where everyone knows his name.)
The wall between tap room and café is gone now, other than a 4-foot L-shaped wall that sets the space apart, with a couch to add living room intimacy. The overall café space now provides two of the same ambiance elements as da Brewshop: a selection of quality beers on tap, and an open window view to Cascade Avenue.
Beneath a row of roll-up doors, a line of counters faces the street as part of the expanded River Daze experience.
Cary likes that at night, from the street you can see the big River Daze chalkboard menu on the north wall.
"It really opens it up, and it feels just a little more open. It's got a really nice feel to it, a good flow," he said. "In five years' time people might think this was how it was built, as one business. In the old days, as a car dealership, the front was all open, so this is back closer to where it used to be."
The doors to the tap room, River Daze and neighboring Pines 1852 wine bar were all installed at the same time three years ago, giving the half-block a unified street appearance. On sunny days, the windows will fill with customers enjoying a meal or libation. Last year's renovations were by Wells Construction, painting by Ken Saluver, and Pete Stagpole helped install the floors. Sam Benoit did extensive finishing work, and café staff helped pitch in to keep their paid hours last spring during a couple of renovation closures.