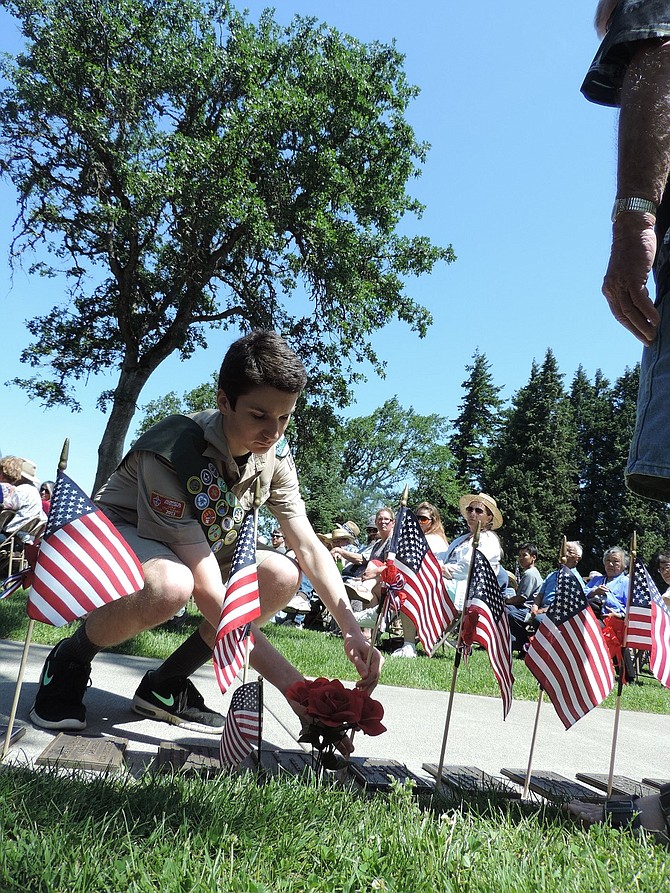 Keep Memorial Day every day, speakers said Monday at Hood River's annual observance at Idlewilde Cemetery.
"This is the living memory of the sacrifices who we honor each and every year," said Idlewilde Sexton Bob Huskey, who served as master of ceremonies.
Twenty names were added to the Walk of Honor, a growing circle of plaques commemorating men and women who served the nation.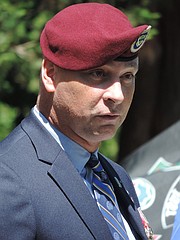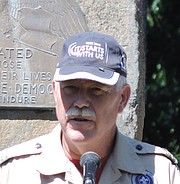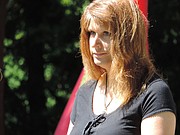 Special attention was given the 100th anniversary World War I flag and authentic Doughboy helmet, placed on the ground along with dozens of honorary floral arrangements provided by veterans' groups, civic organizations and businesses.
The event featured music by Hood River Valley High School band and choir, directed by Dan Kenealy, and the reading of the poem "Flanders Field," by Diana Olshove, granddaughter of the late Rita Byrd, who died in 2016 and had made it her annual gift to read the poem at Memorial Day.
Navy veteran Nick Kirby, an Odell orchardist, spoke of the mortal dedication he witnessed at sea during the waning days of the Vietnam War, serving on the aircraft carrier Midway.
He read aloud an anonymous poem, "I was there just last night," which read, in part: "When were you last in Vietnam? I was just there last night, there this morning at breakfast and I was there at lunch today. Vietnam is always with me, in the things I went through and the friends who are no longer here."
Kirby called for understanding and support for veterans in our midst who are still experiencing the consequences of war.
"We're still losing them, even though they are not in the battlefield," Kirby said. "I hope and pray if you know veterans who are home and dealing with issues, to do what you can to help keep them as healthy citizens of this great country."
Huskey said, "No matter whose names, let us take a little time out of our busy lives and just not wait until Memorial Day. Let us give them recognition and honor those loved ones each and every day."
Guest speaker Sgt. Major (retired) Gavin McIlvenna of Hood River took the idea a step farther, urging everyone present to make a point of adopting a veteran's grave at Idlewilde or other cemetery, just as he and his wife, Amy, have done for Private Thomas Jefferson Pyle, who served in the Civil War and died in Hood River in 1918.
"This is a simple act of remembrance and one that is the true essence of Memorial Day. It says, 'We will never forget.'"
McIlvenna served as a guard at the Tomb of the Unknown Soldier and is president of the Society of Honor Guard, Tomb of the Unknown Soldier. He said he and his comrades stand motionless 24/7/365 while families come to remember and grieve, but he promised, "We hear you and we grieve with you."
"A soldier never dies until they are forgotten," is the underlying belief among the tomb guards, he said.
"It seems to me that society tends to forget the price that is paid for many of our freedoms," said McIlvenna, who wore the Marine Parachute battalion beret in honor of Marine Lars Peter Chew of Colorado, who died in Iraq in 1991.
He quoted President Ronald Reagan: "If words cannot repay the debts we owe these men, surely with our actions we must strive to keep faith with them and with the vision that led them into battle and the final sacrifice."
McIlvenna noted that the society is working toward the National Salute, encouraging communities to reflect on sacrifices by ringing bells each year on Nov. 11, the 11th hour of the 11th day of the 11th month, and pausing in silence to recognize the sacrifices of veterans.
"Hood River last year became the first city to offer a proclamation in support of this national salute. You led the way," McIlvenna said.