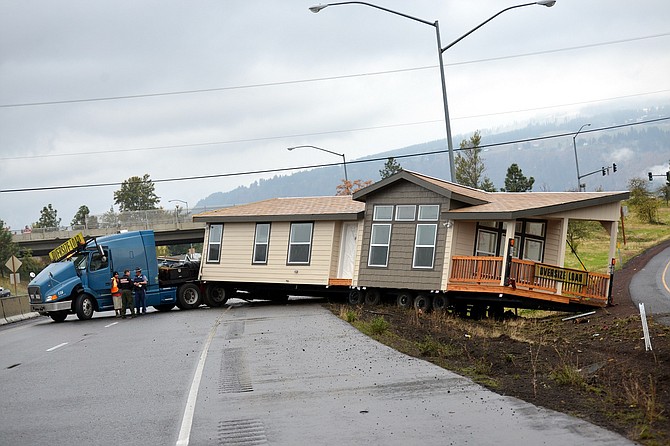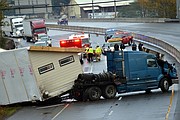 A semi-truck hauling a manufactured home crashed and jackknifed Monday morning, blocking Interstate 84 westbound for about 90 minutes.
The driver, 36-year-old Michael Cannon from Hermiston, was sent to the hospital with non-life threatening injuries.
At about 9:30 a.m., police said, the westbound truck was exiting the highway at exit 63 when, for an unknown reason, it veered to the left, crossing into an unpaved section of the shoulder, and struck the exit sign and two fog markers.
The vehicle — and the attached beige Marlette home — came to rest blocking the I-84 westbound lanes. Debris littered the muddy highway shoulder.
A witness said she heard a grating sound from nearby Hampton Inn and Suites during the wreck.
Medics with Hood River Fire and EMS laid Cannon on a stretcher and wheeled him to an ambulance that took him to Providence Hood River Memorial Hospital. He was sent for treatment of minor injuries, according to an Oregon State Police news release.
Hood River Police Sgt. Juan Pulido said the driver was conscious when medics made contact with him.
The blue commercial 1999 Volvo Conventional truck with a Washington plate was labeled Westspan Hauling Inc., based in Tacoma, Wash.
A man named Will, who drove the pilot vehicle along with the commercial truck and trailer, said Cannon apparently "lost control" and the vehicle slid before crashing.
The man said he was not certain how much damage the front of the truck sustained, but the attached mobile home was likely "totaled."
Both lanes of I-84 westbound were blocked for nearly 90 minutes while tow trucks from Parkdale-based Guzman Towing removed the vehicle combination.
Law enforcement officers with Hood River Police Department, Hood River County Sheriff's Office, and OSP were on scene. Oregon Department of Transportation helped by diverting traffic off the exit and back onto I-84 westbound.
The crash is under an OSP investigation.