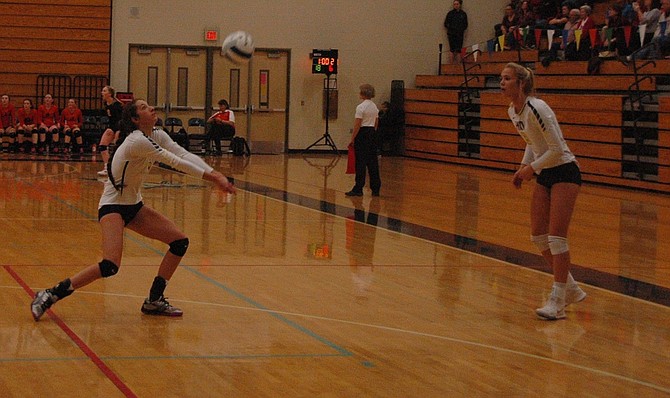 The Hood River Valley Eagles volleyball team achieved many remarkable goals this year, highlighted by qualifying for the OSAA 5A state tournament for a second straight season.
The three-time Columbia River Conference Champions and No. 11 ranked Eagles (14-10) won the sixth place trophy in 2016 and had high hopes of winning a state tournament trophy in back-to-back years.
Hood River had reasons for optimism, too, as they came into the tournament Nov. 3-4 at Liberty High School with a tremendous amount of momentum. An experienced Eagle squad was peaking at the right time, with victories in five of its last eight games. A 3-0 home win over the No. 9 ranked Wilsonville Wildcats (14-7) in a first round playoff contest Oct. 28 propelled the Eagles to the Elite Eight of Class 5A volleyball and a berth in the state tournament.
Hood River faced an extremely tough opponent, though, in Friday's quarterfinal match versus the No. 1 ranked Summit Storm, the co-champions of the Intermountain Conference with Bend (22-6). Summit (22-7) certainly proved worthy of its high recognition while recording a 3-1 over Hood River (17-25, 26-24, 25-17, 25-15).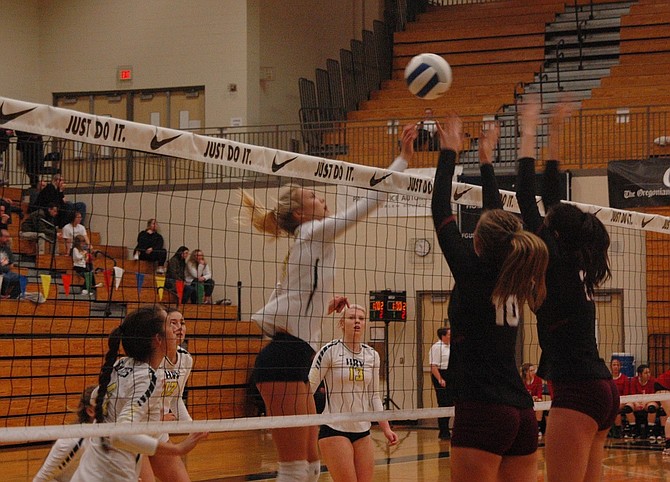 The Eagles, guided by coach Scott Walker, then had to play in a 10:30 a.m. Saturday morning consolation round contest against the No. 5 ranked Sandy Pioneers (16-8), the Northwest Oregon Conference champion. HRV came out strong and played tough throughout the match, but Sandy had the momentum going in its favor to come out on top for a 3-0 win (25-17, 25-20, 25-20).
"At times we looked really great, while playing the best we have all year, but there were other times that were we were not playing too well," said Walker, who has coached HRV to the OSAA state playoffs for the last three years. "We would've had to play really great volleyball to beat Sandy, because they were really on top of their game today. I'm sad that we lost and I was disappointed that we didn't play as well as we're capable of playing. We played a lot better in the quarterfinals on Friday against Summit."
Summit held an early edge at 7-2, but the Eagles quickly overcame the deficit. An 8-3 Eagle run included four straight service points and an ace by senior Shae Duffy (nine kills). HRV took its first lead in the set at 10-9 on a tipped ball to the floor by Columbia River Conference Player-of-the-Year Katie Kennedy (seven kills).
"I'm happy that we have such a great team that works so well together and we always have lots of fun playing volleyball," said Kennedy. "We're all so happy to be here for the second year in a row and maybe we'll even be back here again next year."
HRV remained on top for the remainder of the set and had a 10-7 run to extend its lead to 20-16 on consecutive service aces by junior Emilie Ellifritz. Junior Haylee Baker served an ace in the rally and junior Emily Curtis had a kill to help lead the Eagle offense. With HRV on top 23-17, Duffy pounded a kill for game point and she also had a set winning kill in the 25-17 victory.
A thrilling second set included 10 tie scores and six lead changes. Summit took the early lead at 6-3, but the Eagles came back and took a 7-6 lead on an ace served by Duffy. Back-to-back Duffy kills and her block propelled HRV in front 14-10. Summit came back to regain the advantage at 19-18 and force an Eagle timeout. A 3-0 Eagle rally capped by a Kennedy kill lifted HRV in front 21-20.
"I felt like I played relatively consistent to try and help out our team," said Duffy. "Our entire team played really consistently with our passing and hitting."
Following a 23-23 deadlock, Summit went ahead 24-23 on an Eagle serve receiving error as a ball went out of bounds. A Duffy kill knotted it at 24-24, but Summit scored the final two points for the win.
Summit overpowered HRV at the end of the fourth set, outscoring the Eagles 8-2. Summit won 3-1 over Corvallis (20-5) to reach the championship game versus Bend, which beat Summit 3-2 for the title.
The consolation game versus Sandy was a rematch of a nonleague contest Oct. 24 at Sandy High School, which the Pioneers won 3-2. The first set included 10 ties, with Sandy getting the 25-17 win. In the second set, Sandy took control by building a 15-9 lead. The Eagles fought back, trimming the margin to 16-14 on back-to-back aces by senior Hannah McNerney (16 assists). After trading points, Sandy led 20-18 and the Pioneers followed with a 5-2 run to pull out the win.
The third set included six deadlock scores and four lead changes. Sandy built an early 7-3 lead, but HRV came back with a 5-0 run and went up 8-7 on an ace by McNerney. The teams continued trading points and a Kennedy kill provided HRV with its final lead of the game at 14-13. Sandy then outscored HRV 11-7 over the later portion of the set to get the 3-0 match victory.
Despite losing both tournament games, the Eagles enjoyed a tremendous amount of success this year. Advancing to the tournament as one of the top eight squads out of 33 Class 5A teams is something the Eagles can feel very proud of. HRV was also one of six teams to reach the state tournament for a second straight year, which is a remarkable accomplishment, as was winning their third straight CRC title this year.
"I feel extremely proud of our team," said Walker. "The only goal we didn't reach is that I wanted us to win our last match of the year. Our seniors have provided us with good experience and toughness all year. Leticia Martinez was our most improved player this year. All five of our seniors are really smart and talented players. I'm already thinking about how tough it's going to be to replace Hannah McNerney, Shae Duffy, Kennedy James, Kaylin Winans and Leticia Martinez."
All-League and All-Tournament honors:
Duffy, Kennedy and Emily Curtis earned CRC First Team All League Awards and James earned Second Team. Duffy also earned an All Tournament Second Team Award for the second consecutive year.