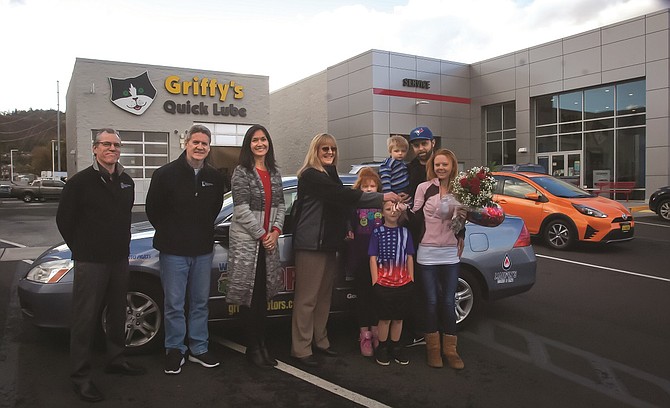 A single mom with three children received a vehicle Thursday in the third annual "Wheels of Hope" campaign sponsored by Bicoastal Media in partnership with Northshore Medical Group.
Patrese Evans of Cascade Locks was given the keys to a 2007 Honda Accord from Griffith Motors in The Dalles.
She was chosen from among 60 nominees throughout the Columbia River Gorge by a panel of judges from Bicoastal, Northshore, sponsors and representatives of agencies that help families.
Evans has had to borrow a vehicle to get her children to doctor's appointments and other emergencies, according to a press release from Bicoastal.
During September's Eagle Creek fire, Evans' family was evacuated, and she found herself without an income after the local restaurant where she worked shut down due to the lack of tourists coming into the Gorge during the freeway closure.
Despite all this, Evans made sure her children were at the bus stop at the Red Cross shelter in Stevenson where the family was staying so that they could get to their temporary classes at Westside Elementary School in Hood River.
The unnamed person who nominated her for "Wheels of Hope" said the Evans family is "a picture of resilience in the face of adversity."
The panel chose Evans because they felt giving her reliable transportation would "open up opportunities for career advancement and significantly reduce her daily stress, allowing her more energy to devote to her children."
This year, in addition to the award of a vehicle, Bud Light is helping to "Pay it Forward" by making donations of $1,000 each in Evans' name to three organizations that help residents of the Columbia Gorge community.
Receiving the donations are: The Next Door, Mid-Columbia Action Council and Mid-Columbia Health Foundation's Breast Health for Strong Families program. "Wheels of Hope" is also supported by Walmart, Columbia Veterinary Hospital, The Dalles Fruit Company, Tacy's Place, Windermere Real Estate, Infinite Graphix and Crestline Construction.