Elizabeth Bailey and Alden Gendreau, both Hood River Valley High School seniors, have been selected as the Elks October Students of the Month.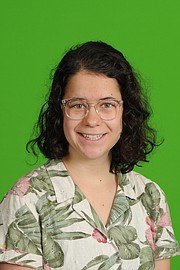 Bailey serves as a leader both in title and behind the scenes. She has been a force in HRV's student government since she first stepped onto campus. She has served in various officer positions and this year she is the secretary of the ASB. In these roles, she has organized school events, such as freshman orientation, the lock-in, and the luau, she led efforts to re-write the dress code, and she assisted in re-structuring the entire program and its curriculum during her junior year. She has also logged many hours volunteering for various STEM-related groups and events. This includes organizing First Lego League robotics tournaments, running summer robotics camps, coaching a youth robotics team at Westside school, and coordinating events with program heads across the Gorge. She is her team's captain and business manager.
Bailey is not only left-brained, her right side is equally as active. She is a skilled musician, playing drums, she serves as a songwriting counselor at a residential arts camp at Willamette University, and at the Rock 'n' Roll Camp for Girls in Portland, focusing on female empowerment through music.
More traditionally, Bailey has served as club secretary for the Leo's, volunteering at various community events. She serves on the School-Based Health Center Youth Advisory Council. She started the youth advocacy group for the Helping Hands Against Violence organization here in Hood River. She also served as Mayor Blackburn's intern.
Seemingly allergic to free time, Bailey is involved in several musical groups at HRV, including Aurora A, the a capella show choir, and jazz band. She writes and produces content for The Talon, HRV's school newspaper. Bailey has also worked for pay at Mike's Ice Cream, 10 Speed Coffee, Orchard View Farms, and Overwatch Imaging.
Bailey has applied to numerous universities, including Harvard, Bates, and Barnard. She is interested in pursuing a degree in political science, computer science, economic, or systems engineering. She is the daughter of Bridget Bailey and Eric Nisley.
•
Gendreau is the son of Jill Rowland and Tim Gendreau. He has one sister, Emelia, who is attending California Lutheran University.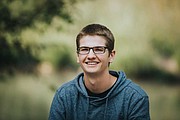 One word sums up Gendreau's scholastic and community experience: INVOLVED. At HRV, Gendreau is a member of the National Honor Society, Leaders for Tomorrow, participates in Campus Pride Day, assists with New Student Orientation, helps with the canned food drive for FISH, distributes holiday baskets to those in need, plays trombone in the jazz band and wind ensemble, plays on the golf team, and is an active member of the Earth Action and Climate Action clubs. Through the Earth Action and Climate Action clubs, Gendreau participated in the Compost Project at HRV, the STEM Fair, the March for Science, trash pick-up at the Hood River, weeding and planting at the marina, the Earth Day Parade, Climate Action March, and the People's Climate, Jobs, and Justice March in downtown Hood River.

Outside of school, he has canvassed door to door for the Local Water Alliance, creating awareness about ballot measure 14-55. He has helped with the FISH Turkey Dinner, the Kids Zone booth at the Harvest Fest, the Big Brothers Big Sisters golf clinic, Family Engineering Night at Westside School, and has played music at local Memorial Day celebrations. He is the youth representative on the Spirit of Grace Community Church Board of Directors and in that capacity, has helped with the FISH Food Bank gardens, helped with fundraising, performed in the youth brass ensemble for Easter services, and attended a mission trip to Detroit. Gendreau is a regular participant in Good Neighbor Saturday, where he has helped people in need with yard work and home maintenance. He finds this volunteer activity very rewarding because he likes helping people. He especially enjoys it because he has formed relationships with people that he helps out each year. Gendreau takes classes in tap and hip hop and served as an instructor at Columbia Gorge Dance Academy's Hip Hop Camp. He has worked as a baby sitter, as an employee at Meadows Golf Course at Sunriver Resort, and, with friends, started a small business, The Gorge Scoop, before his first year of high school.
Gendreau is an exceptional example of volunteerism and activism at its best. He embodies what it means to take an active role in school and community to make positive changes, educate, empower, and improve quality of life for many. His top choices for college are California College for the Arts and the University of Oregon with a major in architecture.