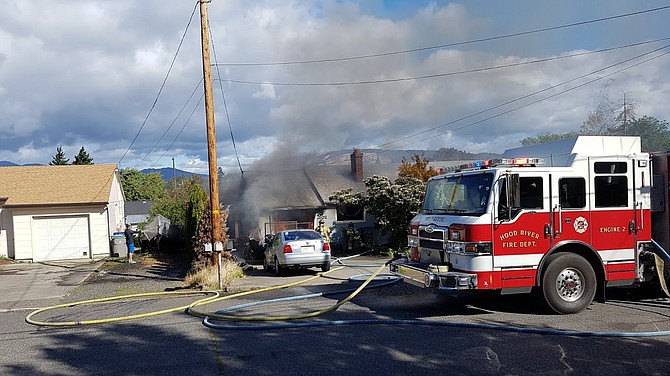 At 10:59 a.m. Saturday, Hood River Fire and EMS crews were dispatched to a reported residential structure fire in the 1800 block of Montello Avenue in Hood River.
Several callers to 911 reported smoke coming from the front of the building. Firefighters observed a column of black smoke just north of the station as they responded. Hood River units arrived two minutes after dispatch to find heavy smoke and flames coming from the building.

It took firefighters about 40 minutes to control the blaze. Crews were able to contain the fire to the converted garage and a nearby room with additional damage to several motorcycles parked outside. There were no reported injuries, and sole occupant home at the time made it out safely. HRFD was assisted by a unit from West Side Fire District.
The cause of the fire is still under investigation as of Tuesday. No damage estimate is available, said Fire Chief Leonard Damian.