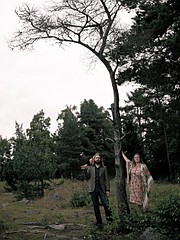 Vellamo, a Finnish folk duo, will bring their ethereal melodies to the Hood River Library on Oct. 11 at 6:30 p.m.
Vellamo is led by the performing and songwriting team of Pia Leinonen and Joni Tiala. Their music is characterized by haunting melodies, Leinonen's lead vocals and Tiala's guitar stylings.
In Finnish mythology, Vellamo is the goddess of the sea. Based in Kokkola, on the western coast of Finland, Vellamo combines the rich tradition of Finnish folksong with an appealing "retro" sensibility, creating a modern folk music experience.
This program is free and open to the public. For more information, please contact the Hood River County Library District at 541-386-2535, info@hoodriverlibrary.org, or visit hoodriverlibrary.org. For more information on Vellamo, visit www.vellamomusic.com or www.facebook.com/Vellamoband.