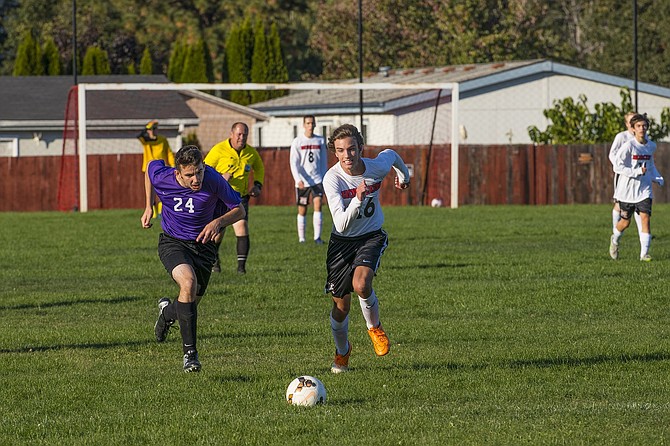 Horizon Christian's soccer team rebounded from back-to-back league losses, with a 4-0 win Wednesday in Hood River.
The Hawks entered Wednesday's match coming off a 5-0 loss to North Clackamas Christian on Monday. Last week, Horizon lost 2-1 at home to Livingstone Adventist Academy, ranked eighth in OSAA's 3A/2A/1A standings.
North Clackamas, riding a six-game winning streak, was too much for the Hawks to handle. Horizon was put in an even tougher situation than expected, as the Hawks were without two of their main starters, Derek Johnston and Caleb Lingel.
"Not having those playmakers really affected our game-play," said Head Coach Andrew Stenberg.
Johnston was out with a nagging hamstring injury he suffered in the first match of the season against Umpqua Valley Christian. Lingel gave it a try against North Clackamas, but would decide the gluteus injury he sustained against Trout Lake wasn't ready to play on.
However, even without their two main players, Horizon kept the match close in the first half. The Hawks trailed 1-0 at the break, but with about 20 minutes left in the second half, North Clackamas would begin pouring in its remaining four goals.
"Johnston and Lingel would've been a huge help for us against North Clackamas and hopefully both will be able to recover in the next week or so as we start playing the teams in the bottom half of our league," said Stenberg.
Horizon snapped its two-game losing skid Wednesday at home against the Oregon School for the Deaf (OSD). The Hawks distributed the ball well against OSD and ended the game with four different players scoring goals.
The first goal came in the 30th minute by senior Alexis Ruiz. The opposing goalie bobbled a crossing pass, and Ruiz attacked the ball and kicked it into the back of the net.
A "beautiful corner," as Stenberg described it, led to the Hawks' second goal of the day, coming in the 55th minute. Ethan Fuller sent the corner toward Kai Robertson, who was running to the near post. Robertson flicked the ball with his head past the goalkeeper.
Senior Ian Gray scored his first goal of the season in the 60th minute for the Hawks. A well-placed ball off a cross put immediate pressure on the OSD keeper to make a play, forcing him to drop the ball. Gray got a foot on the ball and snuck it into the net.
The final goal was scored by Fuller, who displayed good footwork in the middle of the field, "where he beat a defender and launched it in from the 18-yard box past the keeper at around the 64th minute," Stenberg said.
After the game, Stenberg said his team needs to work on ball control and possession heading into the league playoffs.
"We give the ball away too much in the midfield and play much more defense than we should," Stenberg said. "So, we are going to be working on possession drills, communication and finding our targets when we pass in our upcoming practices."
Stenberg's message to his team is simple, heading into its final four games of the regular season: "Work hard, have a passion to improve, communicate well and play your best."