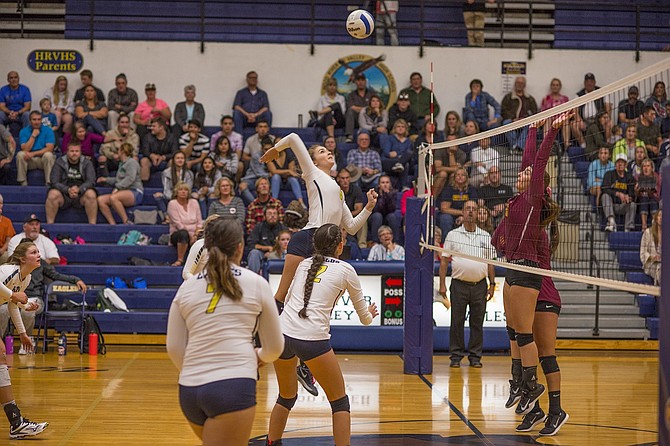 HRV volleyball welcomed The Dalles on Tuesday, Oct. 3 in their second of three meetings for the season.
The first matchup between the schools favored HRV, who went to The Dalles and swept the Riverhawks in three sets.
And on Tuesday, it seemed HRV would do the same.
The Eagles got off to a fast start in their only home match against The Dalles, winning the first two sets in dominating fashion (25-16, 25-14).
After the second set, Head Coach Scott Walker felt that his team "started to think that this game was over."
But this game was far from over.
"The Dalles kept fighting," said Walker. "My hat is off to the Riverhawks."
The Dalles would go on to return the favor from the first two sets and handle the Eagles in sets three and four (25-17, 25-17).
"In those sets, The Dalles served the ball well and their defense became really stingy," said Walker. "Our passing also went south during that stretch of time as we started sending over easy balls that they were doing good things with."
With the pressure now on the Eagles', the girls turned things around.
"In the final set, we started playing like a team again," said Walker. "We played with high energy and served the ball well, putting the pressure right back on them."
HRV would ultimately dodge a second straight loss at home, winning the final set against The Dalles 15-10.
The attack on Tuesday night was led by Shae Duffy with 15 kills. Her partner in crime, Katie Kennedy, normally fulfills a majority of the other kills for the Eagles, but with her sitting out against The Dalles after tweaking her ankle in practice Monday, her teammates would pick up the scoring load.
Behind Duffy in kills were Kennedy James (13), Emily Curtis (10), and Carli Stroud (7).
Of the 44 assists as a team, Hannah McNerney was responsible for 37.
Contributions to the digs total for the Eagles was spread out across the roster, with Curtis (16) leading the way.