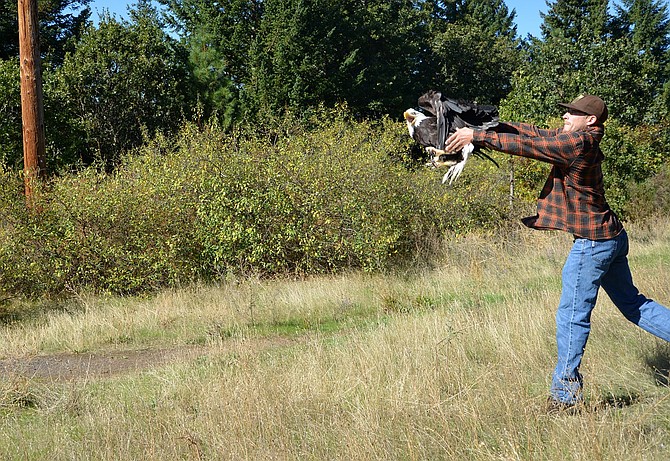 Wings flared, a bald eagle looped over the Hood River and disappeared behind a curtain of trees.
The raptor, which state crews found lying injured in a creek near Post Canyon in April, spent months recuperating at Rowena Wildlife Clinic before its release Thursday afternoon.
Two of same experts who initially took care of the bird helped set it free.
Andrew Rosenberg, an Oregon Department of Fish and Wildlife assistant district wildlife biologist, and Jean Cypher, a veterinarian at Rowena, wrapped the eagle in a blanket and drove it to a Mount Hood overlook point off Highway 35, south of Hood River, for its sendoff.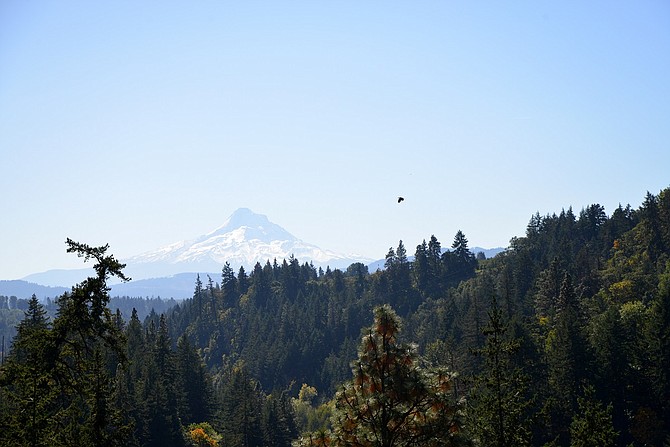 The adult bird showed its regained health — and irritation — by nipping at Rosenberg, who held it.
"She's strong," he said of the bird. Cypher helped him unwrap the blanket.
Rosenberg gave the eagle an encouraging toss into the air. It took flight in a blur of feathers, then soared above the river and beyond a horizon of trees.
The takeoff was smoother than the pair of rescuers expected.
In mid-April, Oregon State Police and ODFW crews found the female adult eagle.
Witnesses reported the bird was flying low and unsteadily before it fell in a small creek along Post Canyon Road, west of Hood River. Rosenberg delivered the bird to Rowena, a non-profit clinic near Mosier.
Cypher said the eagle showed classic symptoms of lead poisoning, but tests done at Blue Mountain Wildlife clinic in Pendleton came back negative. Some other sort of trauma hurt the bird. It couldn't fly properly and it struggled to eat unless hand-fed, at first.
"We just gave her time … and supportive care," Cypher said. "When she started to move around a little bit more, we put her in an outdoor aviary."
That enclosure at Rowena was built with support from a Portland-based philanthropic group, the Kinsman Foundation.
It wasn't until a few weeks ago that the bird started "really flying and acting like she wanted to go."
The plumed eagle got its freedom this week, when it was recaptured at the aviary, then transported to a safe location and released.
Bald eagles are fairly common in the Columbia Gorge, Rosenberg said, anywhere close to a body of water where the they can hunt fish.
"We get pretty heavy concentrations of eagles here in the wintertime because they seem to follow water fowl migration to the Columbia (River)," he said. "You can really find them anywhere in the winter because they're scavengers also."
Scavenging can put them in danger of lead exposure, however. Rosenberg encourages hunters to use non-lead ammunition to avoid that issue.
Cypher has dealt with various injured eagles, some of which were poisoned by lead exposure — though this wasn't one of those cases.
Rowena Wildlife Clinic is a non-profit located on U.S. Highway 30 between The Dalles and Mosier.