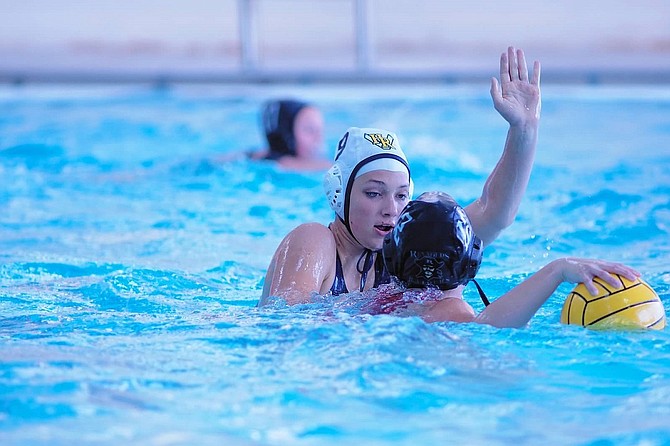 On Monday, the HRV girls water polo team played on the road against Reynolds High School. This was a rescheduled game from a previous date that was cancelled due to the Eagle Creek fire.

Reynolds and Hood River are currently the top teams in the Mt. Hood Conference, so this game was the battle to take that top ranking, which was won by the Eagles 14-4.

Head Coach Kellie Dunn said, "We have matched up with and beat Reynolds in both of our tournaments this season, so we had a good idea of what to expect, but Reynolds is always dangerous and if we don't come to play our game, they can definitely beat us. We knew we would have to come out hard from the start with them."

The Eagles started incredibly strong against the Raiders going on a 7-0 run in the first quarter.
The rest of the game followed similarly, with Hood River dominating the pace of the game and taking over.

"It was really a great showcase of how great our defense is — the team forced many turnovers and had a lot of steals," Dunn said.
Senior Kat McElderry only let in four goals during the entire game. Reynolds struggled to find an answer to all of Hood River's offensive threats with seven different players scoring goals: Faith Ocheskey (4), Jamie Robinson (3), Madaket Greenlead (2), Ella Murdy (2), Sarah Hall (1), Olivia Sumerfield (1) and Rose Finstad (1).

On Tuesday, the Eagles were back on the road playing against David Douglas.

The Eagles had a somewhat slow start and struggled to find their rhythm on offense.
Fortunately, their defense remained true to form and solid, keeping the team in the game with momentum on their side.

McElderry held things down on the defensive end with seven saves for the night.

Things eventually fell into place on offense. There were some great plays and key passes for the Eagles, who came out with a 12-3 win.
Scoring leaders against David Douglas were Finstad (5), Robinson (4), Ocheskey (1), Lauren Orr (1) and Amber Kennedy (1).
Dunn said, "Playing back-to- back road games is not an easy task. Traveling means less recovery for the kids and shortened sleep due to late bus rides home and catching up on homework, but the girls managed to grab another win over David Douglas.
"Not every game is going to be great, and the important thing is that at the end of the evening they completed the biggest task, which is to come home with another conference game win," Dunn said.
The next game for the girls is at home Oct. 10 against Barlow as they look for their seventh win of the season. Scheduled time for this match is at 6:30 p.m., but depending on prior games it may change.