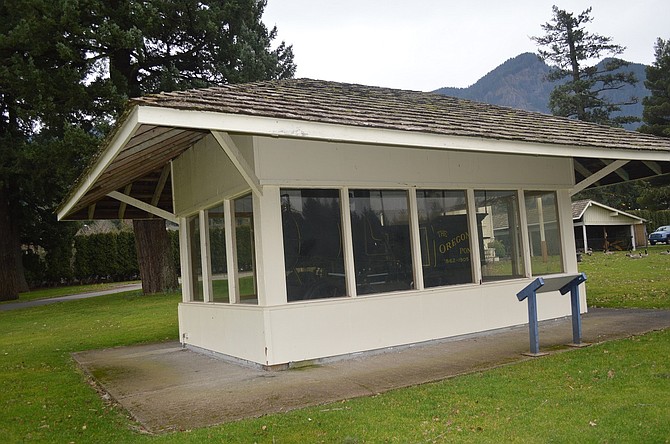 A plan is on the table for the Port of Cascade Locks as it charts out Marine Park's next decade.
The Marine Park Master Plan, set for the port commission to adopt in mid-October, sketches out goals and priorities for improving and developing the multi-use riverside park from 2017-2027.
Elements up for discussion include a new enclosure and visitor center for the historic Oregon Pony engine, an overcrossing over the Union Pacific Railroad tracks, shuffling around museum and equipment building sites, and a Columbia River shoreline trail/beach walkway project.
The 10-year plan was on the agenda at the port's Sept. 21 meeting, Port General Manager Paul Koch said in an email, but the commission decided to table the matter at a follow-up meeting, tentatively scheduled for Oct. 19.
The delay allowed for "some alterations in the document and to give more local citizens an opportunity to comment," Koch said.
Features in the plan's first phase, according to a port meeting packet, include:
Construction of a park-wide pathway.
Repurposing the "incubator space," or soon to be former Thunder Island Brewing Co. building, for a yet undetermined purpose.
Completing ongoing negotiations with Union Pacific Railroad for additional land.
Enhancing the port pavilion for weddings, receptions and celebrations, and improving the wedding sites on Thunder Island in order to be rented out year-round.
The next phase of the plan rolls out in 2020 and beyond. It involves larger projects, such as a new pony building and an overcrossing park entrance.
For years, the port and Oregon Department of Transportation have considered the overcrossing project. The new pedestrian bridge would start at Overlook Park — by the U.S. Post Office on WaNaPa Street — then span over the UP railroad tracks to culminate at the west end of Marine Park.
Also, a committee has been mulling designs for a new pony structure over the last two years.
Fiscal estimates state the improvements will cost roughly $3 million over the course of the 10-year plan. The plan calls for grant funding to help pay for implementation.
The park master plan surfaced last summer, when the port held a meeting about developing such a concept. From there, the port's engineer, Jim Bussard, created a park diagram the commission reviewed last fall. The port held various review meetings.
When adopted, the plan will set in motion some related activities in the port's current budget year, such as initial stretches of the park-wide pathway.
Marine Park sees year-round use, but most heavily during summer events like Sternwheeler Days and Pacific Crest Trail Days. The park is listed on the U.S. National Registry of Historic Places.