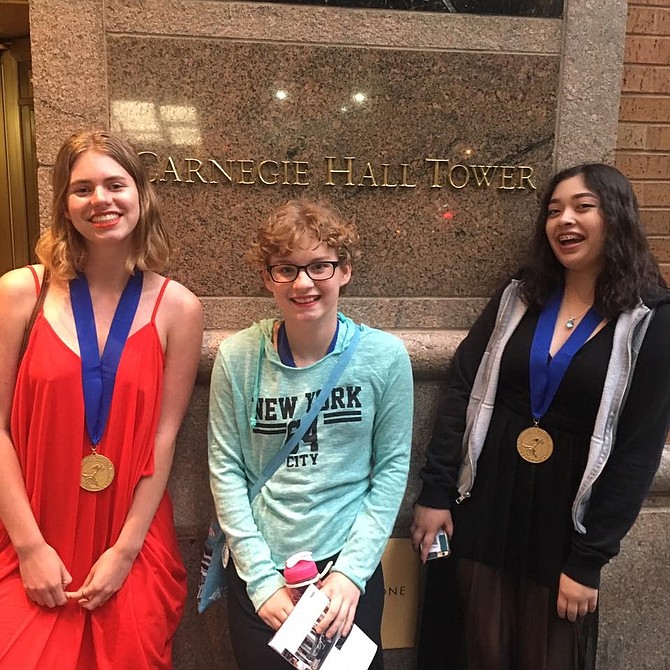 Three Hood River Valley High School art students received a first-time honor last school year that took them all the way to New York City.
Emily Liri, Emma Vega and Allison Thompson — sophomores last year, now juniors — were Gold Medal winners in the Scholastic Art awards for 2016-2017, and received their awards at Carnegie Hall in New York on June 8. In addition to being honored at the awards ceremony, their work will now be part of traveling exhibits over the next two years.
"What was most wonderful about the trip was seeing high school students honored for their creativity to such a high degree," said Hood River Valley High School Art Teacher Amirra Malak, who chaperoned the trip. "… Being in Carnegie Hall to honor kids was amazing! It was also fantastic to see the caliber of work in the student art exhibit at Parson's School of Design."
Each year, students compete at the state level for honorable mention, and Silver and Gold Key awards. Gold Key winners advance to the national competition to compete for Silver and Gold Medals, with Gold Medal winners invited to Carnegie Hall for an awards ceremony, Malak said.
Other activities included the gallery exhibit of all national medalists' works, a Maker's Prom and art school tours.
For Thompson, the best part of the trip was seeing displays of winning artwork located at Pratt Institute and Parsons School of Design, which was organized by category.
"Everyone's stuff was so amazing," Thompson said. "My favorite part was seeing everyone's work. It was cool to see how much young people have accomplished in creative pursuits — I think young people have a unique outlook on the world. It's interesting, at least."
Liri enjoyed meeting fellow artists and staying a couple extra days in the city in order to take in the Museum of Natural History and the Metropolitan Museum of Art.
"My favorite were the Greek exhibits — I love Greek history, it's the coolest," she said.
She also enjoyed seeing landmarks that she'd seen in movies, which didn't always look as she'd expected, she said.
The ceremony itself was memorable for the teens, from the walk through that morning to the actual event, which included a video message from Michelle Obama, former First Lady, and several speakers, including Amy Schumer.
The girls "got shuffled around," said Thompson, and sat separately.
"When we stood up and looked around, and I saw my mom and Malak, that was cool," she said. "They made a big show out of that moment."
Malak said that a bonus for her was being able to take two of the students on a tour of Pratt Institute in Brooklyn, the art school she attended.
"It was very moving to return to where my art career started and share the experience with the next generation of artists," she said. "Mostly, it was wonderful to get to see the wonder in the students' eyes as they got to experience such an arts-rich city."
The trip was made possible through fundraising, Malak said, as well as donations from the HRVHS associated student body fund and HRVHS National Art Honors Society. "Various generous community members also donated towards the trip, as the travel expenses weren't covered," said Malak.