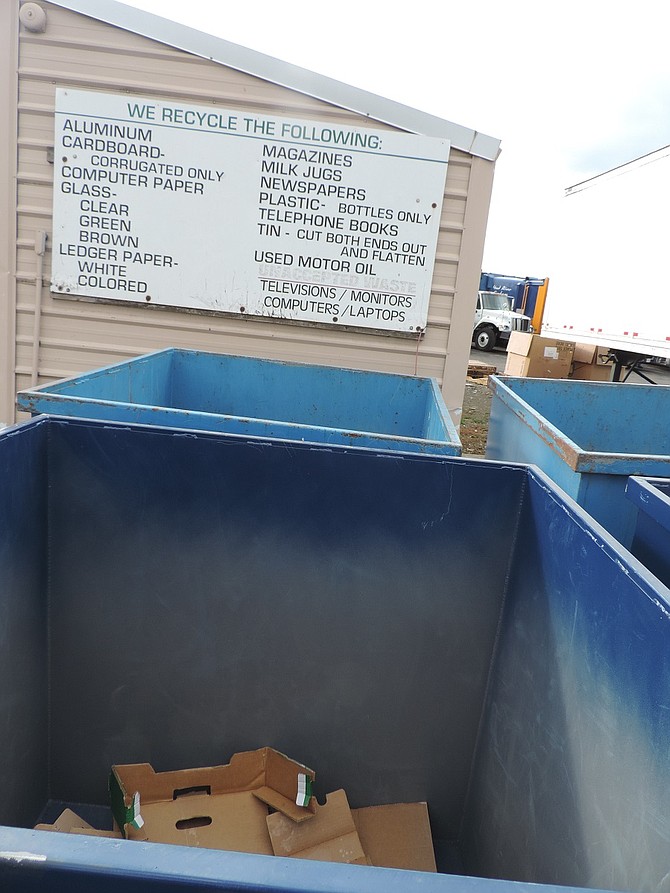 Gorge waste managers Hood River Garbage/The Dalles Disposal and Tri-County Hazardous Waste and Recycling Program are coming to terms with how a slated Jan. 1 recycling policy change will affect local programs.
According to an Oregon Department of Environmental Quality (DEQ) press release, China has announced that, at the beginning of the year, it will no longer allow imports of post-consumer plastics and unsorted paper in response to poor quality materials shipped from the United States and Europe, pollution issues and its desire to develop its own recyclable recovery system.
"This is a dramatic and unprecedented increase."
— Jim Winterbottom
"… It's already creating short-term turmoil for recycling haulers, municipalities, brokers and recycling processors in the Northwest," said David Skakel, Tri-County Hazardous Waste and Recycling Program coordinator, in an email. "Oregon DEQ is calling this a 'crisis.'"
But Skakel also stressed that it's not so much that China is changing the game as it is that American recycling habits and packaging preferences are finally catching up to us. "Our tendency to commingle recycling here lends to higher levels of contamination. And 'wishful recycling' compounds the problem," he said. "On the other hand, what's the underlining fundamental problem and are there opportunities? We're going to have to deal with our own waste.
"I've heard a lot of people say (the Chinese policy) is going to amount to an amazing amount of job layoffs and trauma here in the U.S.," he continued. "If we are forced to manage our own recyclables domestically, though, that is very labor intensive. So I wonder if there might also be a shift here in opportunity and job creation, too."
Future opportunities aside, the slated policy change comes at a bad time for the Gorge for a variety of reasons. The Eagle Creek fire, which shut down Interstate 84, at least partially, for 19 days in September meant that trucks hauling recycling shipments to MRFs (material recovery facility) had to go around Mount Hood for deliveries to Portland and Vancouver sites.
YOU CAN HELP
Recycling experts stress that while this is a national and global issue, local recycling programs can succeed — with help from residents.
"We have our customers used to doing things a certain way, and one thing that would really help is to reduce the amount of contaminants they put in (the recycle bin)," said Jason Hudson of Waste Connections. "(Don't) put in stuff that doesn't belong. Clean it up on the front end and that will help everybody."
"Please have patience with us," said David Skakel of Tri-County Hazardous Waste and Recycling. "… This is a problem largely beyond our control in the short-term, but we're trying to figure out what we can do collectively. The county, the haulers, the state regulators, the DEQ and the processors — we're all in this together with the consumer. Just have patience."
A complete list of what is and is not accepted can be found on the Hood River Garbage website at www.hoodrivergarb..., and on the Tri-County website at tricountyrecycle.com/managing-my-materials.
That increased delivery times on trucks that contract by the hour to three or four times the usual rate. Jason Hudson, division vice president of Waste Connections, said that while there was a cost impact, that isn't the main issue local recyclers are facing.
"There's definitely a cost impact — the cost has gone drastically up — but the main issue right now is just capacity," he said. "No one has the capacity right now."
Because processors are slowing down sorting technology to weed out contaminants — those items tossed into curbside receptacles that aren't actually recyclable — materials are backing up.
"As a result, some processors have reduced the amount of material haulers can bring to their MRFs," said Jim Winterbottom, district manager of The Dalles Disposal/Hood River Garbage in an email. "In addition, MRFs are communicating that pricing for residential comingled material will be in the range of $75-$95 per ton in October.
which will require us to seek increases to maintain our recycling programs," he said. "For October, The Dalles Disposal and Hood River Garbage will be issued allocations for 200 tons of comingled and cardboard recycling. We have reached out to all of the other MRFs in the Portland/Vancouver area, and they are not able to take any more of our materials this month."
Prices are expected to continue to rise, he said, making recycling in the Gorge "more than twice as expensive as garbage collection and disposal" — a common problem for rural communities, he noted.
Another glitch is the closure of A&P Recycling, located in The Dalles, on Sept. 30. According to an Aug. 3 story in The Dalles Chronicle, The Dalles Planning Department revoked its site plan review permit due to failure to comply with its original conditions of approval.
"Most all cardboard from Hood River and The Dalles came to A&P," explained Skakel. "They bailed it, hauled it and sold it."
If no one locally steps up to continue processing cardboard, it will have to be processed at MRFs in Portland and Vancouver as comingled — and as part of the 200-ton local restriction.
"With the closure of A&P Recycling, we anticipate our volumes to land in the neighborhood of 400 tons monthly," Winterbottom said, "and we will soon be overrun with material, and we will run out of space to store material. We continue to work with our industry partners to find alternate markets."
In the short-term, he may need to approach the DEQ "for a variance to possibly landfill recycled material until conditions and market improve," he said. "I understand this is not something any of us want to do, but what we are seeing is unprecedented in this industry."