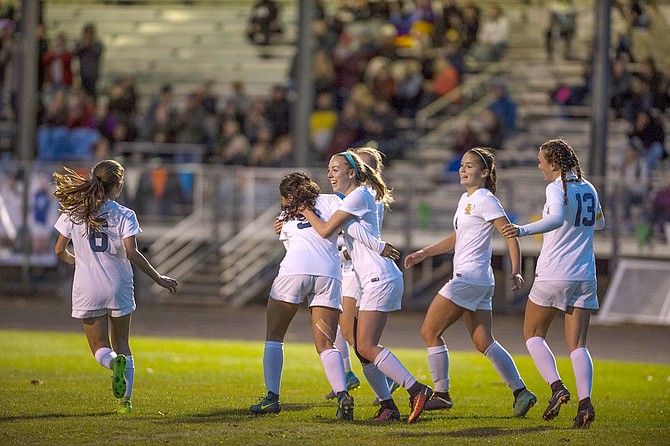 For the HRV girls soccer team, it's now or never.
Many of these girls' soccer careers have led to this moment, knowing they're legitimate contenders for a state title.
But before heading to state, the Eagles would face Hermiston, a team the girls consider a competitive rival for the final Columbia River Conference title.
Earlier this year, HRV traveled to Hermiston and tied 0-0.
The game this time around was much different.
On Tuesday night, the girls weren't only playing for a league title, but 13 of them were also playing their senior night game that marked nine-plus years together.
Those seniors are Avrie VanTilburg, Audrey Marble, Kiki Hosaka, Makena Zorza, Ashlee Ponce, Abby Bergemann, Erin Sutherland, Claire Davies, Yahaira Chavarria, Claire Oswald, Leah Ralph, Nina Casey and Lauren Trumbull.
And I got the chance to speak with Hosaka, Zorza, Ponce, Bergemann, Davies, Chavarria, Oswald and Trumbull on their time together and more.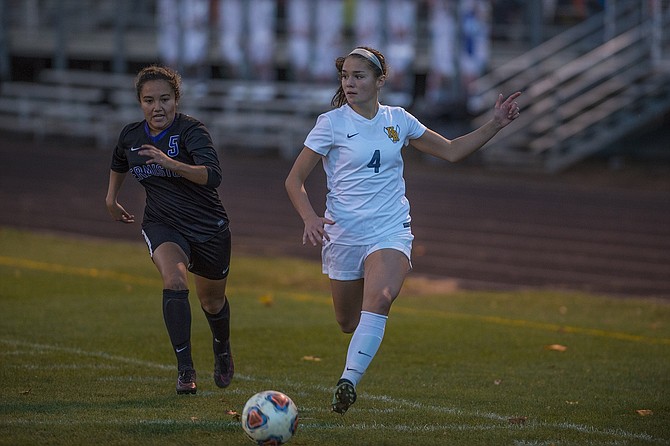 After an emotional senior night introduction that brought tears to the eyes of players, family and coaches, the Eagles would come out and beat Hermiston 1-0, making HRV the final girls soccer CRC champions.
And for team captain Davies, "It's not a surprise."
"Hermiston is a really tough team and they make it really stressful on us," said Bergemann. "But we all know we are the better team, so it was nice to show that and beat them on senior night for the title."
The lone goal was scored by Ponce in the 20th minute of the first half. Davies crossed the ball into the middle of the box, where Ponce settled and took a shot. However, her first shot was blocked. Ponce stuck with the play and would score off the rebound.
After tying earlier this season, the team agreed that putting one goal up on the board in this game meant a lot to them as it gave them confidence, and it showed on the defensive end.
"After the goal, Hermiston began getting aggressive with our team and that's because the pressure was on them to score," said Head Coach Kevin Haspela. "And our defense responded with smart decision making every time that ball crossed into our side of the field, you could tell we were just playing and not thinking. The only looks our defense gave up were about from 25-yards out, we will take that."
"It felt nice to get the shutout in a big game and continue to not allow a goal in league play," said Oswald.
The Eagles have held league opponents scoreless this season, as they've outshot them 25-0.
"Blue Wall! Blue Wall! Blue Wall!" After Oswald praised the defensive effort, Eagle defenders Hosaka, Bergemann and Trumbull let it be known that "Blue Wall" has been in full effect this season.
Blue Wall is a name this defense has branded themselves with since their time together with the Dynamos Bulldogs in the third grade.
And this is what makes this team different than all those in the past.
"We all know where we started and we're all finishing together," team captain Chavarria said. "A lot of other sports you see people quit and it's special that we're all still here." Davies quickly interjected, "I am shocked we all made it," and the girls laughed.
The vibe that these girls have built together is unlike any other, and they know that.
"What makes us different than a lot of teams is our chemistry and that's an advantage we have over most teams," said Davies.
"Other teams you see, if someone is mad at another player, they neglect them or whatever it may be, and that doesn't happen here," said Oswald. "We've known each other so long that if I am ever mad at Davies, I can't stay mad at her." Davies responded, "No you won't."
"This is what years of friendship looks like," said Oswald.
"There's so many different personalities and egos on this team and really none of us can handle it, but when we're playing soccer on the field together it goes away," said Hosaka. "And that's what makes us so special."
Outside of soccer, these girls have a lot of differences and that holds true for most teams, "but once we come on the field, we know how to set everything else aside and play the game that we love together," said Chavarria.
Heading into the state tournament, everyone knows what's on the mind of the girl next to them — it's the same goal they had back in third grade.
"Our first goal together with the Bulldogs was to win it all," said Davies. "And our last goal with the Eagles is to win it all."
"It's one goal we all have and what's really cool is that it's unspoken," said Bergemann. "I know they're all thinking it, but instead of talking about it, we are trying to go out and get it done."
"If we were to win state, it would feel like we completed the whole package," said Chavarria. "It would make all the sore muscles and bruises be worth it," said Zorza.
It may seem like up to this point, everything has fell into place and worked smoothly for this team, but the girls explained that if they were to tell me that, it wouldn't be true.
They credited their coaches Haspela and Amanda Orand for getting them through tough times as a group, because without these two, the girls don't know if what they have today would still be what it is.
"There was a time where it kind of got weird between all of us when Claire moved up to varsity and then Makenna followed," Trumbull said. "But then we eventually came back together and Amanda and Haspela were always there for the rest of us who didn't move up to know what we're doing well and that one day we'll all be back together."
"Haspela made you still feel like something even when we were on junior varsity," Zorza said. "He would come to our practice and pull you aside and say, 'Hey, that was really good stuff you just did, something we do at the varsity level keep it up,' and he would come watch our games and we never felt like we didn't matter."
"Haspela isn't only an incredible coach, he's also a great person," said Oswald. "I had a really rough summer and I didn't know if I was going to play this year, and I go to tryouts and talk to Haspela and tell him, 'I am sorry I haven't been here and I didn't even know if I was going to come out,' and he tells me, 'Well, you're here and you have this family that's here to support you, we're here when you can be here, you know where to find us,' and that just meant so much to me; regardless of what happens outside of soccer, I can come here and I have these girls who have been a support system that's been like nothing else in my life."
"He's like a second dad to 18 girls. He cares about you so much and just wants our team to be as one and as a family, he doesn't care so much about winning, but really wants us to have a good time and we all have," said Davies. "He's the best coach I've ever had."
Davies recalls the only time Haspela made them run this year is when they forgot their shin guards because he wanted to "protect their shins."
"That's really the perfect description of him," said Davies.
All these girls have appreciated Haspela as both a coach and person, but also have benefited from their junior varsity coach Orand.
"Honestly, my whole high school soccer career, I definitely grew, but in my junior varsity years with Amanda is when I really grew," Ponce said. "She's a really good mentor, really relatable, a kind genuine person and someone we all look up to."
"She teaches you the lesson where you don't have to have a lot, but what you have is important," said Trumbull. "That was a big part of mine and a lot of our growth. The feeling I don't need to be on varsity for four years — I mean if you could, that's super awesome, but I thought I did and then once I met Amanda she made me really appreciate being in a family, not just on a team."
Before the girls could get rid of me and get back to practice, there were some final requests by them that they felt had to be in the paper.
"I'd like to thank Haspela for his dad jokes," Ponce said. Hosaka told me not to forget about Haspela's "blue flannel on blue jeans, his navy on a different shade of navy," but how could I forget as he's been rocking that look since I was in high school?
Also, "a special shout out to coach Tio and Jeff the ref — If you know, you know," said Hosaka.
As you can tell, this team is unlike most and unique in so many ways. It may seem like I am wrapping it up, but there's no doubt in my mind that I still have some reporting left to do on this team.
"This is the year for us, everything has led up to this moment," Oswald said. "And I know we're all ready for what's to come."
There's a lot of memories between these girls and none was more memorable then senior night for Davies.
"Looking down the line and seeing us still all together on senior night, it made me so happy to know we all did it," said Davies.
And the hope is another memory can be made come November.

"We all have one common goal and that's winning the state championship," said Davies.
The girls would end the interview with one final thought for next year's team: "Don't forget that what you're going to take away from this program is the good memories, don't get too caught up in the wins and losses so much because at the end of the day what you take away from this is what you make it."
"I am ready to go play now," said Davies, and that was the end of my interview.
The road to Hillsboro begins Tuesday, Oct. 31 and ends Saturday, Nov. 11.