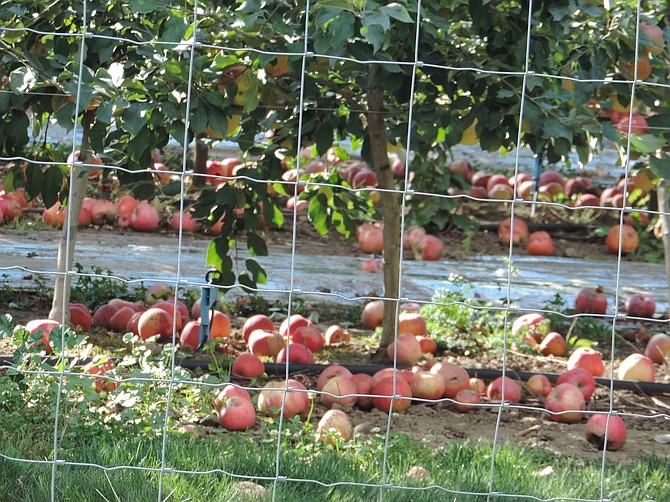 The Columbia Gorge Gleaning Project, run by Gorge Grown Food Network, began in 2015 at a Ford Family Leadership Training Program in Hood River.
Since its inception, this collaborative project has saved thousands of pounds of fresh produce that would have gone to waste and redirected this food to those suffering from food insecurity. With nearly 50 volunteers and the generosity of local food growers, Gorge Gleaning Project has delivered fresh produce to 11 community locations for distribution in 2017.
One in three people in the Gorge run out of food while one in five miss meals regularly. The Columbia Gorge Gleaning Project seeks to connect Gorge residents with one another outdoors and reduce food waste. The project aims to rescue produce in all five counties of the Columbia River Gorge.
"We are delighted to harvest beautiful fresh produce that would otherwise fall to the ground," said Louisa Pavlik, project coordinator and Jesuit Volunteer Corps Northwest/AmeriCorps Volunteer. According to a report published in 2012 by National Resource Defense Council, 40 percent of food in the U.S. is wasted each year.
"We are excited about creating community and solidarity across sectors, counties and cultures," said Pavlik. The most recent glean yielded over 2,000 pounds of apples from six community sites with the help of nine volunteers. Gleaned produce has been delivered to Washington Gorge Action Program, Hood River Valley Adult Center, St. Francis House of Odell, Lyle Lions Club Senior Center, Mosier Senior Center, Parkdale FISH Food Bank, St. Vincent De Paul Food Pantry in The Dalles, Mid-Columbia Center for Living, White Salmon Senior Center, and Salvation Army The Dalles, and has plans to deliver to Cascade Locks Food Bank. During the Eagle Creek and Indian Creek fires in September, Columbia Gorge Gleaning Project was even able to deliver produce to the first responders at the Fire Camp in Odell.
If you have fruit trees or own a farm and are willing to donate fruits or vegetables, contact Pavlik at gleaning@gorgegrown.com or register your garden/farm/orchard at gorgegleaning.com/farmerreg. You can also sign up to volunteer on the website, or contact Pavlik if you know of a site that serves food insecure residents where produce can be distributed.
This project is entirely run by volunteers and community support; you can donate at gorgegleaning.com, or send a check to Gorge Grown Food Network ATTN: Gleaning Project, 203 Second St., Hood River, OR 97031.