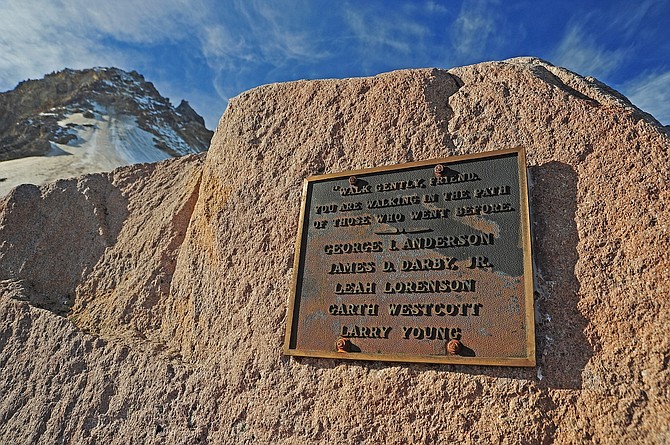 I recently came across debates online arguing that mountain memorials are a kind of graffiti and not fitting to be in a wild environment. Others say they don't want to encounter other people's grief because everyday life is hard enough to deal with.
I find that reading a touching message on a non-obtrusive plaque only enhances my interaction and respect for the mountain. These encounters give me pause, a chance to quietly center my thoughts and reflect on the fleeting beauty of being alive. I return from these places with a fierce determination to live life to the fullest and try my best to be a kind and compassionate person.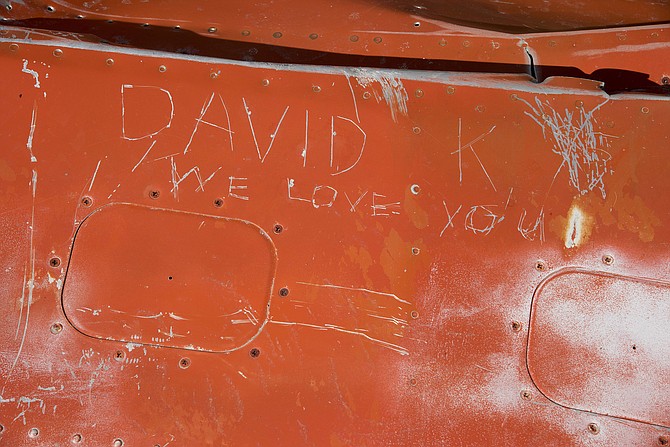 Memorials of loved ones who took their last breath from the summit, slopes, or forests of Mount Hood are as varied as the circumstances of their passing. Some hike to the last known location and leave a poignant plaque. Others carve a message into stone. Some scatter ashes and others bury messages.
One of the most mysterious and scenic acts of remembrance I have found lies high on the north side of the mountain above Cooper Spur. There lies a boulder upon which a Japanese climber engraved "S. Takahashi July 17, 1910." To the left are Japanese characters which have faded but, with the help of a Japanese language interpreter, what remains identifies two men: Takahashi from Hiroshima Prefecture and Itoh from the Mie Prefecture.
•
So many questions remain — is this a memorial to a fallen climber? Is it a homage to the beauty of the mountain? This was a climb with intent since it took special engraving tools to leave behind a message that remains to this day. There were no roads to a trailhead 107 years ago. I have tried with no success yet to trace these names, to find living relatives, and offer to guide them to this place where an ancestor left this beautiful engraving.
On a beautiful August morning in 2013, Sebastian Kinasiewicz, a Polish military officer, climbed Mount Hood up the Cooper Spur route. He was in the area for military technology training at Insitu. The year before, several of his comrades had summited Mount Hood and planted the Polish national flag on the summit, so he hoped he would find it there. He perished during his descent. A few weeks ago, fellow members of his Special Forces unit from Poland came to Mount Hood and placed a plaque in his honor inside the historic Cloud Cap Inn. In part, the plaque reads, "First In — First Out" (special forces motto) "America will cradle this son of Poland on the North Face of Mount Hood — May he rest in peace."
On Dec. 1, 1975, poor visibility caused a small plane to crash on the north side and claim the life of the pilot. A member of the recovery crew became choked with emotion with the discovery a teddy bear among the debris. Many tears ago I happened upon this site and fought back my emotions as well upon discovering the words," We Love You" etched into a fragment of a wing section. In summer, a glacial tarn feeds a meadow awash in a riot of lupines that adds an air of holiness and beauty amidst the wreckage.
One family chose to honor their daughter's memory by funding the installation of educational kiosks at key river crossings with safety tips for crossing glacial streams. Sarah Bishop, a skilled hiker, was swept away during a flash flooding in August 2004 (see Marbach's Daily Bread column online from November 2015 for a detailed account of this incident).
On a crisp October day in 2015, I was out on a ramble high above Eliot Glacier near the summit approach form Cooper Spur. I was lost in thought, head down, when a voice inside said, "Look up." There on a large boulder was a plaque I had probably passed by many times before. Five members of the Mazamas perished climbing nearby in June 1981. The plaque lists their names accompanied by this quote, "Walk Gently, Friend. You Are Walking In The Path Of Those Who Have Went Before."
For 20 years, a friend and her mother hiked and had picnics at a favorite viewpoint of Hood from Trillium Lake. When her mother passed on, she scattered her ashes at the site. Just a few feet away on the path is this quote by Goethe: "Sometimes our fate resembles a fruit tree in winter. Who would think that those branches would turn green again and blossom, but we hope it, we know it."
•
It is a common tradition for grieving families and friends of loved ones lost in the wild to remember them in the high places they loved. Some leave prayer flags while others toss ashes from the summit because it is the closet they can get to heaven. People are drawn to climb to summit ridges to walk in the last footsteps of the lost, and to lay to rest their memory and slowly start the process of acceptance that they are gone.
And then there are the memorials of the mind, a landscape of memories of ancestors and lost love I have taken into the mountains and honored quietly in a meadow, at the edge of a glacial pool, or by casting notes and ashes into the rarified air of a summit sunrise. By repeating these rituals, season after season, the memories remain fresh and clear as time marches on.
Someone once asked if I ever would want a plaque in my memory on the mountain. No thanks. I'll leave it to my daughter to scatter my ashes from the mountaintop so I can join the community of souls who left this world following their hearts into this wilderness of holiness.