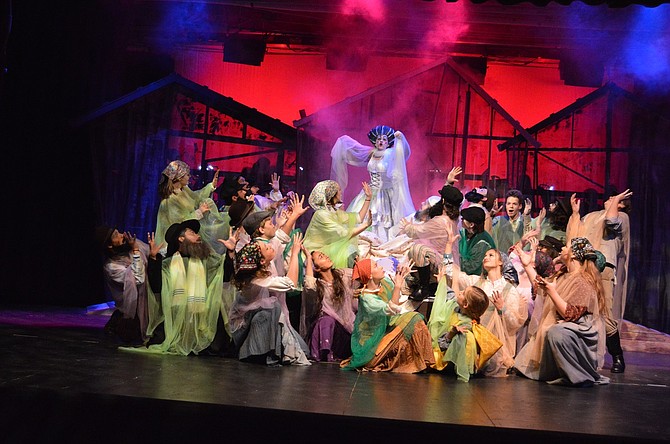 "A fiddler on the roof … sounds crazy, no? But here, in our little village of Anatevka, you might say every one of us is a fiddler on the roof. Trying to scratch out a pleasant, simple tune without breaking his neck. It isn't easy. You may ask, why do we stay up there if it's so dangerous? Well, we stay because Anatevka is our home. And how do we keep our balance? That I can tell you in one word! Tradition!"
So begins "Fiddler on the Roof," Hood River Valley High School Performing Arts Department's fall musical — the story of Tevye (played by Aiden Tappert), his wife Golde (played by JoJo Summersett) and their five daughters, the oldest three who push Tevye further from the traditions of his Jewish faith as the story unfolds (Tzeitel, played by Lauren Church, Hodel, played by Lily Galvez, and Chava, played by Katelyn McAllister).
The play is directed by Rachel Harry, with musical direction by Daniel Kenealy. Harry, a longtime theater teacher at HRV, said she chose the musical because of its relevance in today's world, despite being set in Imperial Russia in 1905.
"All my play choices come from somewhere deep inside me and become the voice for what I am feeling, whether it is a personal journey or a journey I feel we are all on," she said. "'Fiddler' is no different. I see our world changing rapidly and my own concepts as a white, privileged female are a struggle that I recognize, like Tevye, I must undergo."
As Harry writes in her director's notes, "The conflict between the Jewish and Russian population is also one to ponder. The violence and anger to keep people polarized is a strategy we still see in the world today. The traditional roles and expectations and the struggle to cope with the changing times is another issue we see today. These themes are universal, and thus make this musical as relevant today as it was in the '60s, when it first appeared on Broadway."
Harry chose to keep her set simple — greys and soft browns, and lots of pallet wood — and bring in color through costuming.
"I feel the life these villagers led could be viewed as gray and bleak, but in reality, it's full of color, provided by the characters themselves," she said. "… My current costume mistress (Kathy Peldyak) had a lot of fun creating beautiful and colorful attire for my actors."
A generic wall/door is used throughout the production, creating exits and entrances for a variety of places within the settlement. The Fiddler (Lillie Tomlinson) sits on a roof that is supported by transparent walls, "a symbol of how our traditions support us, yet are based in often vague and, as Tevye finds out, flimsy foundations," Harry said.
The music is vastly different from last fall's "Catch Me if You Can," but presents its own set of challenges. Kenealy said that while "Catch Me" is written in a Vegas big band style, "Fiddler" is in a Klezmer style — "most recognizable through its distinct use of clarinet and harmonies/scale patters that stray from more traditional Western music," he said.
"This year, we were fortunate to keep on many of the same musicians that played for last year's show," he added. "It's fun watching how the collective musicianship grows between the students and adults who are playing together for a second show. I have loved working with an ensemble that includes violin, which is played by Chari Harrington (community member and private instructor) and Sophie Rowan (HRVHS student)."
Choreography has also proved a challenge, noted Harry, especially with the "Bottle Dance" scene — cast members dance with bottles perched on their hats (unaided by adhesives). While they received the original choreography with the musical, dance captains Sara Zeman and Kendra Wilkins created several of the numbers, including the opening "Tradition" scene.
Kenealy said that in many of the productions he and Harry watched, the Fiddler pantomimed playing the fiddle. In their production, Tomlinson, who plays fiddle and has dance experience, "actually plays the instrument rather than pantomiming. The effect of transferring the sound from the orchestra off to a solo in front of the stage is a challenge to coordinate, but I think our audiences will really appreciate the authenticity of a fiddler that actually plays! It makes for some wonderful, poignant moments in the show, especially in the scenes where Tevye and the Fiddler are interacting."
The cast includes many veteran student actors of both community and high school theater — this is a talented, seasoned group — as well as many adults who are volunteering their time in the orchestra.
"So many of them give up time at school, work, reschedule lessons and come in on their weekends to pull this together," said Kenealy. "As far as the student musicians go, I am always thrilled to watch how they bloom musically when they are surrounded by these adults. They always manage to step up to the occasion, and I watch what they have learned get transferred into the classroom when I hear them play in the band.
"I have so much gratitude for our adults, because they know how much being a part of a musical means to these students, and how much energy goes into pulling something like this together."
TICKETS AND TIMES
Oct. 27-28, Nov. 3-4 and Nov. 10-11 at 7 p.m.
Oct. 29 and Nov. 5 at 2 p.m.
Tickets are $10 for adults and $8 for students and seniors, available presale at Waucoma Bookstore and at the door.