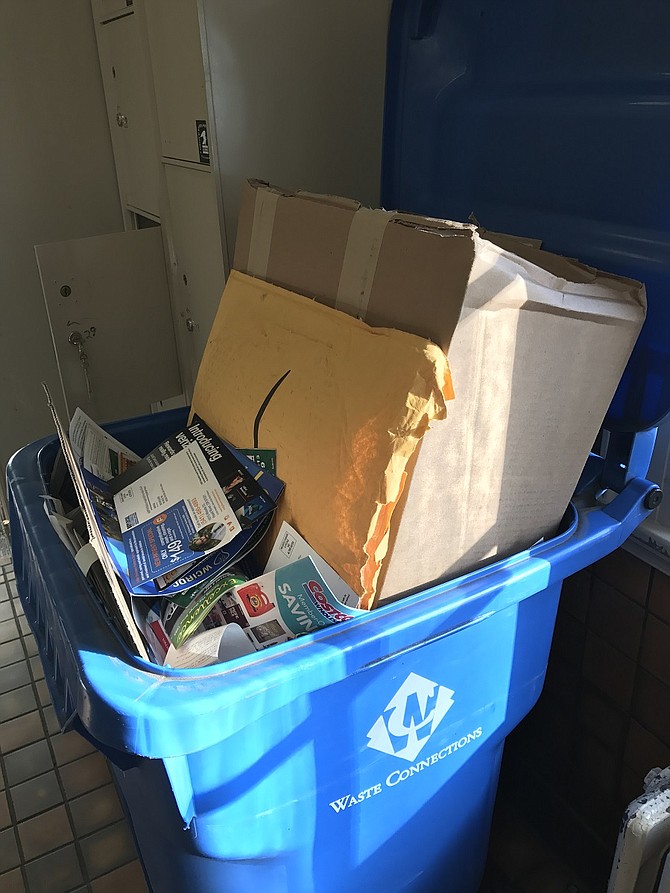 This includes corrections to an earlier article.
Recycled materials in Oregon are headed to landfills — sometimes.
The article placed online and in the Oct. 25 Hood River News about an "end" to recycling in Oregon was incorrect, according to a state official.
Recycling has slowed down, and some processors have asked for and received permission to landfill recyclables on a limited basis, but "materials still have value" and are being processed as usual in most locations, said Julie Miller, communications specialist with Oregon Department of Environmental Quality.
"We want to encourage people to continue to recycle as usual," Miller said.
A memo dated Oct. 17 that Miller said should have been labeled "Draft" was presented to Hood River City Council Monday as official notification to local governments and handlers that as of Oct. 18, materials normally processed as recycling will be discarded.
The Oct. 25 article was correct in stating that what Miller clarified as a slowdown "represents no practical change to garbage and recycling pickup for City of Hood River residents, according to city officials."
The Oct. 17 memo, still under discussion, is the result of companies having come to DEQ, according to Miller, "with concerns that they may need, in the short-term, to landfill.
"They said, 'We need guidance,'" Miller said.
As to the statement that recycling is at an end, Miller said, "We are not at that point.
"There is no widespread disposal (of recyclables), but we do expect more in the near future, but only for a limited time," Miller said; when asked, she said she cannot quantify how much of an increase is expected until DEQ has had conversations with more agencies and processors.
The Oct. 25 article correctly stated that materials are still being collected and should be prepared for recycling by consumers.
"There is a snag in the system, a serious one, but only a snag," Miller said. "Things are being picked up and processed."
The issue comes down to this analogy, according to Miller: "Things are still coming in the front door, but there is not always a market for them at the backdoor."
Yard waste will not be affected, as the city contracts with the Gorge company Dirt Hugger to transform kitchen waste and yard debris into compost.
"We see that as a success," said City Council Member Becky Brun, adding a plea to local residents to "continue to be good recyclers."
Brun said, "It is important that people continue to separate their recycling and garbage, because hopefully this will be a temporary situation. Avoiding contamination is a matter of forming of habits, and we ask that people continue to separate their materials."
As reported in the Oct. 11 and Oct. 14 Hood River News, Chinese import policy has, at least temporarily, slowed down what has been the primary market for Oregon recyclables, largely due to Chinese authorities' concern that non-recyclable products or substances are contaminating shipments.
DEQ noted that China has announced a new and exceedingly stringent recyclable contamination standard of 0.3 percent.
Miller said Wednesday that the challenge is the slow-down in pickup and storage in order to meet China's new standards.
As the memo stated, "This has created a condition where the primary market for the bulk of Oregon's recyclable materials is severely constrained and in jeopardy of disappearing."
As a result, "DEQ, working closely with representatives from the recycling industry and local governments, has initiated a short-term, stop-gap solution to help alleviate the flow of materials throughout the collection and processing system." The memo continues:
"When all options to find markets for recyclable commodities have been exhausted, DEQ concurs that landfilling these materials on a temporary basis is an unfortunate but needed option at this time."