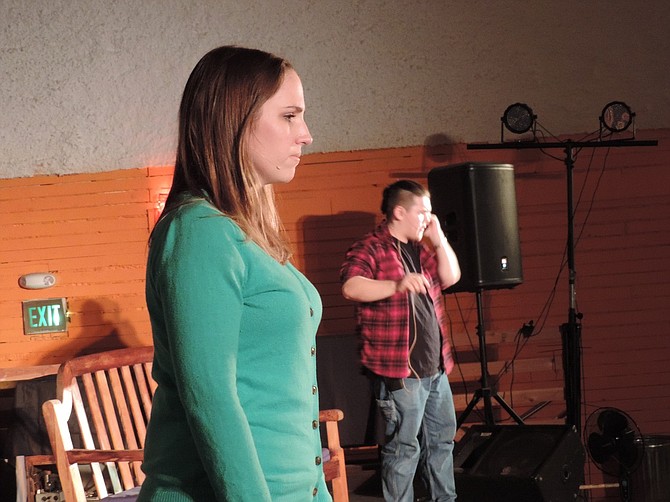 The Columbia Gorge Orchestra Association opens its 2017-2018 season with the musical "The Last Five Years." Presented by Columbia Gorge Orchestra Association's (CGOA) Stages theater ensemble, "The Last Five Years" is an intimate, two-person musical by Jason Robert Brown.
The production features two different casts: Michelle Firsching and Noel Oishi are newcomers to Stages, while Ashly Will and William Thayer-Dougherty are familiar faces to local audiences. Oishi is a Portland resident and graduate of Pacific University.
"The hook of the show," said Director Mark Steighner, "is that it tells the story of a romantic relationship through time, but from the woman's perspective, the show starts at the breakup while the man's story begins at their first meeting. Their stories only cross once: when they get married."
With only two characters, each actor gets plenty of stage time and a wide variety of songs that cover an equally broad range of genres, from pop to jazz to a little klezmer. "There are many songs that are showstoppers from an acting and singing perspective," Steighner added. The musical was recently released as a film starring Anna Kendrick.
"While many of the songs are heartbreaking and emotionally raw, there are an equal number of upbeat and funny moments. The musical explores a wide range of emotions," Steighner said.
"Because of the structure, time is a major theme of the musical. The couple is out of synch with each other emotionally."
Firsching and Oishi will star on Sept. 8-9 at 7 p.m. and Sept. 10 at 2 p.m., while Will and Thayer-Dougherty will lead the second weekend, Sept. 14-16 at 7 p.m. All shows are at the Bingen Theater. Tickets are available at the door and through gorgeorchestra.org. Tickets are $15 for adults (ages 18 and over) and $10 for students and children (10-17).
The show is rated "PG-13" for language.
Steighner noted that June's "Spamalot" was a sell-out and urged early purchase of tickets through gorgeorchestra.org.