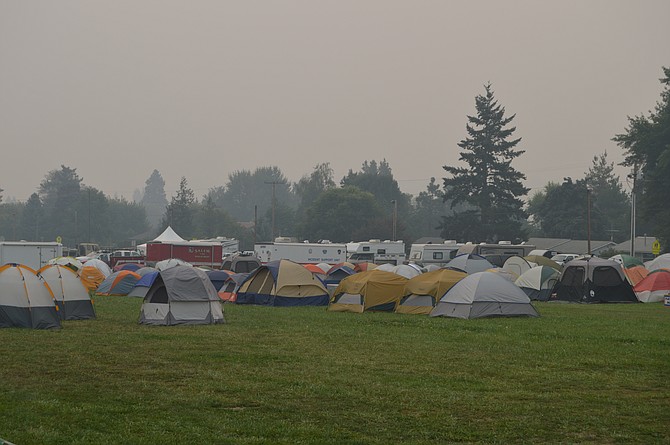 On the afternoon of Sept. 2, a wildfire erupted in the Eagle Creek area. The wildfire has now grown to over 30,000 acres — in addition to new fires that have started on the Washington side of the Gorge.
The Eagle Creek Fire has merged with the Indian Creek Fire.
"The wildfire photos and evacuation stories coming out of the Gorge are heartbreaking," said Kevin Gorman, executive director for Friends of the Columbia Gorge, in a media release dated Sept. 5.
"But the bravery of first responders who have rallied to help, the expressions of support offered from Friends members and business partners, and the perseverance and grit shown by Gorge residents affected by the Eagle Creek fire has been remarkable.
"The situation is continuing to rapidly evolve and it's crucial that members of the public stay out of the Gorge at this point. Keeping the roads clear for firefighters, first responders and evacuating Gorge residents is critical.
"We thank Gov. Kate Brown for taking steps today to speed in making state resources available to help agencies fight this devastating fire and aid displaced Gorge residents in need. We also urge the federal government to make any and all resources available to state and local first responders on the front lines of this effort."
On Sept. 3, Friends launched a targeted fundraising drive to help support the ongoing efforts of the Hood River County Search & Rescue, a local first responder and partner that Friends has worked with over the years.
"We encourage members of the public to also help support the ongoing efforts of the Cascade Red Cross as well as the Multnomah and Skamania County search and rescue teams," stated a press release.
Hood River County Search & Rescue, along with the Oregon National Guard, Air National Guard, U.S Forest Service and other responding organizations, is currently engaged in ongoing efforts to aid and assist Gorge residents threatened by the Eagle Creek fire. Red Cross shelters have been set up for evacuees in Gresham and Stevenson.
Friends is using its in-house web donation system to process gifts and donations made on behalf of the Hood River County Search & Rescue team. To donate visit gorgefriends.org/ways-to-give/donate-to-hood-river-search-rescue.html.
Friends has placed an FAQ with more information on its effort at gorgefriends.org/news-events/news/2017-09-05/eagle-creek-fire--frequently-asked-questions.html.
---
Hood River County declared a state of emergency Sept 5.
Due to the extreme risk of fire, fire danger, lack of resources to fight additional fires and the interest of public safety, the County Board of Commissioners closed all Hood River County Forestland, Forest Roads and Forest Trails to all recreational use until further notice.
Road closure signage will be placed in areas that may have an imminent threat of fire spread from area fires including roads: Post Canyon, Riordan Hill, Binns Hill, Kingsley, Lovers Lane, Deadpoint and Greenpoint.
No use county trails will be allowed by foot, bicycle, or any other means.
Notices will begin to be posted on Wednesday, Sept. 6,and the areas will be patrolled.
The county forest work party originally scheduled for Saturday, Sept. 9, has been cancelled. It will be rescheduled later in the fall.
All public forest lands west of Highway 281 (Dee Highway) and north of Mount Hood are being put under Level One evacuation notices. These are public lands where campers, hikers, and hunters may currently be recreating, but no private homes. Deputies have been making sweeps to advise anyone in those areas. The only other areas to be under evacuation notice continues to be the Cascade Locks area, and those evacuation levels have not changed.