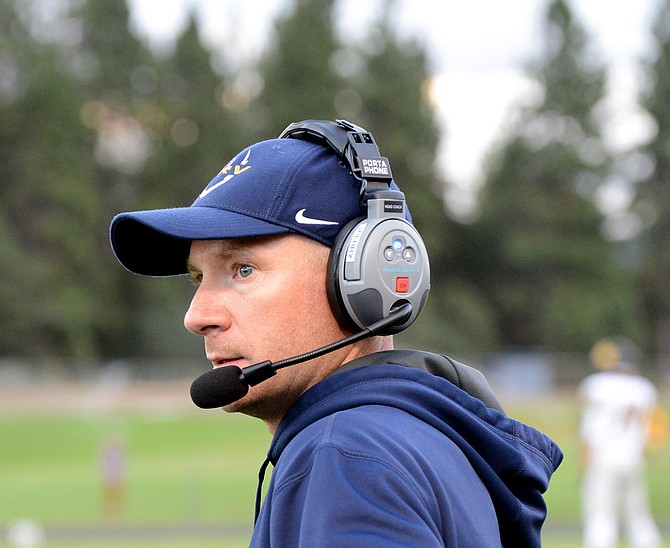 The Hood River Valley Eagles played their season-opening nonleague football game Friday night versus the St. Helens Lions.
Last year, this matchup between the two schools favored the Lions as they won by a score of 47-13. St. Helens went on to finish the season at 8-3, losing in the second round of the 5A playoffs to their league rivals Wilsonville;,while the Eagles went on and never found themselves a W to put into their win column for the season.
Last year, the two team's personnel were much different. St. Helens was a much older team with 26 seniors on last year's roster compared to Hood River's eight. The Eagles' were also giving sophomore quarterback Caden Leiblein his first nod to start in a high school varsity football game.
With an older team this year, the Eagles showed a small sample that time has healed their growing pains. A dominating 45-7 performance against St. Helens snaps the Eagles 10-game losing streak that has carried along for the past two seasons.
The Eagles and Head Coach Caleb Sperry have a week in preparation before they welcome Gresham. These two will play in HRV's Hall of Fame game at Henderson Stadium on Friday, Sept. 8. In Gresham's first game they opened their season on the road against Roseburg and came out with a 21-14 victory.
From the coaching staff to personnel, this Eagles team has made a lot of changes since last year and a somewhat of a payback win in their season opener is a glimpse of how those changes could pay off.
"The boys were excited to get out there, but came out the first two series with a little bit of jitters," said Sperry. "Then we connected on a deep ball for our first touchdown and we just started playing. Playing faster and more physical, we started to get confidence and it led to a great win. These guys are ready to get back out there to win and look forward to continue to improve against Gresham this Friday."
Friday's onslaught for HRV began at the 3-minute mark in the first quarter when junior quarterback Leiblein (9-for-15 passing, 187 yeards and three touchdowns) connected with sophomore wide receiver Greyson Losee for his only reception of the game, a 43-yard touchdown. The Eagles led 7-0 at the end of the first quarter.
"The line did a great job of holding their blocks on that first drive for a touchdown and continued to play well the rest of the game which was a huge reason for our success on offense," said Sperry. "Throughout the rest of the game the boys showed to themselves how hard work pays off.
St. Helens came out in the second quarter with a five-yard rushing touchdown to cap off a 7 minute 45 second drive, but that'd be their only points for the night.
"Defensively we played well and I'm impressed by how the kids swarmed to the ball. We were very resilient," Sperry said.
After St. Helens tied the game in the second, the Eagles offense responded with 38 straight points. Leading 21-7 at halftime, after a rushing touchdown for 6-yards by Brandon Rivera (13 rushes, 116 yards and one touchdown), who was later hospitalized in this game with an apparent dislocated elbow, and then a 21-yard passing touchdown seconds before halftime from Leiblein to Trenton Hough (two receptions, 36 yards). The Eagles continued to roll offensively into the third adding 10 points to their 21-7 lead, making it 31-7 and then extended that lead in the fourth to 45-7.
Breaking their 10-game losing streak that dated back to the end of the 2015-16 season, HRV hopes to continue building this program in the right direction, building off this win, and by setting accomplishable goals for the boys is where it starts.
"For the first game, we set five game goals and we accomplished four of them," said Sperry. The team focused on limiting turnovers and penalties, being efficient on special teams and offense, and covering the entire field on defense. The Eagles forced two fumbles in the game, winning the turnover battle 2-0. Special teams were very successful for this Eagles football team as the offense had an average starting field position at the 44-yard line, while St. Helens was around 22. Also, Riggs Bardin notched a 32-yard field goal with time winding down in the third quarter. On offense, more than 70 percent of the Eagles plays ended up in positive yardage gaining an average of 8.6 yards a play. The defense also played well, only allowing seven points as they emphasized before the game that they wanted to come out and surround the ball at the end of every play. The one thing they struggled with that they wanted to improve on heading into week one was penalties, having nine for the game. But tackling something that's a mental mistake more than anything else is an easier fix than being efficient on offense or defense.
"With a lot of hard work being put in since last season the kids were ready to go and get the job done," Sperry said. "But we also understand that we need to continue to improve and heading into practice this week the focus is on limiting our mental mistakes and getting our defense off the field quicker."
Because of fires in Cascade Locks, the Eagles team will be forced to practice inside the gym until conditions outside are safe, and Friday's Hall of Fame game against Gresham is in question whether or not conditions will allow the boys to play. But until a notice that the game might have to be rescheduled, the matchup between the two schools is still Sept. 8 at Henderson Stadium and the Eagles are "looking forward to our home opener Friday and continuing to get better before those Friday nights," Sperry said.