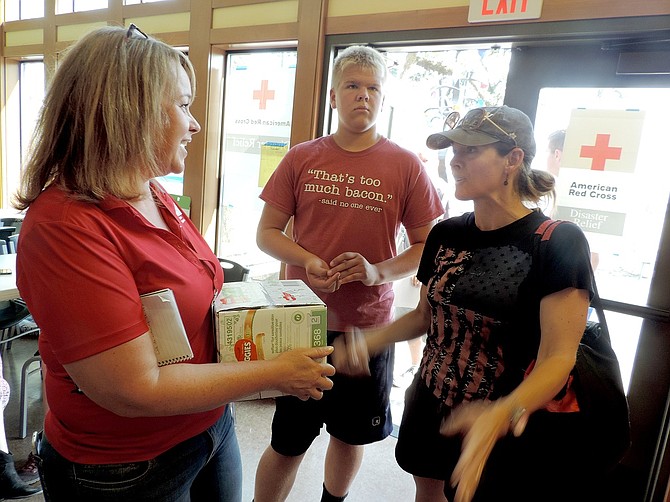 A half-hour sprinkle of rain and a box of Krispy Kremes brought relief Thursday to the American Red Cross Shelter in Stevenson.
The donuts are one example of the many kind donations that Eagle Creek/Archer Rock fire shelter clients have enjoyed since the facility at Rock Creek Center opened Saturday.
About 150 people who were ordered to evacuate their homes in Cascade Locks and Skamania County are camped outside the center, while 24 spent the night in the shelter Wednesday, according to Cyndi Dahl, executive director of the Central and Eastside Oregon Chapter of Red Cross.
"I think they're feeling pretty settled, feeling fairly calm," Dahl said. Those staying at the shelter are aware that they must stay put until the evacuation orders change in Hood River and Skamania counties.
The sheriffs of both counties make daily visits and give updates, Dahl said. Shelter residents were planning to travel Thursday to community meetings in Hood River and Stevenson, with keen interest in the details that would be made available.
"We'll be here as long as we're needed," Dahl said. "Folks can go home just as soon as they lift evacuations and know they have another place to go."
Meanwhile, "the whole community has come together, we have had lots of donations," Dahl said.
Some donated in kind; on Thursday afternoon, a man was giving massages to shelter clients.
Pet Smart has donated plenty of food for the animals in shelter and Walmart provided "pallets and pallets of water," Dahl said. Local restaurants and hotels have kept clients stocked up on pizza, sandwiches, and other meals.
"It's been a huge show of support," Dahl said. "This is a pretty remarkable community. We're really grateful."
The shelter has a regular cadre of 12 volunteers, with two more coming on board Thursday. Those included a Bend man who drove from the southwest Oregon coast, after serving the Red Cross Chetco fire shelter in Brookings. He had served shelters in Warm Springs, Sisters, Brookings, "and now us. He's a wonderful guy," Dahl said.