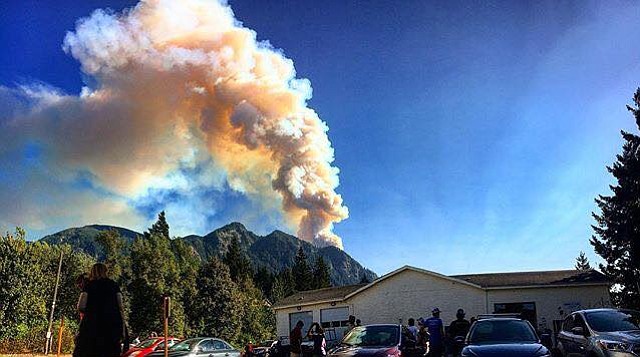 Firefighting containment levels inched up to double digit percentages on the Eagle Creek fire, which is burning roughly 35,600 acres in the Columbia Gorge Tuesday morning.
About 905 crew members are assigned to the 11-percent contained blaze.
Based on forecasts, officials said dry weather will test firefighters' defenses Tuesday evening.
Rick Miller, operation section chief on the Eagle Creek fire team, said firefighters near Cascade Locks focused Monday on protecting areas near the weekend's controlled burnouts.
"The firefighters out there continued the prep … east going to Shellrock Mountain, making sure that if this fire crosses Herman Creek that we have everything in place to burn out and hold it — that was looking really good."
Fire team plans for Tuesday include: strengthening and holding containment lines along the Interstate 84 corridor, tightening up defenses toward Shellrock Mountain, and securing eastern and southeastern contingency lines.
Helicopter bucket drops are set for Tuesday in the Herman Creek drainage.
Oregon Department of Transportation said eastbound I-84 will stay closed between Hood River and Troutdale at least another week (an estimate given Monday) and the agency has given no word on westbound reopening. U.S. Highway 30 is also closed. ODOT removed about 2,000 hazard trees that were in danger of falling onto I-84.
Evacuation levels have stayed the same since Friday, when Hood River County Sheriff's Office updated evacuation notices to include a Level One notice for communities in the west Hood River Valley. (Details below.)
The Eagle Creek fire's end, officials said at a press briefing Tuesday, will likely come from weather and not 100 percent fire containment. Parts of the fire may keep smoldering for weeks.
"It is likely this fire will be with us for some time," Steven Baker with the U.S Forest Service said.
Smoky scenes have intermittently cleared throughout the Gorge, only for the cloudy haze to return.
At about 8 p.m. Monday, skies cleared until pockets of fire west of Herman Creek created a smoky plume visible for miles along the Gorge. The plume was caused by active fire, as light winds funneled up the Herman Creek drainage.
With darkness and cooling temperatures, winds were expected to blow the fire back down the drainage across already burned areas.
Many smaller spot fires on the west end have been secured or mopped up.
But conditions will dry out Tuesday night along Gorge ridge tops with humidity dropping as low as 20 percent. Light winds were expected to gust westerly at 25 to 35 mph as a cold front moves through the fire area.
The more volatile conditions could rile up the fire, but Eagle Creek's flames aren't expected to threaten Cascade Locks.
A cool, moist trend may go through Thursday and Friday. Fire behavior analysts predict "low to moderate" fire behavior. On the high ridges to the south, away from populated areas, the fire will keep smoldering.
"Relatively speaking, we're in a good place today," said Lt. Damon Simmons, Oregon State Fire Marshal's Office spokesman Tuesday.
Hood River County evacuation levels:
Level 3 (Go!): Cascade Locks south of WaNaPa Street.
Level 2 (Be Ready): Cascade Locks north of WaNaPa. The current Level 2 evacuation area on the northeast half of Cascade Locks was extended to Viento State Park, staying along the I-84 corridor. This includes the in-lieu site and the whole area of Wyeth. Level 2 means that people should be ready to leave at a moment's notice.
Level 1 (Get Ready): Public land west of Highway 281 (Dee Highway) and north of Mount Hood.
The new Level 1 area runs from Collins Road in Dee at the south end to I-84 on the north end, and includes all areas west of the following lines:
Country Club Road south to Reed Road, running due south to Hwy. 281, continuing along 281 to milepost 12.5, then following the Middle Fork of the Hood River until it comes parallel with the south end of Collins Road.
Hood River Council
updated
The Hood River city water line and its headworks, located within the Evacuation 2 zone, are both safe, city officials told City Council Monday. Hood River derives its drinking water from the glaciers of Mount Hood.
Hood River Fire Chief Leonard Damian and Police Chief Neal Holste gave an update on the fire situation, noting that a big role for Hood River was backing up Cascade Locks Fire's EMT services.
Planning Director Cindy Walbridge noted that "there is a lot of energy behind this (fire fight) that the public doesn't know about," based on her visits to Unified Command fire camp in Odell and fire briefings at the Emergency Operations Center, staffed by 10-20 people at all times.
'We're awfully grateful for the enormous resources that have been brought to bear in this area," Mayor Paul Blackburn said Monday.
Sheriff's Office Tuesday update:
Shelters (via Red Cross Cascades Region as of Sept. 11):
As of Sunday, approximately 146 people sought refuge at the Red Cross Shelter located at the Skamania County Fairgrounds Hedgewald Center (710 S.W. Rock Creek Drive, Stevenson). Twenty-two people slept inside the shelter and another 124 stayed in RVs and used facilities. Individuals seeking shelter for themselves or their animals due to evacuations in Hood River County should call 541-387-6941 (English) or 541-387-6942 (Spanish).
Public Health and Hospitals (via Hood River County Public Health as of Sept. 11):
Smoke and air quality conditions in the Hood River area depend on weather and wildfire activity. The best protection is to avoid smoke altogether by staying inside, with windows and doors close. Residents can view current air quality conditions at www.deq.state.or.us/aqi. The index also offers guidance on what precautions various groups should take depending on air quality.
Schools (via Hood River County School District as of Sept. 12 morning):
All Hood River County School District schools are operating on their normal schedule. Due to air quality, athletics will be limited to light outdoor activities or will be moved indoors. The district is working to replace all filters in school air update systems.
Recreation (via U.S. Forest Service as of Sept. 11):
Due to the wildfire, a closure order is in effect on Columbia River Gorge National Scenic Area lands south of the Columbia River, east of the Sandy River Delta, north of the Columbia River National Scenic Area boundary, and west of the Hood River.
All Hood River County forest land has been closed to the public due to fire fighting operations.
Volunteer and Donation Information (via Oregon Office of Emergency Management):
The urge to help at this critical time is strong. While we thank you for your generous hearts, do not send physical goods before confirming the need with a relief agency. Financial support to voluntary agencies responding to disasters is the most effective way to help people affected by Oregon's wildfires. For donation and volunteer information, call 541-387-6911 (English) or 541-387-7080 (Spanish).
(You can also donate socks for firefighters to Hood River News at 419 State St., Hood River.)