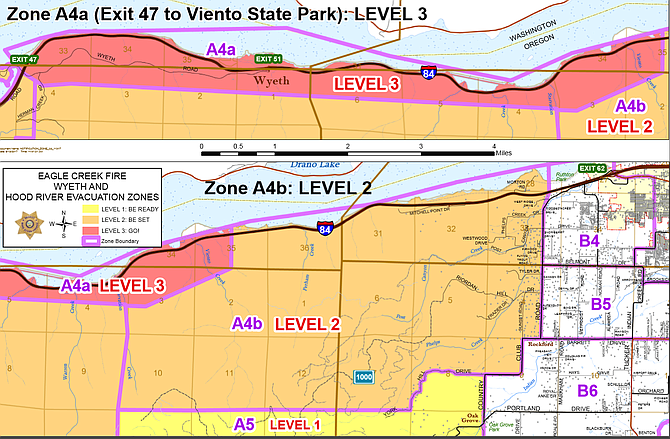 Hood River County Sheriff's Office has consulted with fire incident commanders and made the following evacuation level changes:
Evacuation zone A4b — west Hood River Valley — is being upgraded from Level One to Level Two, "Be Set" to evacuate at a moment's notice. This area includes all residences west of Country Club Road beginning at Frankton Road and ending at York Hill Road, and all residences on the north and west side of York Hill Road. All residences west from milepost 57-61 on Interstate 84, including Morton Road and Mitchell Point Road, are also included in the level 2 A4b zone.
Evacuation zone A4a running along the I-84 corridor, east of exit 47 and west of exit 56 is being elevated to Level Three evacuation notice, "Go". This evacuation generally covers the Wyeth/Herman Creek Road area, including the tribal fishing in-lieu site. Level Three means that residents should leave immediately.
The Cascade Locks area's Level Three notices are being rolled back to a Level Two. This means that all of the Cascade Locks area is now at a Level Two notice. The Sheriff's Office would like to caution those who return to their homes that they should still "Be Set" to leave at a moment's notice. Even though this is a step back, maintaining readiness is still important.
The fire, west of Hood River, is burning about 35,636 acres and is 13 percent contained.
Officials said the increase in evacuation levels in the west Hood River Valley and Mitchell Point areas is in response to the fire behavior that occurred in the Herman Creek drainage overnight. The fire ran approximately three miles to Nick Eaton Ridge with some spots toward Gorton Creek. The fire remains within established contingency planning lines, and firefighters will continue to attack the fire by air if weather permits.
The Sheriff's Office reminds all Hood River County residents to be aware that changes in fire conditions can occur, and that a state of awareness should be maintained. On the eastern end where the fire has crossed Herman Creek, planners anticipate continued active fire behavior, though cooler temperatures and higher humidity expected later this week will slow fire growth.
Residents should anticipate smoke in the area from these actively burning areas within the fire's perimeter.
"We understand how difficult it is to maintain heightened awareness over a long period of time. Please know that we are constantly monitoring the situation, and will alert you as soon as possible for changes in evacuation levels," the sheriff's office said.
Please check the Sheriff's Office media outlets for updates and to see copies of the updated evacuation map. The HRCSO evacuation info lines are 541-387-6941 (English) and 541-387-6942 (Spanish).
View a zoomed in map of evacuation levels at: http://www.flashalertnewswire.net/images/news/2017-09/1816/107902/FIRE_EVACUATION_CascadeLocks_Sep13_1200.pdf
A second map is here: http://www.flashalertnewswire.net/images/news/2017-09/1816/107902/NOTIFICATION_ZONE_A4_11X17.pdf