The Hood River County Sheriff's Office, in a press release, states that, with regret, they have been forced to postpone the memorial service for Deputy Mike Anderson.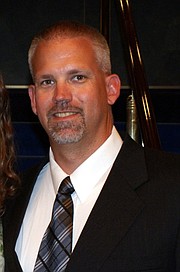 "With the permission of his family, and with the understanding that Anderson's memorial deserves the undivided attention and dedication of our office and our community, the service has been moved to Oct. 15. The time and location remain unchanged," continues the press release. "It will be held at 1:30 p.m. at the Hood River Valley High School. The public is invited to attend.
Parking at the high school will be limited, so please carpool if able.
The law enforcement procession staging area and route may be changed, and information on that will be provided when it comes available.
Arrangements are under the direction of Anderson's Tribute Center, 1401 Belmont Ave., Hood River. Visit www.AndersonsTributeCenter.com to leave a note of condolence for the family.
•
Hood River County Sheriff's Deputy Mike Anderson lost his battle with cancer Aug. 25. He was a 16 year veteran of the Hood River County Sheriff's Office. Mike started his career as a volunteer with the Sheriff's Office in 2001 and was hired as a full time Deputy Sheriff in 2007. Anderson grew up in Hood River County and was a well-respected and well known member of the community, said the sheriffi's office in a press release.
He spent many years as a marine deputy, search and rescue coordinator, patrol deputy and trainer.
Memorial contributions to the "Hood River County Mike Anderson Search & Rescue Fund" may be made at any US Bank branch. Please ask your branch to deposit to this account established at the US Bank branch in Hood River. All proceeds will go to support Hood River County Search and Rescue.
The family would also encourage support of The Oregon Fallen Badge Foundation at www.oregonfallen-badge.com/help-support-our-efforts.html.