The Eagle Creek fire, burning 41,550 acres Friday, prompted Hood River County Sheriff's Office and fire incident managers this week to extend evacuation notices into west Hood River — including some areas of the city.
By Friday, fire crews advanced on the blaze, containing it at 28 percent. Emergency officials voiced caution for valley residents, however.
A Level One order — "Get Ready" — includes thousands of homes. An American Red Cross evacuee shelter in Stevenson moved to River of Life Assembly church at 979 Tucker Road in Hood River Thursday evening.
Hood River County School District canceled all classes Friday due to smoky, worsening air quality and the Crystal Springs Water District boil water order.
Gorge transportation regained some vigor when Oregon Department of Transportation opened Interstate 84 westbound between Hood River and Troutdale Thursday evening, albeit with no estimate at reopening eastbound lanes. The closure — one of the longest in years, caused by fire-scorched trees and fallen rocks — had been in place since Sept. 4.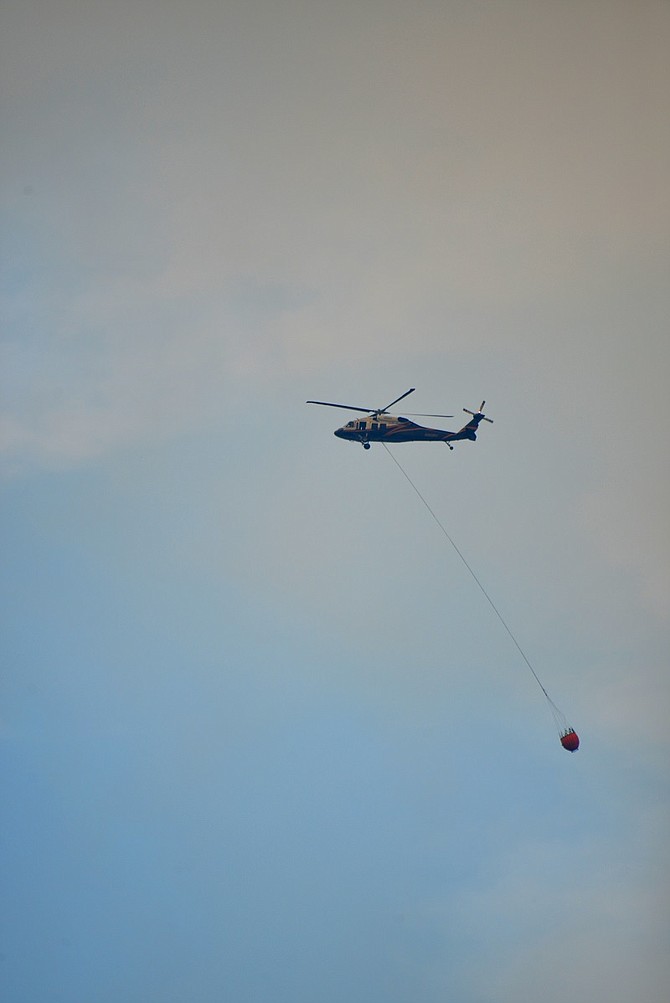 Easing the firefighting front, heavy rain is expected Sunday and early next week. Temperatures will cool amid light winds.
The fire grew at its northeast line and to the south Thursday. Aircraft dropped an estimated 100,000 gallons of water that day. A fire line has been completed along I-84 from Bridal Veil to Cascade Locks.
On Friday, crews will focus resources on the fire's northeast corner to help the communities, infrastructure and other values. Planned burnout operations continue from Cascade Locks east to Mitchell Point, an effort to bring the fire down the slope in a controlled path. Firefighters will also bolster lines from Mitchell Point to Wahtum Lake.
On the west side, the fire has been most active in the Bell Creek area. Teams will be constructing a direct hand line, and bucket drops may cool hotspots in that area. An indirect bulldozer line will connect to the powerline corridor near Larch Mountain to form a continuous line to the south.
Oregon State Fire Marshal crews will keep patrolling residences near the eastern edge of the fire. Two more task forces arrived to support the structural assessment and preparation work.
Meanwhile, the Archer Mountain fire, caused by the Eagle Creek fire jumping the Columbia River to Washington, died Thursday — crews announced 100 percent containment.
The expected rainy weather brings a mixed blessing, potentially causing debris flows, according to fire spokesman Jim Whittington.
"It's a very active landscape in the best of circumstances," Whittington said.
Don Hamilton, ODOT spokesman, noted that more highway closures could come due to landslides.
The burned terrain and wet weather make a "good recipe for slides this winter," Hamilton said.
Post-fire recovery will be prolonged, according to the U.S. Forest Service — there's no estimate for when most trails will reopen.
"The Forest Service is using all available resources to put out this fire so evacuated residents can return home and businesses can reopen," said Pacific Northwest Regional Forester Jim Peña in a statement. "We deeply appreciate the outpouring of support from the public as we work with partners and volunteers to begin the restoration effort."
Fighting wildfires has consumed major portions of the Forest Service's annual budget, and this season is proving especially costly. Those expenditures reduce funding for post-fire recovery and other forest management efforts that reduce fire risk, protect watersheds, improve wildlife habitat, and provide accessible recreation opportunities to the public.
The National Forest Foundation (NFF), the nonprofit partner of the U.S. Forest Service, has created an opportunity for interested citizens to donate to public lands recovery efforts in the Scenic Area stemming from the Eagle Creek fire.
"There will be a lot of hard work to come, but we know many people are anxious to help," said Columbia River Gorge Commission Executive Director Krystyna Wolniakowski. "We are very supportive of this opportunity to engage companies, organizations, and individuals to assist the Forest Service in clean up, restoration, and other priority projects."
To donate or learn more about the Eagle Creek Fire Restoration Fund, visit www.nationalforests.org/get-involved/eagle-creek-fire-restoration-fund.
To donate or learn more about the Eagle Creek Fire Restoration Fund, visit www.nationalforests.org/get-involved/eagle-creek-fire-restoration-fund
Evacuation Details
As of Friday morning, evacuation levels have not changed since Sept. 14.
Sgt. Pete Hughes with the sheriff's office said Thursday evacuation levels countywide — including Cascade Locks — included 3,140 structures on Level One and 1,161 structures on Level Two.
Following is a list of evacuation levels:
Zones A5 and A6 are being placed on Level Two evacuation notices.
Adding in the current Level Two zone of A4b, the new boundaries for Level Two will be defined as follows: The northern boundary will be the Columbia River, and the southern boundary will be the south end of Collins Road in Dee. The eastern boundary runs south from 430 Country Club and follows Country Club down to Reed Road, then runs overland due south to Hwy. 281, continuing along 281 to milepost 12.5, then following the Middle Fork of the Hood River until it comes parallel with the south end of Collins Road. The western boundary includes the Kingsley Reservoir area.
Zones A7, B4, B5, B6 and B7 are now being placed on Level One evacuation notice.
A7: The northern boundary of this zone begins at the intersection of Highway 281 (Dee Highway) and the Middle Fork of the Hood River (Milepost 12.5) and runs down to the south end of Collins Road in Dee. The southern boundary follows Laurance Lake Road from Clear Creek Road out past Laurance Lake. The eastern boundary follows 281 south to Clear Creek and then south to Laurance Lake.
B4: The northern boundary of this zone is the Columbia River and the southern boundary is Belmont Drive. The eastern boundary is Rand Road running down to the May Street intersection. The line then continues due south until it reaches Belmont Drive in the 2600 Block area. The western boundary is Country Club Road.
B5: The northern boundary of this zone uses Belmont, Brookside and Elliot. The southern boundary uses Barrett Drive, running on a straight line through Tucker Road, all the way to the Hood River. The Hood River is the eastern boundary, and Country Club Road is the western boundary.
B6: The northern boundary of this zone uses Barrett Drive running east-west from Country Club to the Hood River. The southern-eastern boundary follows the Hood River until it reaches Highway 281 (Dee Highway), then follows 281 until Summit Drive. The Hood River is the eastern boundary, and the western boundary is defined by Country Club, beginning at the Barrett intersection, then following it south to Reed Road, then following that line due south until it intersects with 281 at Summit.
B7: The north-western boundary of this zone begins at the Highway 281 (Dee Highway) and Highway 282 (Odell Highway) junction and follows 281 down to mile post 10.5. The southern boundary follows a straight line east-west using Central Vale Drive. The eastern boundary follows Highway 282 (Odell Highway) until it reaches Straight Hill Road, south to Massee Grade, then intersecting with Highway 35 until Central Vale Drive.
The Cascade Locks area remains at Level Two notice, and the A4a zone running along the I-84 corridor from Exit 47 to Exit 56 remains at Level Three.
The decision to make these changes was based on a series of spot fires and uphill runs that originated in Herman Creek and resulted in the fire becoming established on the ridges east of Gorton Creek and Shellrock Mountain. Firefighters continue to work on strengthening established containment lines, and will be out patrolling and looking for opportunities to prep around structures.
The Hood River County Sheriff's Office would like to remind all affected residents that Level Two means "Be Set" to leave at a moment's notice. Level One means "Be Ready" for the possibility of evacuation. This updated information is available on hoodriversheriff.com and on the Hood River Sheriff Facebook and Twitter pages. All of those sources will have a link to the Interactive Web Map where you can enter your address to see what level you may be under.
The evacuation info recorded lines are 541-399-8022 (English) and 541-399-8023 (Spanish).
Visit www.hoodriversheriff.com for updates.