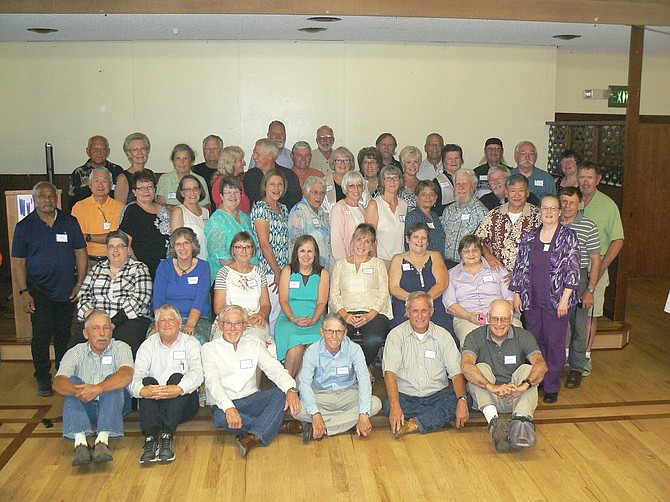 The Wy'east High School Class of 1967 held a 50-year reunion Aug. 18-19. Former teachers Joan Fowler, Roy Nellermoe and Mary Neville attended. On Friday, 62 gathered at the private campground of Mike and Sue Faulkender in Parkdale. Sophia Homan, who also works at the Hood River Valley Adult Center, outdid herself catering. Saturday, 78 met at the Hood River Elks Lodge, and Gary Griffith (son of former teacher Bill Griffith) was in charge of providing the delicious meal. Members of the class came from as far away as Missouri, Arizona, and California.
Paul Benton served as emcee and Tim Copper gave the invocation. Leonard Aubert touched on changes to Hood River County. Betty (Hagen) Osborne reminisced about former classmates Doug Bailey, Mike Hakala and Mike Simpkins.
Guest speaker Roy Nellermoe talked about growing up in North Dakota working on a farm, driving tractor at a young age, harvesting grain crops, and walking to school through the snow. Every Sunday was set aside for family time, church and ball games. Roy graduated from college in Minnesota in 1958, moved to Odell with bride Darlene, and was hired on at Wy'east in the math and sports departments. He impressed on his students to use the talents that God gave them and that they can do anything no matter what their background if they put their mind to it and work hard.
The open-mike portion of the program was focused on moments shared and lessons learned from their parents. Paul Benton related that his dad said to always be prepared. Linda (Coreson) Cox had wanted to be a nurse since she was 5. Her father worried at her choice taking on the problems of others, but was a proud papa at her graduation from nursing school. Linda learned from him the importance of supporting kids in whatever they want to do. Mary Beth (Taylor) Copper also wanted to be a nurse; however, math was required. She appreciated the patience of her dad walking her through it, logically teaching her how to think and evaluate. Jack Brosseau's dad helped him to be strong, tough and respectful. His mom let him know it is okay to cry. Dick Goe's parents impressed on him that life and success depend on making commitments and seeing them through. Darrell Rue wrote that his parents taught him to work hard as perfectly as possible, finish the job and then play. Susie (Woody) Horton was grateful she did not miss the window to thank her dad for the way she had been raised before the family lost him 40-plus years ago. Someone wrote, "Sometimes we never know the value of a moment until it becomes a memory."