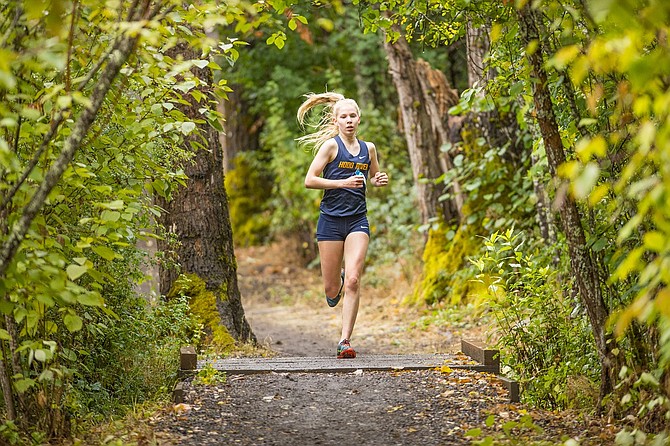 The HRV boys and girls cross country teams hosted their annual Hood River Skip Sparks XC Festival Sept. 19.
Nine teams from Oregon and Washington showed up to this meet, including Culver, Estacada, Goldendale, Ridgefield, Stevenson, Trout Lake, Washougal and Weston-McEwen.
The girls kicked off the festival with 43 varsity athletes lined up at the north end of the HRV football field for the 5k event.
As the gun sounded off signaling the start of the race, the girls made their way through the wet and muddy course that takes you from the varsity baseball field down through the Indian Creek Trail.
For the HRV girls, Josephine and Frances Dickinson were shoulder to shoulder for most of the race, clearly working together as a team, which Head Coach Brandon Bertram has continued to emphasize since the beginning of his coaching tenure at the high school.

"Since our last competition at Ash Creek, we've continued to work hard on running together as a pack and running for each other. It was promising to see the team apply what they had learned into a competition," Bertram said. "They ran strong together throughout the race, communicating and supporting each other every step of the way. Our cohesion as a full team racing together took a big step in the right direction on Wednesday."
Josephine would finish third with a time of 21 minutes and 22.83 seconds, right behind her in fourth-place was Frances, who crossed the finish line at 21:36.67.
And in arm distance reach away from the Dickinson sisters for most of the race was teammate Evelyn Nunez.
Nunez would only finish seconds behind Frances with a time of 22:04.04, earning her a fifth-place finish.
Breaking the top-10 was Chole Bullock in ninth place, finishing the race in 22:29.77.
Other notable performances for the girls: Josie Petersen finished in 14th place, 22:58.68; Teddy Parkinson in 23rd, 24:08.10; and Chloe Clark in 25th, 24:17.91.
These induvial performances by the girls would contribute to what would end up being a blowout victory for the Eagles as they scored 34 points, which was enough to comfortably secure them a win at home as the second-place team, Estacada, ended with 68 points.
The boys, however, had a much closer meet in their 5k event.
Josh Haynes led the way for HRV much of the race and would be the first Eagle to make his way onto the track for a sixth-place finish with a time of 18:28.01.
Behind him was a flock of Eagles.
In eighth-place was Braxton Wilson at 18:37.90. Running stride for stride with one another behind was Connor Truax and Finn Peterson, finishing in ninth and 10th place with times of 18:45.70 and 18:48.87.
Other notable performances for the boys: Omar Quintana in 16th place, 19:06.80; Travis Running in 24th, 19:42.94; and Oscar Powell in 26th, 19:53.63.
The boys would earn a total of 49 points from their performances, but it wouldn't be enough to outlast the team from Washougal.
Washougal, with the help of first and seventh place finishes, earned 47 points and a first-place team finish.
But first and second team finishes by the HRV boys and girls is still impressive, considering everything that has happened in the Gorge leading up to this event.
"I was impressed how all our athletes were able to battle through adversity, considering what our community has gone through the past two weeks," said Bertram.
"The ability to divert distractions from their race focus was impressive. Each race group put together a race plan and executed it."
With six weeks left in the season, the boys and girls will now get into "the beef" of their training, Bertram explained.
"We have tried to simulate our training plan on treadmills and hallway running the past few weeks, but there is no supplement for running on Hood River hills and trails."
"Our home meet was a big success for us moving forward to our goals at Columbia River Conference and State meets. We will continue to build on the momentum achieved at the Skip Sparks Festival."