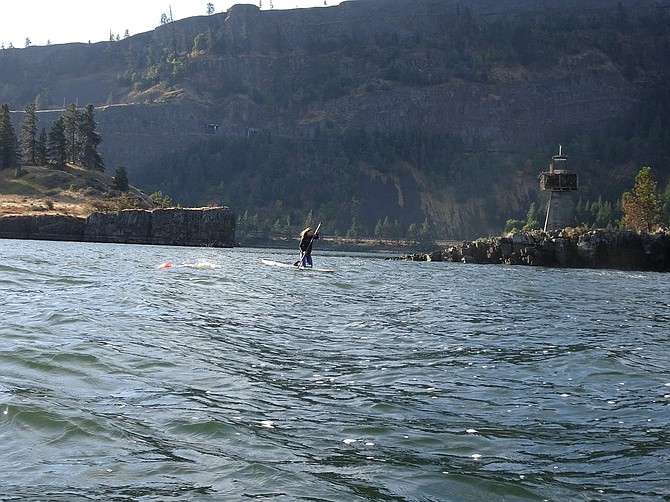 Athletes from the Columbia Gorge Triathlon Club got a scare Sunday morning when bullets buzzed around them and entered the water not far from swimmers.
"It was pretty terrifying," said Dawn Rasmussen of The Dalles, who was in a kayak toward the front of the group.
In all, she said at least 20 shots were heard, including the louder crack of a rifle and the popping noise of a handgun.
"We think it was two different people shooting," she said. "It seemed to be coming from somewhere above the Mosier Twin Tunnels. We looked up there but we couldn't see anything."
Rasmussen and five other people on paddleboards or kayaks had been watching over five swimmers who had gotten into the water at Mosier and were headed toward Hood River shortly after 9 a.m. Sept. 24.

Mark Frost of Hood River was one of the athletes in the water. He had organized the swim, one of two or three held every year.

"We do this a fair amount and we've never had an issue like this," he said.
He and the other athletes had been in the middle of the river channel for about 30 minutes and were north of Chicken Charlie Island when the gunfire began.
Frost said a paddleboarder had his 15-year-old daughter with him and they heard bullets buzzing by them.
Another paddler saw bullets hitting the water 20 to 50 feet away, said Frost.
"It's crazy, that's what it is," he said.
The group decided to swim out of the area as quickly as possible because they were exposed in the open water, and the terrain on both sides of the river was inhospitable to access.
"There really wasn't anywhere for us to go ashore," said Rasmussen. "It would have been a horrible situation if someone had been injured. I was worried about it — if people could hear bullets pass, they were close enough."
The athletes called the emergency dispatch center, who relayed the report to the Wasco County Sheriff's Office. Detective Sgt. Scott Williams said two deputies were dispatched to investigate the incident. They were joined by troopers from the Oregon State Police, who climbed above the tunnels to look for the shooters.
"We don't know if it was intentional or not, but we did not find anything or anyone," said Williams.
He said Sunday was the first day of Youth Duck Hunting season, so the shots might have been careless instead of planned.
"If that was the case, people need to be more responsible with their guns and make sure they have a safe backdrop," he said.
Williams said years ago bullets fired carelessly flew into the room of a Foley Lakes residence and hit the makeup case right next to a woman in her bedroom.
"We don't get a lot of these calls, but it does happen every so often," he said. "People need to stop and think about what they are doing because careless shooting can be deadly."
If the gunmen were trying to scare or fire at the athletes, he said those individuals could be looking at attempted murder, unlawful use of a weapon and/or other charges.
"If anyone in the area saw anything that day or has any leads for us to follow, we ask them to call and let us know," said Wasco County Sheriff Lane Magill. His office can be reached at 541-506-2580.