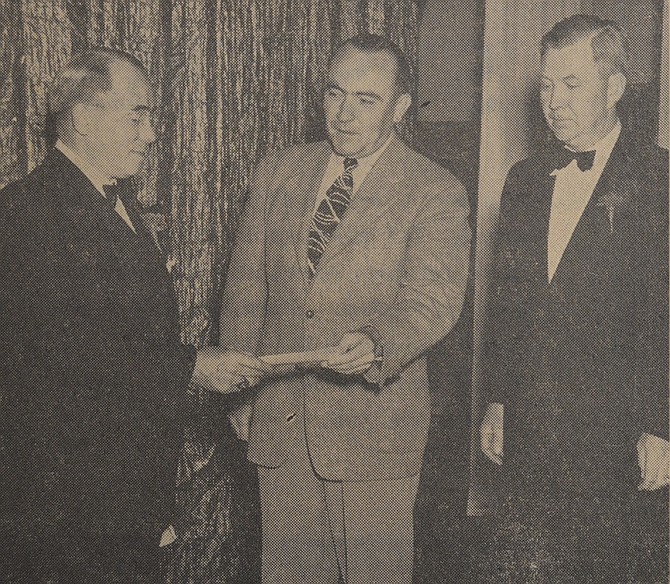 1917 — 100 years ago
In a letter written this week to Frederick W. Buff, manager of the Fruit Growers Exchange, by PR Bonham of the Portland office of the U.S. Immigration Bureau, Mr. Bonham states that, because of the shortage of male labor, fruit growers must rely largely this year upon women to harvest the apple crop. His advice to growers is as follows: "It should be borne in mind that men are scarce and, therefore, women must be employed more than heretofore. You should reconcile yourself to this fact and govern yourself accordingly."
VERBATIM: Cascade Locks Is Honored by Lindy
Wednesday of last week was Cascade Locks' greatest day, although most of its people didn't know it until the day after. The fortunate few who chanced to be near the Columbia River at Cascade Locks saw an airplane come up river, take its bearings on the Bridge of the Gods, passed low over it, then turn and pass under it and then went on its way back to Portland. The few who saw the plane nearly lost consciousness when they saw the lettering "Spirit of St. Louis." And when they related their story that Lindy had visited Cascade Locks, many wondered where they had obtained liquor that would cause them to have such wild dreams.
But it was the Spirit of St. Louis, with Colonel Charles A. Lindberg at the controls. It was characteristic of this wonder of an age of aviation that, finding he had a hour to spare on his flight from Seattle before his scheduled time of appearance in Portland, decided to take a run up the Columbia Gorge, take in Multnomah and other falls and visit the Bridge of the Gods and Cascades of the Columbia River.
He admits that he thoroughly enjoyed the trip. And he has given a few fortunate residents of Cascade Locks who saw the plane something to talk about for the rest of their lives.
— Hood River News, September 23, 1927
1927 — 90 years ago
With many growers ready to pick on Monday of this week, the crews were hardly in the orchards when heavy rains set in, and on Wednesday night, reached almost torrential proportions. Thursday, however, was clearer, and there were indications that the storm was passing. Many growers report that their apples ought to be picked immediately as they fall easily, and they are afraid that heavy wind might prove almost as serious as it did last year. Most varieties are ready to pick and there seems to be plenty of color in the fruit this fall.
1937 — 80 years ago
Plans for the forthcoming visit of President Franklin D. Roosevelt to Bonneville Dam, Hood River Valley and Timberline Lodge on Mount Hood were completed yesterday and, unless there is further change, will stand as published. The presidential train will pass through Hood River from the east at about 7:10 a.m. and President Roosevelt will arrive at Bonneville at about 8 a.m., where he will inspect the giant federal project and is expected to make an important announcement. The presidential party will leave Bonneville by automobiles at 9:45 a.m. and will travel over the Columbia River Highway to Hood River, arriving here at about 10:30 a.m.
1947 — 70 years ago
Hood River has been having its share of summer-like heat in the welcome warmth that was felt throughout the west coast during the past week. While temperatures here did not hit the 90-degree mark as they did elsewhere in the State of Organ, some high readings were observed during the early part of the week. Thermometers in town were hitting around the 85-degree mark on Tuesday and in the high 70s on Wednesday.
Lack of sufficient housing has caused one teacher to leave the Hood River County Unit School System, reports Superintendent Ralph E. Jones. She is Mrs. Bess Martin, fifth grade teacher at Odell, who quit last Friday and returned to her home in Texas because there wasn't housing for her family. Charles E. Funk, whose wife was recently added to the county school faculty as a fourth-grade teacher at Odell, was employed to take over Mrs. Martin's assignment, states Jones.
1957 — 60 years ago
The end of pear packouts in the lower valley was reported by Duckwall Bros., Inc., a major valley fruit packer, as the emphasis on pear harvest moved to the upper valley. Most packers advise growers to wait another week before starting on red apple varieties. Newtowns and Ortleys will be packed this week in Hood River plants of the Duckwall firm. At the same time, Anjou pears were moving well on almost all export markets, report local shippers. Lower prices for processing apples are seen this year, although general fruit quality is unusually high.
1967 — 50 years ago
An announcement of progress by Mt. Hood Meadows Development Corporation at a new ski area in Hood River County brought quick objections this week from the local Chamber of Commerce, with all the controversy centering on a name. The developers refer to the area as "Mt. Hood Meadows" to identify the place being developed. The Hood River Chamber of Commerce maintains there is extensive precedent for a conflicting point of view. "They can call their lodge anything they want," said Mike McLucas, member of the Hood River County Chamber. "But when they talk about the area, it's still Hood River Meadows. It has to be. That's it." He insists that was the name on the Forest Service prospectus when bids were called, and that's the way it will remain. "Developers want to change it for commercial reasons," he said. "I don't see that it's economically justifiable. Skiers will learn about the quality of the area, and they'll be there — no matter what the name."
1977 — 40 years ago
A $2 million expansion project for the Hood River Inn, scheduled to start in early 1978, was announced this week by Norm Glenn, Portland, president of the operating company. The project will include an additional 102 guest rooms and a large convention facility capable of housing 500 banquet guests. The addition will bring to 166 the total number rooms at the Hood River facility.
Leonard Hay will become the Hood River fire chief on Oct. 1 following the retirement of James Meyer on Sept. 30. Hay is presently the volunteer fire department assistant chief.
1987 — 30 years ago
A funny thing happened to Tom Cope on his way to the Radio Amateurs of the Gorge picnic Sunday. He became a key figure in a real mountain rescue more than 30 miles and two counties away. Before the day was over, he'd spent many anxious moments helping a mountain rescue team remove an injured Boy Scout from Mount Adams. And he did it all from Nendels Inn, with the help of his portable radio unit and a telephone. Cope acted as a transfer point for messages. "I started relaying questions and answers via the radio and telephone," he explained. "I had a radio in one hand and a telephone in the other. We got their exact location and other information the sheriff needed."
1997 — 20 years ago
Hood River water customers will be asked to watch their consumption for the next few weeks while construction crews complete improvements to the city's water source. Workers are preparing to turn off water from the Cold Springs source, in preparation for the installation of new collection pipes and other work. During that project, the city will rely on the smaller capacity Stone Springs I and Stone Springs II sources for water. The Cold Springs work is part of a year-long upgrade to the city's water source, located off lost Lake Road, that is designed to increase capacity. The project included construction of a new collection box and connection of the two Stone Springs sources to the system in work completed last fall.
2007 — 10 years ago
Officials still don't know the causes behind two separate fires that started within a day of each other last week in the Columbia River Gorge. Both fires were in Skamania County. The Broughton Fire began Thursday near State Route 14. The Stevenson Co-Ply Fire began on Friday. The 150-acre Broughton Fire burned six homes and a barn near Underwood. Washington Department of Natural Resources crews were working on mopping up the fire Monday. The remains of the Stevenson Co-Ply plant still smolder as smoke lingers in the air at the western edge of Hood River County. The plant is a former mill, which closed in 1986. While the plant had been vacant for a number of years, the fire was intense partly due to the storage of tons of wood pellets on site from the Cascade Locks-based Bear Mountain Forest Products.
— Compiled by Trisha Walker, News staff writer