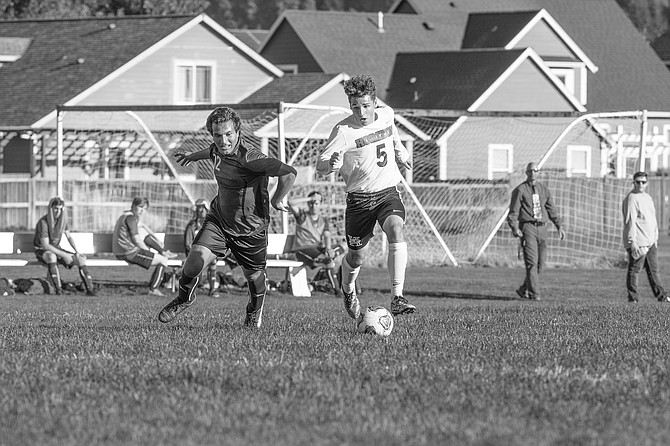 The Horizon Hawks were riding a two-game winning streak heading into Wednesday, but that was before an undefeated Livingstone Adventist Academy team traveled to Hood River.
The Hawks (2-4) dropped their third league game of the season 2-1 against a Livingstone team that continues to win (5-0).
The Hawks had chances to extend their win streak to three and it felt at times that they were going to do so, but throughout the game they would continue to hurt themselves as Head Coach Andrew Stenberg explained.
"It was a disappointing loss as I felt like we should have won that game," Stenberg said. "We were threatening the goal all game but just couldn't find the back of the net."
The Hawks' lone goal came at 22 minutes off a throw-in by Derek Johnston.
Johnston led forward Ethan Fuller to the goal and Fuller made one quick move to sink a shot passed Livingstone's goalkeeper.
This goal put the Hawks up 1-0.
Early on Livingstone had trouble pushing the ball into attack and when they did, Hawks' goalkeeper Nolan Ryan was ready for it, not allowing a goal through much of the first half.
When Livingstone realized that getting the ball in-close was going to be tough, they resorted to taking some long shots at goal.
This strategy would eventually pay off.
Minutes before half, a Livingstone midfielder took a shot from near midfield at goal. The ball would continue to float in the air for yards and it eventually sunk down behind Ryan, tying the game 1-1.
This would be a big blow for the Hawks heading into halftime as they had played an almost perfect half.
But the goal late in the first half hurt the Hawks and Livingstone would put the game away in the second half scoring off another long shot that Ryan accidentally knocked into the goal.
The Hawks will have some time to recover from this loss and continue to improve in practice as they don't take the field again until Oct. 2 when they travel to North Clackamas Christian.
The last time these two teams met was in the 1A state playoff last year, a game that decided who would play for the title. North Clackamas would win in penalties 5-4.
This year the Hawks and Saints head into this matchup ranked 19th and 15th.