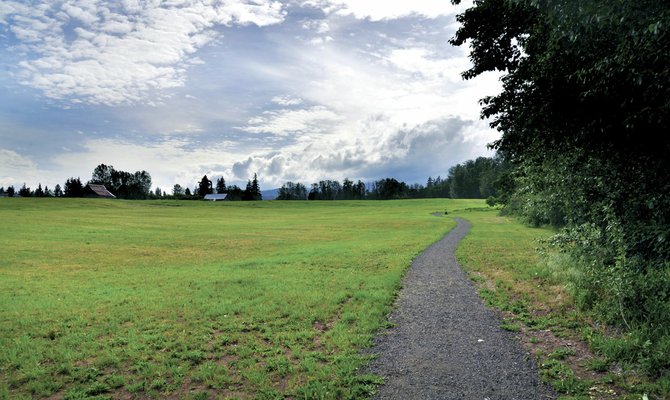 Spring is a special and exciting time for high school seniors. With graduation on the horizon, these young adults are about to close one chapter of their lives and begin the next. But before they toss their caps to the wind and go their separate ways, we checked in with seven Hood River Valley High School and two Horizon Christian School seniors to get a glimpse into the heart and soul of the class of 2013.
Columbia Center for the Arts proudly presents Emmy Award-winning author and world-class kayaker Doug Ammons as he presents "Riverscapes: The Geology and Human Culture of Rivers," on Saturday, June 8, at 7:30 p.m.
The Oregon Book Awards Author Tour brings Oregon Book Awards finalist Alexis Smith to the Hood River Library for an author talk on May 19, at 2 p.m. Smith grew up in Soldotna, Alaska, and Seattle, Wash.. She holds degrees from Portland State University and Goddard College. She was selected as a finalist in fiction for her debut novel "Glaciers," published by Tin House Books.
Vince Welch, author of "The Last Voyageur," will speak Tuesday, at 7 p.m. at Columbia Center for the Arts. The biography focuses on Amos Burg, one of the first commercial river guides, the last known individual to run all the major western rivers (Columbia, Snake, Yellowstone, Missouri, Mississippi, Yukon, Canada's Mackenzie, Green and Colorado, Middle Fork and Main Salmon) before dams made such voyages difficult if not impossible.

There's an enthusiastic tone in Larry Wyatt's voice as he demonstrates a unique wooden instrument that sits on the floor in the front of his May Street School music classroom. "These are "Studio 49" German-engineered xylophone bass boxes. They're set up so we can play in the key of C, which is the same for my ukuleles." With large mallets, Larry deftly plays a bass line that could be used in any number of simple folk songs, and then plays the first few measures of "Ode to Joy." Full, rich, bell-like tones resonate around the room.
The History Museum of Hood River County hosts an Antique Appraisal Fair Sunday, May 19 from 1 to 5 p.m. The museum is located in the Port Marina Park, Exit 64, off I-84 in Hood River There is a $10 to have one item appraised; this includes admission to the museum exhibits. Museum members pay $5 for the appraisal fair.

Portland writer Kim Stafford will be in Hood River May 16 to read from his new memoir, "100 Tricks Every Boy Can Do" about the life and death, by suicide, of his older brother, Bret, who worked as a planner for Hood River County for three years in the mid-1980s. Bret and Kim are the sons of former, famed Ore-gon Poet Laureate William Stafford. The reading will be at noon at the Indian Creek Campus of Columbia Gorge Community College. It is free and open to the public.
The Langley Ukulele Ensemble from Langley, BC is coming to Hood River on Friday, May 17, at 7 p.m. for an evening concert at the Hood River Middle School.
Planning your week in entertainment
The History Museum of Hood River County offers walking tours of downtown Hood River on Saturdays at 10 a.m. between May 18 and June 29.
3rd annual benefit at WAAAM raises funds for scholarships
Vintners pour their wines, artists display their skills, and chefs serve their best during the Columbia Gorge Wine and Pear Festival May 18-19 in Hood River. And students will reap the benefits of all that sharing and tasting of wares in the third annual Rotary benefit event.

Expect a few more days of glorious sunsets like this one on Mt. Adams as seen from Barrett Drive near Alameda. High today of 88 is predicted with 82 on Saturday then expected rain on Sunday and a high of only 70. Monday temperatures will drop to 64 with continued predicted rain.
Previous Next
HRN @ Twitter
Events
Latest blog posts