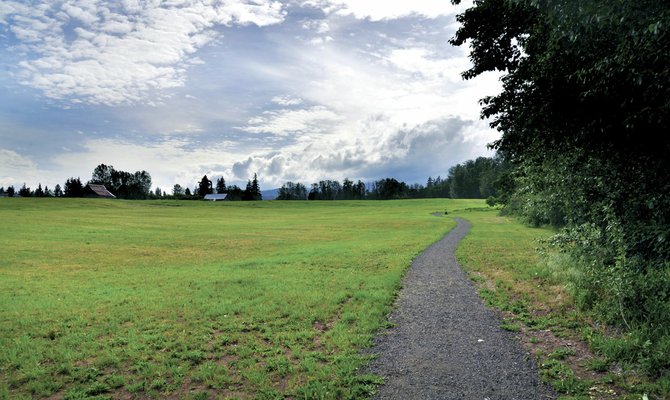 Greatness serves as an achievement, totally gone before we have a chance to thank anyone else.
On May 3 and 5, some of the Gorge's most popular musicians are soon to be featured with the Columbia Gorge Sinfonietta.
Street party at Double Mtn.; Asian Dance recital May 5; Meet '100 Hikes' author; Shoe contest, 'Kinky Boots' at Columbia Center for the Arts; VOCI choral concert May 12-13; FISH benefit May 4 at The Pines; Flamenco dance at Gallery 301; Adopt-A-Dog's sale May 11
Several families in Parkdale are gearing up to hold yard sales during the Memorial Day weekend and all are encouraging more Upper Valley residents to join in.
To celebrate "Oregon Parenting Education Week," May 19-25, the Columbia Gorge Parenting Education Program of The Next Door is having a photo contest.
Get ready to "feel the awkward".
A unique hike and book talk combination event on May 3 will feature author William Sullivan, "100 Hikes in NW Oregon and SW Washington,", who will also be signing his books from 5 p.m. to 8 p.m. on May 3rd at Waucoma Bookstore (212 Oak St., Hood River).
The Columbia Gorge Discovery Center presents living history performer Joe Wiegand as Theodore Roosevelt, May 14 at 6 p.m.

Atop York Hill, mustard flowers frame a cloud capped Mt. Hood.

Walk into Dog River Coffee, and there's a good chance you'll be served by owner Nathan DeVol.
CAST Theater and Columbia Center for the Arts present Annie Baker's award winning play: "Circle, Mirror, Transformation," on May 9.
The Going to the Dogs Rummage Sale, a fundraiser for Hood River Adopt-A-Dog, will be held on Saturday, May 11, from 9-4 p.m. and Sunday, May 12, from 12-4 p.m. at the Cody Fruit Stand, 3475 Graves Drive in Odell. Sunday is half price day for pet "moms."
FISH benefit May 4 at The Pines; Flamenco dance at Gallery 301; Bunzow Band, more at Bingen Theater April 27; Roosevelt Dinner Theatre at Discovery Center May 14; 'Troubadours' visit April 26
The Columbia Center for the Arts needs you! Volunteers are needed for several events in May.
Kids can connect with history in a fun new way through The History Museum's special new childrens program –History through Yoga!
HRN @ Twitter
Events
Latest blog posts