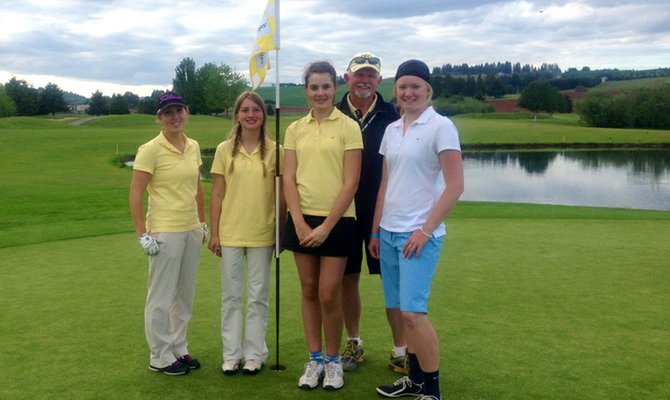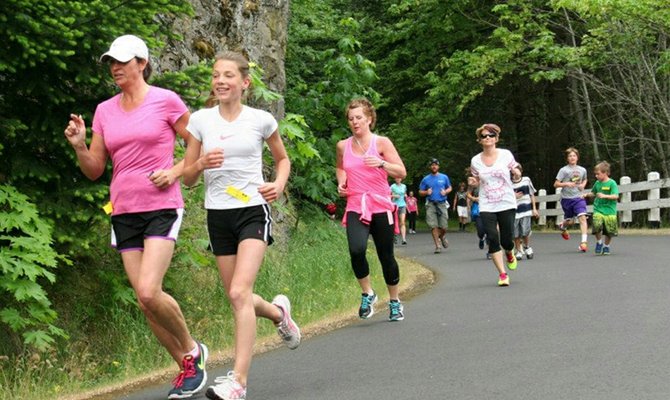 Five young Hood River wrestlers competed in recent Freestyle and Greco Roman state championships. Leading the way Noah Wachsmuth, who took state titles at 80 pounds in both freestyle and Greco Roman disciplines. The Hood River Middle School sixth-grader went undefeated in nine matches, allowing only three points to be scored against him.
Hood River Valley baseball and softball teams traveled to Hermiston Tuesday to take on the Bulldogs in the last road game of the regular season. The girls had a tough 2-0 loss against the Columbia River Conference's No. 2 team to move their league record to 3-8 and their position to third in the conference with one win more than The Dalles Wahtonka.
HRVHS must win, score eight goals and hold Wilson Trojans to two or less goals to make playoffs
The result of Monday evening's 6:30 p.m. home game against Wilson will determine whether the Hood River Valley High School varsity boys lacrosse team calls it quits for the season or moves on to the Oregon High School Lacrosse Association state championship.
Wednesday evening's nail-biting end to one of the best games of the season for the Hood River Valley High School varsity girls lacrosse team was a fitting way to end the regular season.

For the first time in team history, the Hood River Valley High School girls golf team claimed a district championship. The team of four – Laura Waller, Korey Cimock, Alicia Hay and Gabriella Whitehead – shot a two-day total of 782 on Monday and Tuesday of this week to claim the Columbia River Conference championship over Pendleton, Hermiston and The Dalles-Wahtonka.

At 92, Ed Bartlien recounts his trophy trout of 1981
For Ed Bartlien, Lost Lake has a special place in his heart. Like many who have lived around here long enough, the 92-year-old has decades' worth of fine memories locked away, of fishing, camping, picnicking and enjoying the picturesque mountain lake that has long been a jewel of Hood River County.
Rally America and The Oregon Rally Group brought their special brand of motorsport through the Gorge again this past weekend with the 2013 Rally America Championship Series.
In a Columbia River Conference softball matchup between two of the state's top-five ranked 5A softball teams, the Hood River Valley High Eagles had the No. 1 ranked Pendleton Buckaroos right where they wanted them — in a late-inning deadlock with a chance to win. The fifth-ranked Eagles (3-7 CRC, 13-8 overall) had lost twice to the Bucks earlier in the season by a total of just three runs and had a golden opportunity to knock off the defending conference and state champion in a home game Friday afternoon.
Horizon Christian School broke through in the win column in the District 3 baseball standings by sweeping a doubleheader Saturday against Sherman County at Collins Field.
Beam leads Eagles in 12-3 home win over Pendleton
Two teams hoping to end slumps met in a Columbia River Conference baseball game Friday afternoon, and it was the Hood River Valley High Eagles who snapped a four-game losing streak with a 12-3 home win over the Pendleton Buckaroos.

The annual Hershey's Track Meet brought several dozen youngsters to Hood River Valley High School's Henderson Stadium last weekend to compete for a shot at the state meet this summer at Eugene's legendary track and field venue, Hayward Field.

Now sets sights on 2016 Rio Olympics
Former Hood River Valley High School cross country, swimming and track standout Erin Jones is making serious headway in the world of professional triathlons. Representing the Elite Training Academy in Colorado Springs, the 2009 HRVHS graduate won the biggest triathlon of her career last month – the Collegiate National Championship.
Scottie Ziegner battled through a match that lasted more than two hours Wednesday afternoon against Hermiston's No. 1 singles, Lucas Wyant.
We definitely had a Cinderella conclusion to the Monday night men's Industrial League at Hood River's Orchard Lanes.
Hood River is a town full of water sports enthusiasts, and now a new sport is gaining popularity – water polo.
HRN @ Twitter
Events
Latest blog posts