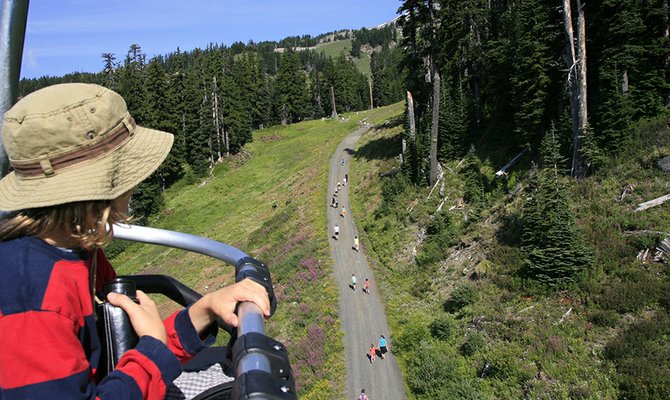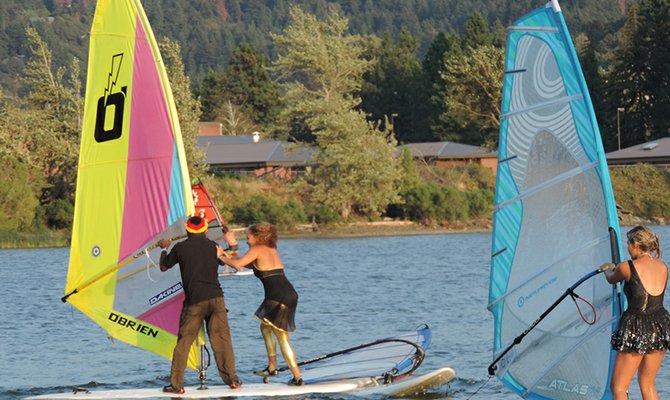 2014 class: two teams and five individuals
The Hood River Valley High School Athletic Hall of Fame Committee recently announced its list of inductees for the 2014 class. Among the athletes being honored for their past accomplishments are five individuals and two teams from HRVHS and one individual from Cascade Locks High School.

Organizers of the Kollas-Cranmer Memorial Run were pleased, but apologetic, after the conclusion of this year's July 4 event. A record number of regestered participants – 387 runners and 118 walkers – turned out for the annual tradition, making it the best-attended run since records were started in 1975.

Wy'east defeated White Salmon 5-1 Thursday evening to claim the first-ever boys' Gorge Area Middle School Soccer League championship. The two teams had met twice earlier in the league's inaugural season, with Wy'east winning both by a narrow one-goal margin.
Kiteboarding 4 Cancer is this weekend; CGRA hosts Laser North American Championships

Big-air kiteboarding contest utilizes Xensr motion capture device
The second annual Hood River Huckfest was held last Thursday under sunny skies and moderate wind conditions, and at the end of several high-flying rounds, the big-air kiteboarding event had its champions.

Team enters state tourney as Tri-County's top seed
With temps reaching onto the mid 90s Tuesday, the stifling evening heat at Collins Field matched the intensity of a U13 Junior Baseball of Oregon match-up between Hood River and Reedville.
THE DALLES – Two residents of The Dalles hope to rally community support for a bike park with dirt jumps and berms that allow riders to test their skills.
Strikers vs. Strikers Saturday a sendoff for U14 team; Wachsmuth earns national wrestling title; Gorge FC ties Inter United 2-2 in last game of season

Team is 7-1 so far in summer ball season
The Hood River Valley High School baseball team, guided by coach Erich Harjo, enjoyed a remarkable 2014 season that ended with the team playing for a state title in the OSAA Class 5A championship game June 7 against Sandy (HRV lost 8-3). The success of that Eagle team has certainly been a notable factor this summer, with many of those same players contributing to a strong Carson Oilers squad that has notched an impressive 7-1 record in the Oregon Junior State Baseball Association.

Longtime local archery club sees significant uptick in interest during last couple of years
The Hood River-based Appleknocker Bowmen archery club hosted its annual Little John 3D shoot late last month, and the record turnout of nearly 350 people is evidence that the sport is seeing a measurable resurgence, particularly in younger age groups.
Big Winds 'Ladies Night' brings multi-sport camaraderie; Franks sinks hole-in-one; Northwest Area Trails remain open for motorized users; July 4 festivities limit recreational access at waterfront

New this year, return shuttle service offered
Organizers of the annual Kollas-Cranmer Memorial Run are gearing up for what has become a wildly popular Independence Day tradition for several hundred people every year. This year marks the 39th-annual 4th of July run, named after the late Joe Kollas and Jerry Cranmer, both of whom were active runners and community members.
"Definitely not luck," is how Gorge FC manager Roger Sherrell describes his team's first league win of the season last weekend over Seattle Sporting FC. After going through structure and coaching changes midway through the spring, the Hood River-based semi-pro soccer team has found its rhythm as it concludes its first season in the Northwest Conference of the National Premier Soccer League.
There are more close-to-home fishing opportunities now than at any time earlier this year. While fisheries for trout, shad, sturgeon (mostly catch amd release) and the warm-water clan consisting of bass, crappie, bluegill and perch have been going on for several weeks, other major fisheries are now open. For example, as of May 31 the Columbia opened for fin-clipped spring chinook. Regulations for these fish can change so check out the WDFW web site for updates: wdfw.wa.gov.