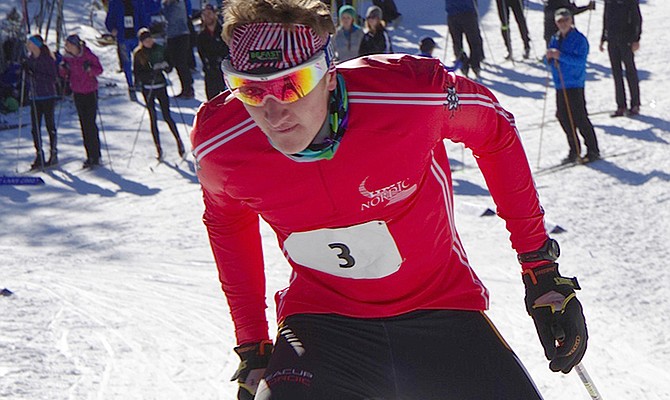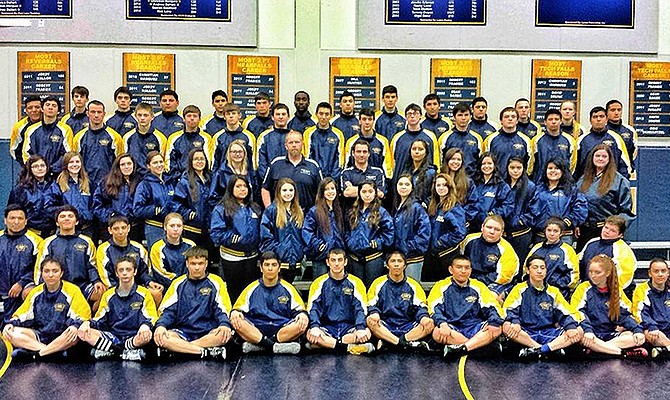 HR wrestling spaghetti feed fundraiser Nov. 23; Turkey trot on Thanksgiving
Attention HRV soccer fans: Saturday's game time has been changed from 10:30 a.m. to 1 p.m. at Hillsboro Stadium due to weather and travel precautions.

Hood River Valley High School varsity boys soccer is headed to the state finals.

Hood River Valley High School water polo defeated defending state champion, Mountain View 15-10 last week to advance to the semifinal round of the 5A state championships.

Putnam senior Makenzie Maier will go down as the thorn in the Eagles' side this season. The senior forward scored twice in her team's 3-1 win over HRV at the beginning of the season and twice more Saturday night, in the 5A varsity girls soccer quarterfinals, to seal the win for the No. 1 ranked Kingsmen and knock the Eagles out of the state bracket.

All considering, the fall of 2014 was a good season for Hood River Valley High School athletics.

HRV hosts Wilsonville Tuesday at 6 p.m.
The Hood River Valley Eagles hammered Mountain View Storm quickly into submission Saturday afternoon at Henderson Community Stadium, sending a clear statement to the remaining teams in the 5A bracket that they're intent on earning the school's first-ever state boys soccer title. The 7-1 quarterfinal win advanced the No. 2 seeded Eagles to the semifinals Tuesday night (6 p.m. at Henderson Community Stadium) against No. 3 Wilsonville Wildcats, who defeated Hillsboro 2-1 Saturday to stay alive in the bracket. The winner advances to Saturday's final and will take on the winner of Tuesday's No. 1 Summit vs. No. 4 Woodburn game.

HRV boys 2, Central 0; HRV girls 2, Wilsonville 1
After battling to a 1-1 tie in regulation time Tuesday night, the Hood River Valley Eagles and the Wilsonville Wildcats were given 20 more minutes (two ten-minute periods) of overtime to determine whose season would end on the field that night and whose would continue on to the 5A girls soccer quarterfinals this weekend.
Many of us have heard stories about young athletes collapsing on the field or court. In fact, one high school aged athlete suffers a sudden cardiac arrest every three days in the U.S.
CSRT freeride team sign ups Nov. 17; Elks Hoop Shoot contest is Nov. 16; more

Boys varsity team plays Thursday in Corvallis for shot at final-four
Diving into new territory, Hood River Valley High School's varsity boys water polo team will be in Corvallis Thursday night to take on Bend's Mountain View High in a do-or-die state elimination round.

Crosswhite, Robinson lead HRV cross country teams at 5A state meet in Eugene
In one word: Consistent.

Of all the things that might be scary on Halloween night, nothing would be worse for coach Caleb Sperry and his Hood River Valley High Eagles football team than a loss to the winless Riverhawks from The Dalles. The Eagles (3-6) clearly had no intentions of letting that happen, however, as they concluded their season on a positive note with a 34-6 win over TDW (0-9) on Senior Night Friday at Henderson Community Stadium.
Soccer teams host playoff games; Horizon soccer ends season; Ski Swap is Saturday
Last week's bowling league action at Hood River's Orchard Lanes produced a bunch of excellent scores. The cream of the crop rose to the top and fresh faces flourished. The Team of the Week reflects that mix. Leading the parade of tall totalers was Lynn Spellman, who blasted a huge scratch 750 series in the Wednesday afternoon senior Colts & Fillies league. Lynn is once again becoming a familiar name in the limelight around here, as he is a multiple member of the Team of the Week in this young bowling season.