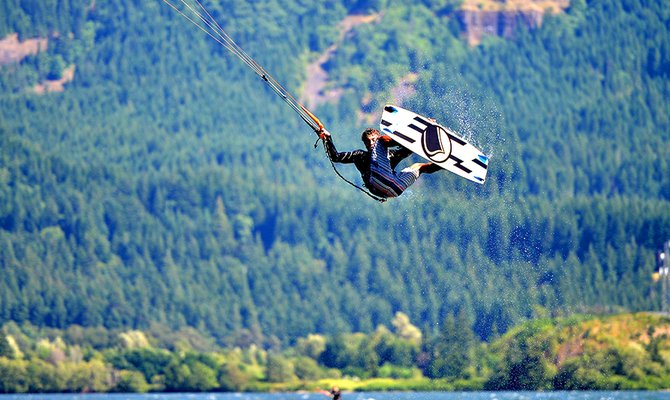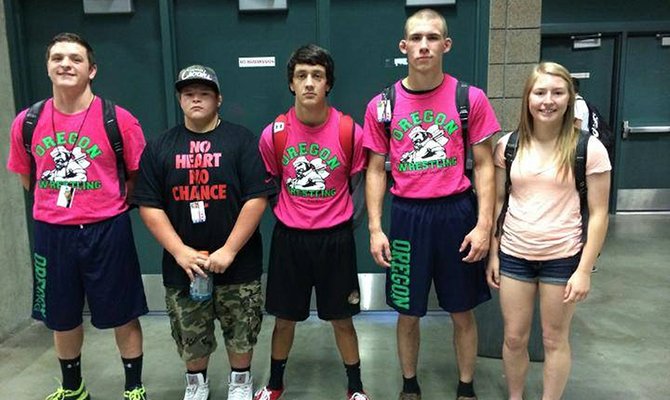 The Hood River Valley Eagles advanced to the OSAA/U.S. Bank/Les Schwab Tires softball state semifinals for the first time in 17 years after surviving a challenge from the tough Willamette Wolverines to get a 1-0 win in the 5A quarterfinals Friday at Westside Elementary School.
Multi-sport event draws more than 300 to enjoy Hood River Valley's many outdoor offerings
Conditions aligned perfectly Saturday for the inaugural Hood2River Relay Race, and if the unanimous expressions of blissful exhaustion at the finish line and after-party were any indication, the event promises to be bigger and better next year.
Team makes state semis for first time since 1993
You can't call these boys Cinderella, but their story is turning out to be just that.
Two-day bike race comes to Post Canyon trails area
The Oregon Enduro Series returns to Hood River this weekend for the first of five states in the statewide mountain biking series. The Hood River stage includes seven sections of racing over two days — June 7-8 — on County Forestry trails and property in the Post Canyon area. An expo and home base for the event will be set up at the bottom of Post Canyon Road.
HRV lacrosse season ends; Roller Girls' last home bout; Dirty Harlots host bike team fundraiser; CSRT hosts Mountain Bike Club camps

Outdoor gear retailer expands offerings from updated locale
Second Wind Sports moved from its longtime location on Oak Street in April to its new store on the corner of Second and State streets — formerly The Pines Tasting Room — and things are going pretty well, says co-owner Pepi Gerald, even with the State Street construction project right outside the door.

If there's small solace to be had in this tragedy, it's that Matt Klee died doing something he loved.

Anyone who has seen Regan Huckaby work out in the last year will tell you, she's an absolute maniac. Although as friendly as they come, the 27-year-old Hood River resident is trimmed like a Navy SEAL and can outperform most of the guys in her gym; accolades made all the more impressive by the fact that she's a mother of two young Huckaby rugrats, ages 2 and 4.

Hood River Valley varsity boys lacrosse extended its season at least through the weekend with a commanding 19-0 win at home Wednesday night against Rex Putnam in the inaugural Cascade Cup tournament. The win advanced the team to a Saturday night game at Canby in the 16-team bracket's quarterfinal round.
Race included roads in HR County
The Columbia River Gorge, Mount Hood and surrounding areas will be on national television this Sunday as The Oregon Trail Rally airs on NBC Sports Network at 3 p.m. (PST). The race was held May 2-4 as a stage of the national Rally America series and covered terrain from Portland International Raceway, Dufur and the eastern Gorge and several gravel roads in Hood River County.
No. 14 HRV defeats No. 3 Springfield to advance to 5A playoff quarterfinals
Eagle baseball pulled off a big-time win Wednesday afternoon in the first round of the OSAA 5A state championships. HRV, seeded No. 14 in the 16-team bracket after winning a play-in game last week at Bend, upset Springfield with a 5-2 win to advance to the tournament quarterfinals and knock the No. 3 seed out of the tournament on their home turf.

The Hood River Valley Eagles (21-6) have the momentum of a locomotive after their 8-0 win over the Sherwood Bowmen (9-17) in a Class 5A first-round state playoff contest Wednesday at Westside Elementary School.
Eagles weather Storm to advance to state bracket
Despite being underdogs in Friday's 5A baseball play-in matchup on the road against the 14th-ranked Summit Storm (15-10), the 19th-ranked Hood River Valley Eagles (11-15) claimed a huge 10-0 win to earn themselves a spot in the 16-team state championship bracket.

Sebastian Barajas and Jestena Mattson successfully defended state titles over the weekend at the 2014 OSAA 5A State Track and Field Championships to help propel Hood River Valley High School to ninth- and fifth-place team finishes in the season finale at Eugene's Hayward Field.

Horizon Christian School's third season of track and field ended Friday with a 10th-place finish for the Hawk boys at the Class 1A state championships.