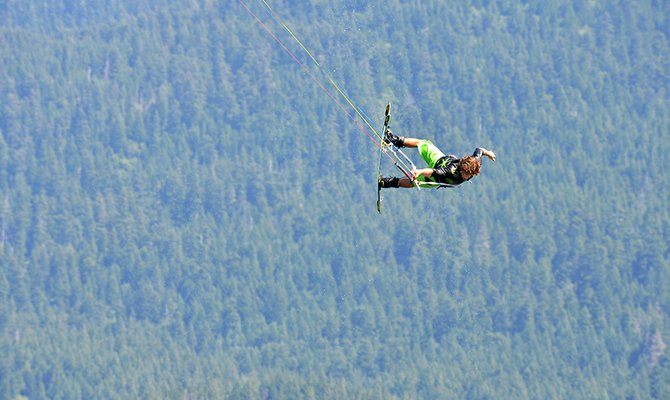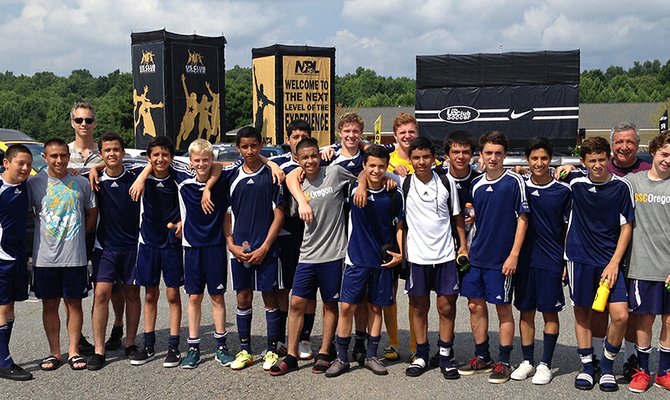 If there's small solace to be had in this tragedy, it's that Matt Klee died doing something he loved.

Anyone who has seen Regan Huckaby work out in the last year will tell you, she's an absolute maniac. Although as friendly as they come, the 27-year-old Hood River resident is trimmed like a Navy SEAL and can outperform most of the guys in her gym; accolades made all the more impressive by the fact that she's a mother of two young Huckaby rugrats, ages 2 and 4.

Hood River Valley varsity boys lacrosse extended its season at least through the weekend with a commanding 19-0 win at home Wednesday night against Rex Putnam in the inaugural Cascade Cup tournament. The win advanced the team to a Saturday night game at Canby in the 16-team bracket's quarterfinal round.
Race included roads in HR County
The Columbia River Gorge, Mount Hood and surrounding areas will be on national television this Sunday as The Oregon Trail Rally airs on NBC Sports Network at 3 p.m. (PST). The race was held May 2-4 as a stage of the national Rally America series and covered terrain from Portland International Raceway, Dufur and the eastern Gorge and several gravel roads in Hood River County.
No. 14 HRV defeats No. 3 Springfield to advance to 5A playoff quarterfinals
Eagle baseball pulled off a big-time win Wednesday afternoon in the first round of the OSAA 5A state championships. HRV, seeded No. 14 in the 16-team bracket after winning a play-in game last week at Bend, upset Springfield with a 5-2 win to advance to the tournament quarterfinals and knock the No. 3 seed out of the tournament on their home turf.

The Hood River Valley Eagles (21-6) have the momentum of a locomotive after their 8-0 win over the Sherwood Bowmen (9-17) in a Class 5A first-round state playoff contest Wednesday at Westside Elementary School.
Eagles weather Storm to advance to state bracket
Despite being underdogs in Friday's 5A baseball play-in matchup on the road against the 14th-ranked Summit Storm (15-10), the 19th-ranked Hood River Valley Eagles (11-15) claimed a huge 10-0 win to earn themselves a spot in the 16-team state championship bracket.

Sebastian Barajas and Jestena Mattson successfully defended state titles over the weekend at the 2014 OSAA 5A State Track and Field Championships to help propel Hood River Valley High School to ninth- and fifth-place team finishes in the season finale at Eugene's Hayward Field.

Horizon Christian School's third season of track and field ended Friday with a 10th-place finish for the Hawk boys at the Class 1A state championships.
Longtime local bowling luminary, Roger Montavon, stole the thunder and propelled his team to take all the marbles in the fast paced Wednesday night Fraternal league at Hood River's Orchard Lanes. Montavon rolled a perfect 300 in his first game of a four-team championship roll-off between round winners Electronics Assemblers, Van Cleave Design and the Amigos, plus Montavon's Berries — the wild card team that took the most points during the season without winning a round.

Sunny skies and a light but steady breeze greeted competitors in the first of eight summer races that make up the Gorge Cup windsurfing series. This is the 21st year of the series, which runs from May through August at the Hood River Event Site and brings together a wide range of sailors, from seasoned veterans to first-time racers, to competitors in a friendly atmosphere.
All-Conference baseball, softball teams announced; HRV softball, lacrosse host playoff games May 28; Gorge FC hosts Spartans Saturday

All ages invited to take part in King of the Gorge Home Run Derby contest
After several years' hiatus, Hood River's Babe Ruth baseball program reassembled this year and is competing in the regional spring season.
While the Hood River girls tennis team didn't get the "luck of the draw" at last week's 5A Special District 1 Championships in Sunriver, where six out of the seven HRV players were bracketed against seeded players in the first round, they rose to the challenge and their play reached a pinnacle for the season as they went on to dominate the consolation rounds.
Hood River Valley High's Dan Kuechmann shot a two-day total of 165 — 21 over par — to finish in a tie for 32nd place at last week's OSAA 5A state golf championships at Banks' Quail Valley Golf Course. Crescent Valley sophomore Kevin Geniza won the tournament with a three-over-par total of 147.