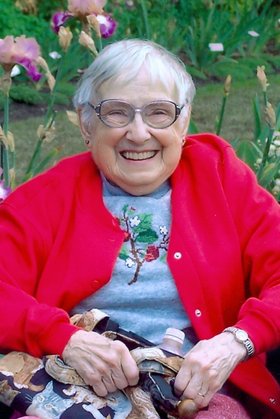 Betty Jean Farmer
November 4, 1918 - March 25, 2009
In the early morning hours of March 25, 2009, Betty Jean Farmer went to be with the Lord. She was born 90 years ago on Nov. 4, 1918, to William E. and Clarice L. (Monroe) Elliott in Indianapolis, Ind.
After high school graduation, Betty Elliott married James 0. Farmer on April 24, 1937. They were the parents of four daughters and one son.
Betty asks that no one grieve her passing, but rejoice in the wonderful life given her by the Lord Jesus. She lived a full life of adventure and wonder, always caring for her children and loving her husband.
She was preceded in death by her husband, Jim Farmer; daughters Peggy Pierce and Patti Anderson; as well as most of the collection of friends and family she cherished over the past 90 years.
She is survived by daughters Judith Kent, of Whidbey Island, Wash., and Jeannie Royce, of Fortville, Ind., and her son, Mike Farmer, of Hood River, Ore., as well as 19 grandchildren, 28 great-grandchildren and four great-great-grandchildren.
Betty always enjoyed life and was quick to try new and diverse activities. She enjoyed camping, fishing, and traveling with her husband around these United States. Whether learning to play the organ in her 60s or hot air ballooning in her 70s, a zest for life was always evident in her everyday activities.
A short time ago, Betty penned this about her impending passing:
"When it is time for me to leave, I do not want a soul to grieve or give a sigh or shed a tear because I am no longer here. But just be happy for the day when I can start upon the way at long, long last, to take a tour to where I've never gone before. Imagine! I will get to know the way my love went years ago. Be with him soon; it's hard to wait to take that trip, so celebrate! And bless this day so full of grace when I can see my Savior's face."
A memorial service will be held on May 9 at 1 p.m. at Hood River Valley Christian Church, 975 Indian Creek Road, Hood River, Ore.
Betty's family suggests that memorial contributions be made in her memory to Heart of Hospice in care of Anderson's Tribute Center (Funerals, Receptions, Cremations), 1401 Belmont Ave., Hood River, OR 97031. Please visit www.andersonstributecenter.com to leave a note of sympathy for the family.