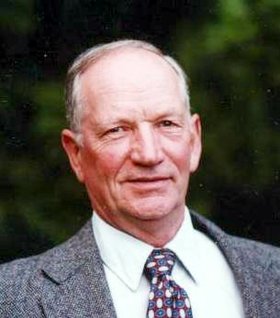 Carl Otto Davidson
March 25, 1938 - March 27, 2009
Carl Otto Davidson, 71, of Boring, Ore., passed away Friday, March 27, 2009. He was born in Billings, Mont., on March 25, 1938, to Otto and Myrtle Amna (Harper) Davidson. He moved to Dixie, Wash., in 1945 where he attended grade school and graduated from Walla Walla High School in 1957.
Carl married Susy Jackson on June 19, 1959, in Dixie, Wash. They moved to The Dalles, Ore., in 1962, where Carl began his career as a sheet-metal tradesman, later opening his own shop in The Dalles.
They moved to Hood River in 1964 and later to Portland, Ore., where he continued his career until his retirement in 2000. He moved to Boring in 2004 and was preceded in death by his wife on Sept. 4, 2006.
Carl is survived by his seven children: Donna Cody (Glen), of Parkdale, Ore., Dot Younger (Tom), of San Diego, Calif., Jari Davidson, of Pakistan, Ben Davidson (Donna), of Golden, Colo., Joe Davidson, of Salem, Ore., Robin Davidson, of Salem, Ore., and Kari Benjamin (Dale), of Sherwood, Ore.; sisters Dorothy Davidson, of Korea, and Clara Hooser (Charles), of The Dalles, Ore.; brothers-in-law William Jackson, Robert Jackson and Stanley Jackson; sister-in-law Julie Moore; nine grandchildren, three great-grandchildren and many nephews and nieces.
Funeral services will be held on Thursday, April 2, at 11 a.m. at Lincoln Memorial Funeral Home, 11801 S.E. Mt. Scott Blvd., in Portland, Ore., with interment to follow in Lincoln Memorial Park. Contributions may be made in lieu of flowers to Providence Hospice, 1235 N.E. 47th Ave., Ste. 148, Portland OR 97213.